Trader Joe's New Almond Butter Pretzel Nuggets Have People Talking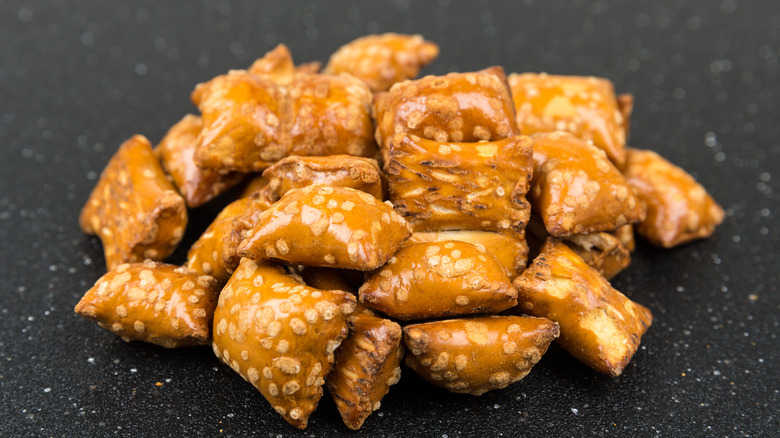 Shutterstock
Really and truly, the best things in life are simple. Sweet and salty always tastes so right together, and it doesn't get any easier than some combination of pretzels with peanut butter and chocolate. That's probably why there are so many versions of peanut butter pretzel bars out there from the likes of Taste of Home, Food Network, and more. However, Trader Joe's just released a new take on the classic snack that might have you forgetting the chocolate altogether.
According to NPR, peanut butter-filled pretzel nuggets have been around since the early 1980's, but now there's an amazing new twist to them thanks to Trader Joe's. Apparently, a fan account on Instagram, @traderjoeslist, spotted the new almond butter-filled option and wrote, "NEW ALMOND BUTTER FILLED PRETZEL NUGGETS • Wowie!! Im not sure if I'm more excited about these or the New Pickle in a Chip, chips! I selfishly wish these were gluten free but I'm so happy the majority of the peoples gets to devour these! What's better: peanut butter or almond butter?" Within a day, the post had received more than 32,000 likes.
This is what Trader Joe's shoppers are saying
One person commented on the post, "I'm excited to pick these up for my kiddo with a peanut allergy! We love peanut butter pretzels in our house and now she gets to have her own version." Another wrote, "This is huge for my husband who is allergic to peanuts." It seems they can't wait to share the scrumptious, addictive nature of this snack with their loved ones. Then there's the almond butter camp, which seemed more than okay with ditching the peanut butter version. 
One commenter wrote, "WHAT?????!!!!! Holy cow. I am very happy about this." Another person apparently had mixed feelings about the change because they clearly already know what damage these bite-sized treats can do. They wrote, "no...im in trouble." Finally, the almond butter swap is going to make life a lot easier for one commenter who said, "thank youuuuuuuuu!!!! i hate peanut butter but i like these and i would always spit out the middle part." So, get to Trader Joe's soon if you plan on trying these before they have to be restocked. Obviously, fans are going to be all over these.