Instagram Can't Get Enough Of Sandra Lee Dancing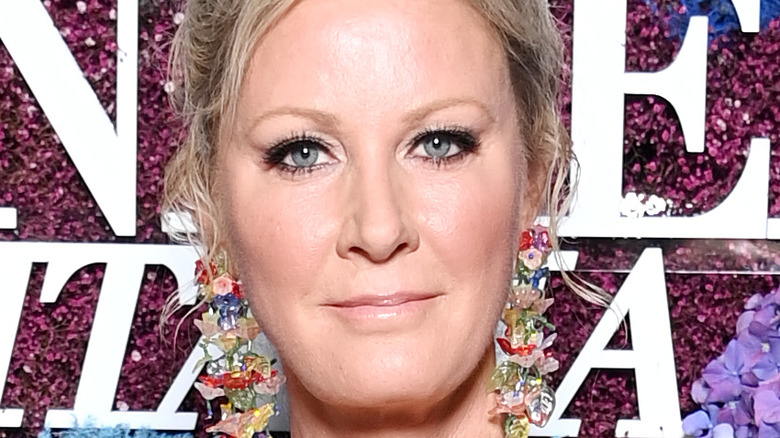 Daniele Venturelli/Getty Images
Sandra Lee is always turning heads, and this weekend, it was no different for the host of "Semi-Homemade Cooking with Sandra Lee" and "Sandra's Money Saving Meals." Per Vogue, Lee attended the LuisaViaRoma for UNICEF gala at the Certosa San Giacomo of Capri — a 14th-century monastery — which raised over 5 million Euros for Unicef Italia and the children they serve. The magazine went on to note that this is one of the glitziest of glitzy parties, where LuisaViaRoma gives full star treatment, offering hair, makeup, and wardrobe to attendees.
And if you've seen Lee's Instagram post dancing, then you know that this event is quite sparkly. Lee posted a video of herself shimmying and moving her head to the sound of Barry White's voice and fans could not have loved it more. Lee wrote, "Welcome to the party.... so so so much fun-love Barry White-I'm going to love ya love ya love ya —literally one of the best nights ever! THANK YOU GOD FOR THIS AMAZING SUMMER!!! Love to you all, always and forever!! Xo sl."
Lee's followers were so happy for her that one wrote, "Stunning!!! Whatever you're doing, keep doing it." While another offered, "You are gorgeous inside and out. And you have a True heart. It is so nice to see you happy." Lee really did look glamorous and happy along with the other luminaries in attendance. 
Sandra Lee is a Unicef special emissary
According to People, the night was lit with stars, including Katy Perry and John Legend who performed a duet of "Moon River," and of course, Chrissy Teigen, Orlando Bloom, Vanessa Hudgens, Maria Bakalova, Saweetie, Emily Ratajkowski, Olivia Culpo, Sabrina Elba, and Heidi Klum were on hand to help raise funds for this worthwhile cause.
This was not Lee's first Unicef event. In fact, she serves on the the World Food Program USA board of directors as a special emissary, and the work the organization does is near and dear to her heart. The celebrity chef revealed to Today, "I knew where I could go and get food for our family, but can you imagine being in an environment where there is nowhere to go? The despair you'd feel as a mother? As a child? It's unfathomable to me that people this day and age are in this situation."
Lee shared a note of gratitude on her Instagram account, "Tonight was The Gala to support UNICEF in Capri-after creating the LA board with two girlfriends and serving as a Unicef special Emissary, I have to say I've been to many many events, but this has been the most extraordinary event I have been to in so long. Cheers to the team, thank you for all the hard work, dedication and support ....you have made the difference in hundreds of thousands of children's lives. So so so Grateful, Sandra."