Chrissy Teigen Just Lost A Tooth While Eating This Chewy Late Night Snack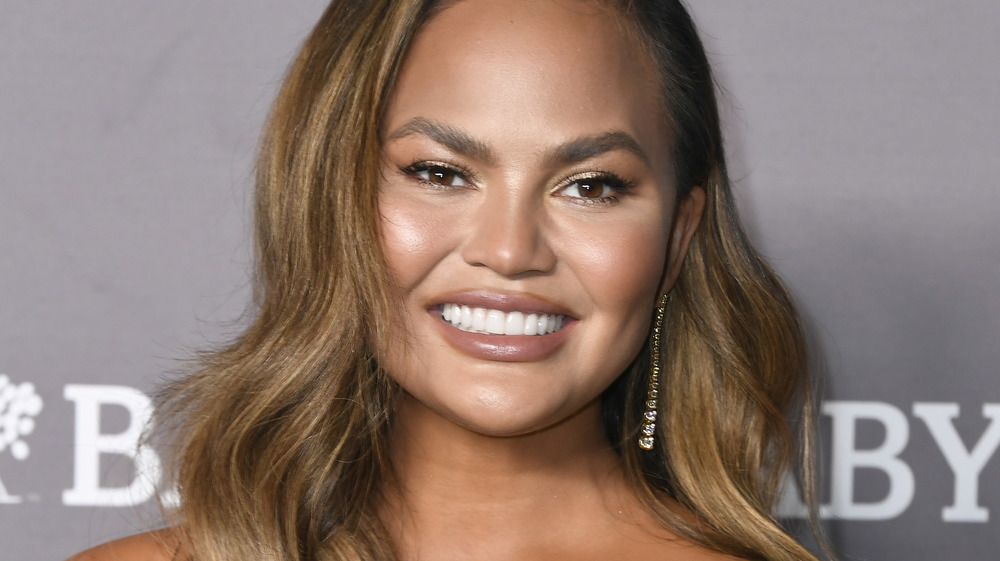 Frazer Harrison/Getty Images
We may receive a commission on purchases made from links.
Our fave Twitter celeb Chrissy Teigen had a busy inauguration day, from recovering from the trouble she got in for her premature inauguration posts to hanging out in her windowsill, to spotting J-Lo and getting tested for COVID-19 (via Delish, Twitter). Finally, she attended the big event, where her husband John Legend was set to perform, and got a Twitter follow from the new POTUS. And then there was the late-night snack attack.
Chrissy Teigen's frequent tweets and funny musings are what make her so very relatable, and now there's been another moment that has left us humbled. Apparently, Teigen lost a tooth eating a Fruit Roll-Up around 1 a.m. on inauguration night. In the short video she posted, she holds up what looks like a tooth and says, "I just lost... my tooth... in a Fruit Roll-Up." Later, she clarified that it was a "Cap ... But I loved him like he was a real tooth" (via Twitter). Here's to the demise of Chrissy Teigen's dental crown — he'll be missed.
Chrissy Teigen and her food antics
While we don't have a ton of other information about the tooth incident, we do know that Chrissy Teigen likes a night meal, thanks to a series of posts about her "night eggs" ritual (via Delish). Yes, Teigen gets bouts of extreme hunger at all hours of the night, so her solution, as she revealed in 2019, is bringing two hard-boiled eggs into bed with her. "I bring up two peeled eggs with me since I wake up so hungry in the night. Do u know how gross it is to eat hard eggs in the night," she wrote on Twitter. She even posted a picture of said eggs.
Fruit Roll-Ups and night eggs aside, Teigen has a solid repertoire of home cooking thanks to her cookbooks, Cravings: Recipes for All the Food You Want to Eat and Cravings: Hungry for More, which feature everything from one-pot meals to Thai favorites (via Amazon). Some of the most popular recipes on her cooking website, Cravings by Chrissy Teigen, are her mom's drunken noodles, cacio e pepe oatmeal, and Chinese chicken salad summer rolls. These are all great, but honestly, we'd take a Fruit Roll-Up too. Just let us keep our teeth.