Easy Stuffed Shells Recipe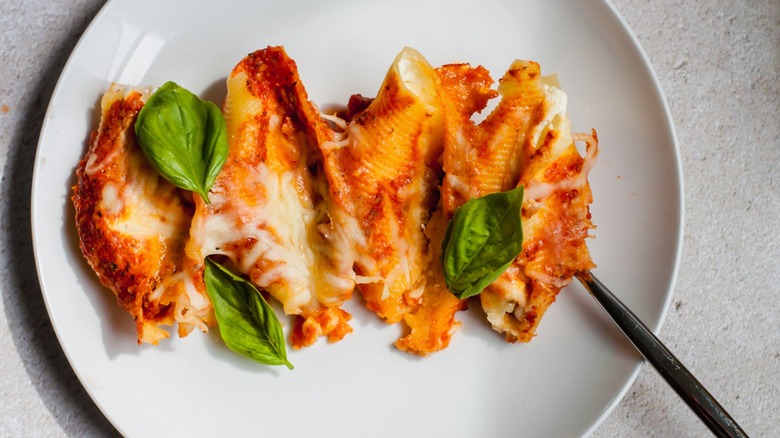 Christina Musgrave/Mashed
Stuffed shells are a really fun dish to serve for a traditional Italian Sunday dinner. They have the same basic ingredients as any good lasagna: mozzarella, Parmesan cheese, and ricotta, plus a delicious marinara sauce. Stuffed shells, though, make for a much prettier presentation.
Recipe developer Christina Musgrave who blogs at Tasting with Tina likes to keep things simple. Her recipe for stuffed shells, which she says was "inspired by the stuffed shells I had with my family growing up," only calls for six ingredients (plus salt and pepper, which are really too basic to count) and can be cooked in just a few steps. Of course, it's always best if you've spent hours simmering your homemade "gravy" made from the recipe that made it through Ellis Island tucked into (somebody's) nonna's pocket, but we understand that sometimes there's just no time. Luckily, there's no rule against using spaghetti sauce you've made ahead of time or whipping up this quick 15-minute marinara, and you could even make these stuffed shells with good quality store-bought marinara for simplicity's sake.
These easy stuffed shells don't require too many ingredients at all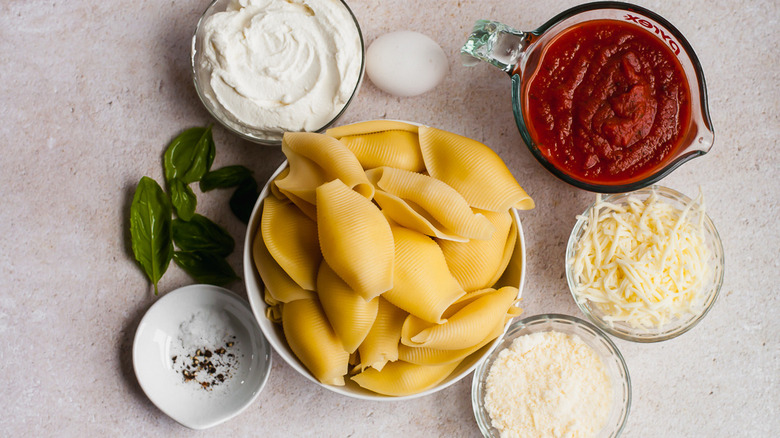 Christina Musgrave/Mashed
This recipe calls for a 12-ounce box of the jumbo-sized pasta shells. While conchiglie, or shell-shaped pasta, comes in sizes ranging from mini to medium to large, only the jumbo ones are really going to be big enough to stuff with the cheesy filling. You'll also need the aforementioned marinara, about 1 quart of it, as well as the holy trinity of Italian cooking cheeses: ricotta, Parmesan, and mozzarella. Additional ingredients include an egg (a standard large-sized one) plus a bit of salt and black pepper.
You'll need to cook the pasta shells first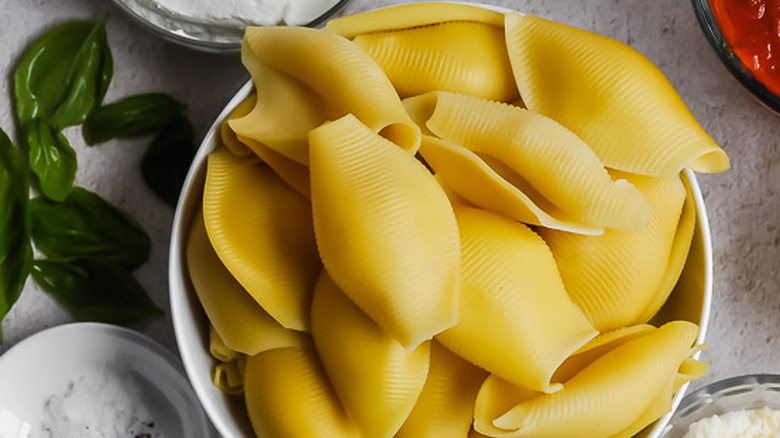 Christina Musgrave/Mashed
There is one not-so-simple step involved in making these stuffed shells, and that involves cooking the shells very carefully in order to keep them from tearing and allowing them to retain their shape when you stuff them. In order to do this, cook the shells according to the package directions, but subtract a couple of minutes from the estimated time. You don't even want them to reach the al dente stage, as firmer shells will be easier to stuff. Don't worry, because the pasta will continue to cook in the oven and the liquid from the sauce will help it to soften up.
Once the shells are partially cooked, drain them and then refrigerate them until you're ready to stuff them. Not only will you need them to be cool enough to handle, but refrigerating them may help stiffen them up a bit. This is also a good time to preheat the oven to 350 F.
Prepare the pan with a layer of marinara sauce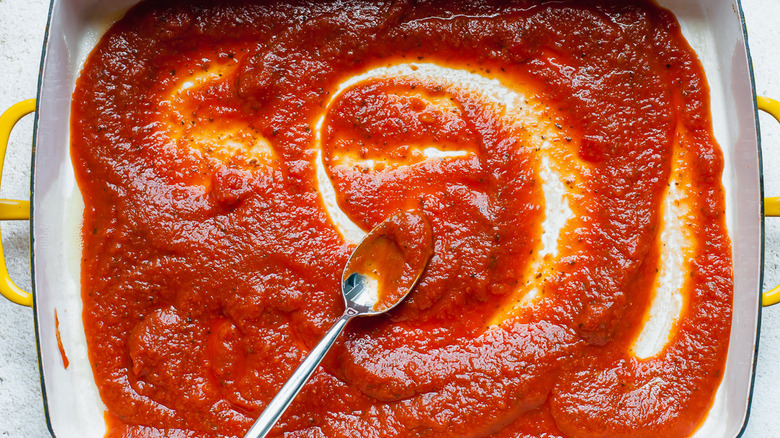 Christina Musgrave/Mashed
In order to cook these stuffed shells, you will need a 9x13-inch pan. This should allow you to fit all of the shells in a single layer without crowding them too much. (You could be down a few shells by the end, though, since a few of them may still tear as you try to stuff them). Rub the pan lightly with oil or spray it with cooking spray, then pour 2 cups of the marinara into the pan, and use a spoon or a spatula to spread it over the bottom.
Mix the cheesy filling, and use it to stuff the shells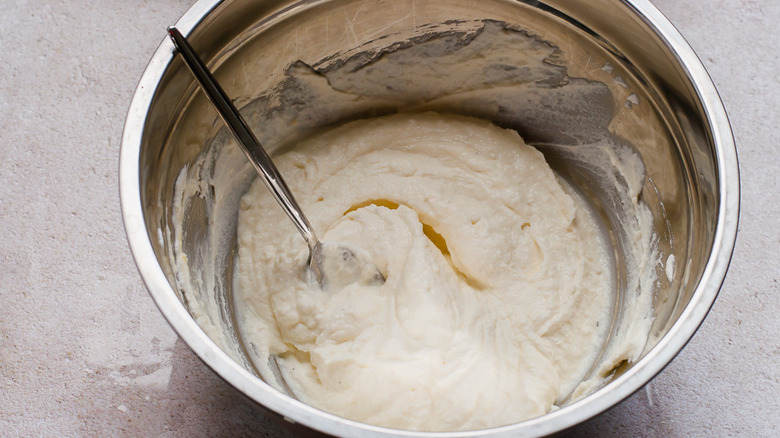 Christina Musgrave/Mashed
Make the filling for these stuffed shells by combining all of the ricotta with ½ cup of the Parmesan, the egg, and a bit of salt and pepper. Mix all of the ingredients together very thoroughly, then fill each pasta shell with about 1 ½ to 2 tablespoons of the cheese mixture. As Musgrave admits, though, "You just have to be very careful handling them so they don't rip." Once they're stuffed, place each shell in the baking pan, seam side up. If the seams are facing down, the cheese is liable to leak out.
Top the shells with sauce and cheese before baking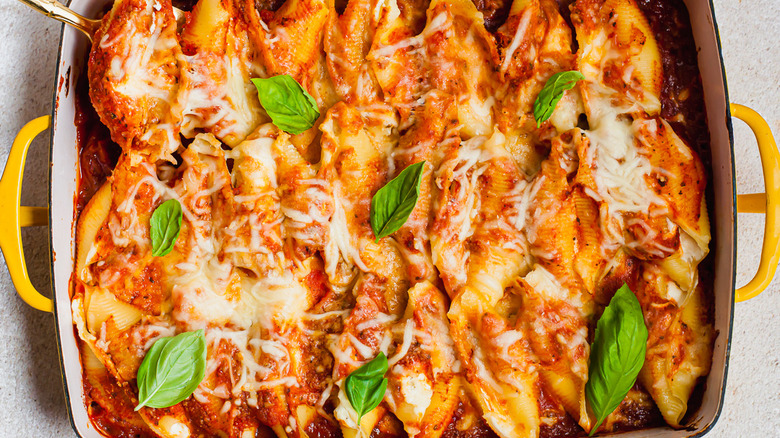 Christina Musgrave/Mashed
Pour the remaining marinara over the stuffed shells, then sprinkle them with the shredded mozzarella and the remaining Parmesan. Bake the shells for 25 minutes. Once they are done, remove them from the oven and serve them warm but not too hot since melted cheese can cause some pretty painful mouth burns! If you want to make these stuffed shells even prettier, perhaps because you're having them pose for a social media shot, Musgrave suggests "serve [them garnished] with fresh basil," though if you have that herb on hand, you might also want to chop it up and add it to the marinara sauce. 
As for what to serve the stuffed shells with, Musgrave says they "would be great with a light Italian salad or roasted vegetables" for a vegetarian meal. If you have carnivores in the crowd, though, they might enjoy a side of Italian sausages or maybe some meatballs, and of course few would say no to cheesy garlic bread. While red wine is a classic pairing with pasta, for a non-alcoholic option try a not-too-sweet Italian soda like San Pellegrino's Limonata.
Easy Stuffed Shells Recipe
These easy stuffed shells don't require too many ingredients at all and make for the ultimate Sunday dinner experience.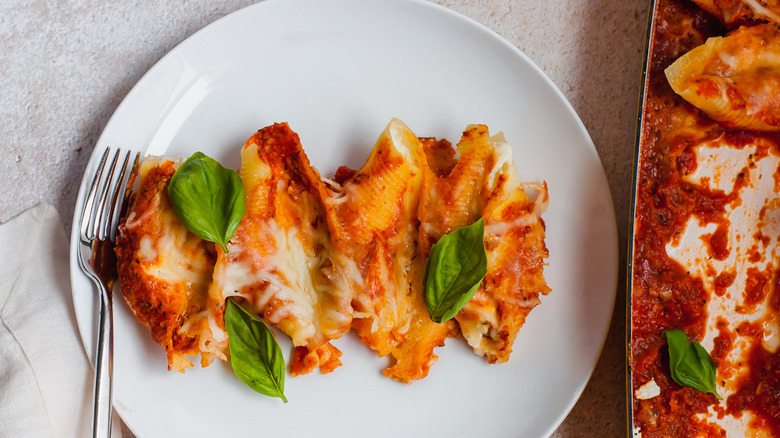 Ingredients
4 cups marinara, divided
12 ounces jumbo pasta shells
2 cups ricotta cheese
1 cup grated Parmesan cheese, divided
1 cup mozzarella cheese, shredded
1 egg
pinch salt
pinch pepper
Optional Ingredients
Directions
Boil the pasta shells until they are partly cooked, but not yet al dente. Drain them, and let them cool.
Preheat the oven to 350 F.
Grease a 9x13-inch pan, and spread 2 cups of marinara sauce over the bottom.
Combine the ricotta, ½ cup of Parmesan, egg, and a pinch of salt and pepper in a large bowl, and mix well.
Fill the cooled pasta shells with the cheese mixture, and place them in the baking pan, seam side up.
Pour the remaining 2 cups of marinara sauce over the shells, then top them with the remaining Parmesan and the shredded mozzarella.
Bake the stuffed shells for 25 minutes.
Serve with fresh basil, and enjoy.
Nutrition
| | |
| --- | --- |
| Calories per Serving | 450 |
| Total Fat | 22.0 g |
| Saturated Fat | 13.5 g |
| Trans Fat | 0.0 g |
| Cholesterol | 93.2 mg |
| | |
| --- | --- |
| Total Carbohydrates | 35.1 g |
| Dietary Fiber | 1.4 g |
| Total Sugars | 1.8 g |
| Sodium | 548.7 mg |
| Protein | 26.9 g |