These San Pellegrino Sodas At Costco Are A Total Steal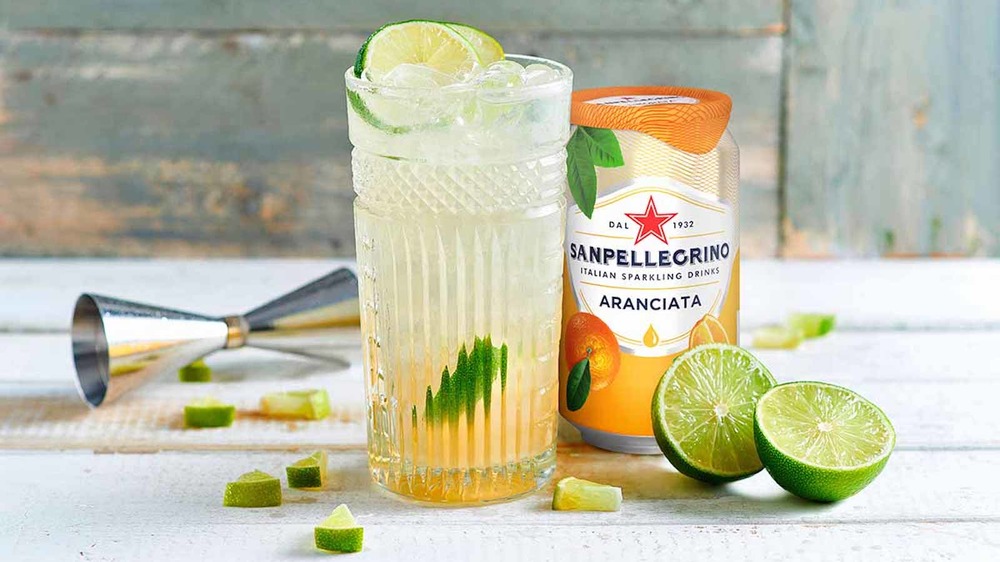 San Pellegrino
Costco has come through yet again, giving us life with a sweet deal on San Pellegrino sodas. User @costcodeals announced the news on Instagram with a photo of a 24-count San Pellegrino variety pack noting that it's on sale for just $10.99 until Dec. 24. That's $4 off the original price!
Even if you've never tried San Pellegrino before, you're surely familiar with the tall green bottle of sparkling water that started it all. Though it can easily be confused with Perrier which has some pretty fancy French origins, San Pellegrino is boujee as all get out, in the best way. According to Mental Floss, their sparkling water is made from rain and snow that has taken a 30-year trek through the Italian Alps, collecting minerals like magnesium, calcium, and potassium along the way. Eventually, San Pellegrino introduced a citrus-based line of bubbly beverages — the very kind Costco has just discounted for our drinking pleasure. Here's what you need to know about them.
San Pellegrino's juicy soda flavors have an extensive history
Fruity, bubbly beverages have been a major thing this decade with brands like Bubly and LaCroix popping up in stores and Instagram posts everywhere. San Pellegrino's sodas, however, are not a member of this zero-calorie, sugar-free class of sparkling drinks. According to their website, San Pellegrino's version contains actual fruit juice and dates way back to 1932, when perhaps consumers didn't care quite so much about Every. Single. Calorie.
The very first fruity flavor San Pellegrino introduced comes as part of Costco's 24-count variety pack. It's called Aranciata and boasts slightly bitter, juicy orange notes with a light caramelized flavor. Costco's variety pack also includes San Pellegrino's Limonata flavor, which is made with 16 percent juice from lemons straight out of Southern Italy. Ummm, yes please. Both flavors have 120 calories and 26 grams of sugar. Pop on over to Costco and grab these bubbly beverages fast. If the number of Instagrammers tagging each other on @costcobuys' post is any indication, they won't last long.