Olive Garden Just Gave Alex Drummond This Surprise Wedding Gift
Alex Drummond's mom might be a good cook but even so, "Pioneer Woman" Ree Drummond's oldest daughter has fond childhood memories of dining out at Olive Garden. Alex tried to get a fan club of sorts going for the Italian chain restaurant. As reported on the Pioneer Woman blog, Alex professed her love for Olive Garden on Instagram, calling it "one of the best restaurants in existence." Then she put out a call for like-minded folks in the Dallas-Fort Worth area, where she lives with new husband Mauricio Scott, to accompany her to the restaurant. "My own husband will not go with me to Olive Garden, my friends don't really wanna go," Alex said in her Instagram post. Alex did have one taker — Olive Garden itself, which probably doesn't count.
When friends turn down an invitation to unlimited breadsticks and salad — not to mention the classic Italian-American entrées — well, we figure that's their business. But what's up with Mauricio? Certainly he knows that compromise is the key to a successful marriage. Well, when Olive Garden invited the newlyweds to a very special dinner with a surprise wedding gift, Mauricio finally gave in.
Alex Drummond's husband Mauricio really went for Olive Garden's breadsticks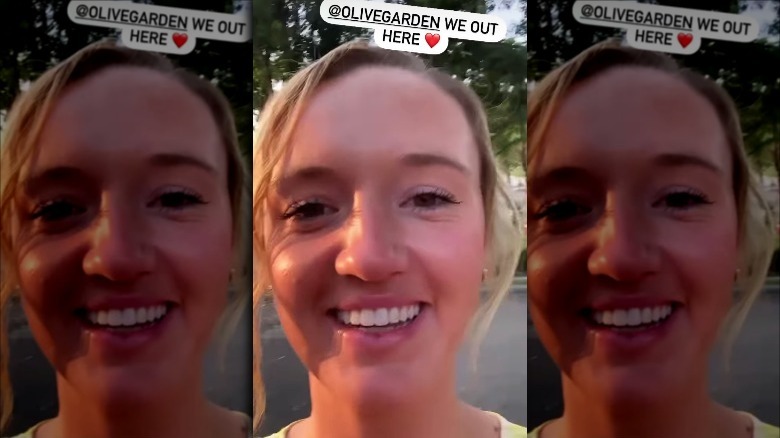 Instagram
Alex Scott, née Drummond, shared her and Mauricio's Olive Garden experience on Instagram. It happened to be Mauricio's first time at the chain. Alex, on the other hand, had been going there since she was young enough to get crayons to pass the time while waiting for her food. She and younger sister Paige would break Olive Garden breadsticks in half and stick them on their fingers, like finger puppets. They would draw faces on the breadstick halves with the crayons ... then they would eat them. In the Instagram video, Alex jokingly calls Ree Drummond's parenting into question: "Mom, where were you?" she said. (The Pioneer Woman was probably choosing her battles. This is exactly the sort of situation that explains why crayons are non-toxic.)
Mauricio and Alex both kept the crayons out of their mouths, but Mauricio downed five breadsticks, calling them "addicting." This being his first time, he went for the catch-all Tour of Italy entrée: chicken parmigiana, fettuccini alfredo, and lasagna all on one plate. (Alex played it safe, ordering spaghetti with meat sauce. She didn't say whether this is what she chased the crayon breadsticks with, back in the day.)
Olive Garden gave Alex and Mauricio matching chef shirts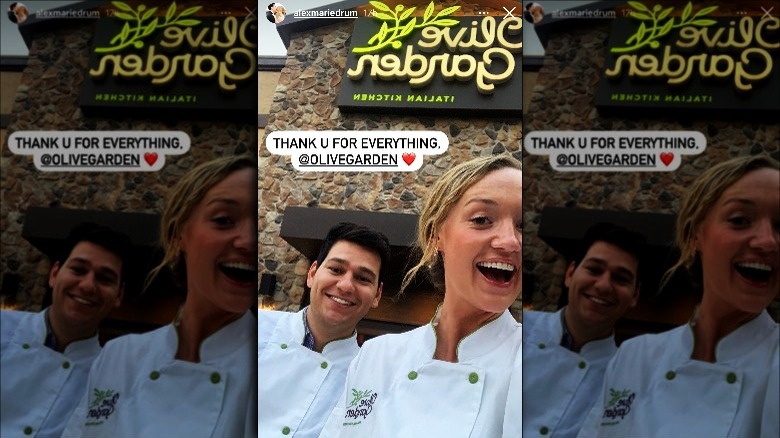 Instagram
Mauricio Scott ranked the chicken parm from the Tour of Italy No. 1, followed by the alfredo and the lasagna. It all tasted good to him, though. Also, we shouldn't overlook the perfect 10 he gave the salad, before his entrée arrived.
All during their meal, Alex Drummond and Mauricio ate in suspense because two gift boxes sat on their table, and they weren't supposed to open them until they were finished. Olive Garden gifted them with matching chef shirts, with the Olive Garden logo and customized stitching that read "Mr." and "Mrs." Either the Drummond clan gave Olive Garden a lot of good free advertising, or "The Pioneer Woman" is going to keep the paid promotion going by featuring a copycat Olive Garden chicken parmigiana recipe in an upcoming episode — just for Mauricio.
At the end of the Instagram video, Alex and Mauricio are driving home in their white Olive Garden uniforms. Mauricio — whose family is from Mexico, mind you — lapses into an Italian accent while he drives. All those breadsticks must have gone to his head.