Popular Olive Garden Menu Items, Ranked Worst To Best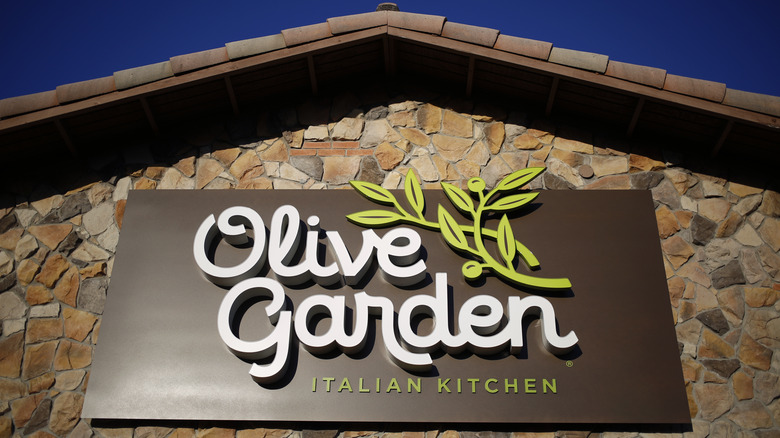 Bloomberg/Getty Images
Bottles of flowing wine, fresh fish, succulent meats, homemade pasta, and tons of vibrant, seasonal vegetables — there's nothing quite like a classic Italian meal. But here in America, we took it upon ourselves to transform Italian cuisine into something that's our own. There might be no better representation of that than Olive Garden. While not even remotely close to authentic Italian, we love it all the same and are darn right proud. Few can resist the allure of its amply portioned pasta dishes, unlimited soup and salad, and those addictive breadsticks.
The multi-billion dollar franchise has been in operation since 1982 and shows little signs of slowing down. It's the epitome of the American casual dining sector, providing fast and affordable Italian dining to the masses in its bustling, Tuscan-inspired dining rooms. The menu reads like a laundry list of Italian-American specialties, with everything from chicken parmigiana to fettuccine alfredo and fried calamari. 
But just how do its most popular dishes stack up against each other? To find out, we were enlisted (well, we enlisted ourselves) to consume far more than one ever should at Olive Garden (all in the name of research). So because you're family (as the slogan goes), here are the most popular Olive Garden menu items ranked from worst to best. 
Bon appetit, our parmesan-loving, garlic-seeking friends!
12. Shrimp Alfredo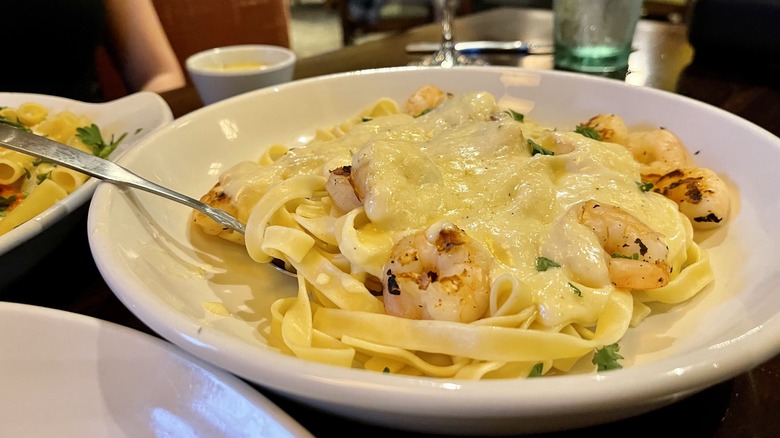 Carly Caramanna/Mashed
In a cruel twist of irony, the dish we were the most excited about was the one that left us the most gravely disappointed. Olive Garden's alfredo sauce is practically iconic. Made in house and oh so velvety, the recipe has stayed tried and true, with zero alterations, since the restaurant was founded. For many of us, it was our first introduction to 'Italian-American' food and was the highlight of a trip to Olive Garden as a kid. Sadly, our visions of fettuccine enveloped in the creamy and luscious alfredo sauce came crashing down on our most recent visit.
What we received was a generous portion of pasta that wasn't tossed in the sauce that we know and love. Instead, a tiny scoop of the homemade sauce sat atop and towards the center of the heap. There was no attempt from the kitchen at combining it with the pasta, and by the time it reached our table, it was heading towards congealed territory. Without it being properly combined, some noodles were drenched in sauce (which was less of a sauce and more of a solid cheese by this point), while others were completely bare. The sautéed shrimp were tiny, as expected, and lacked any additional flavoring that could have helped save the dish. 
With a price tag of nearly $20, we were expecting something above a standard food court pasta dish. You're better off trying our super simple copycat recipe at home.
11. Lasagna Fritta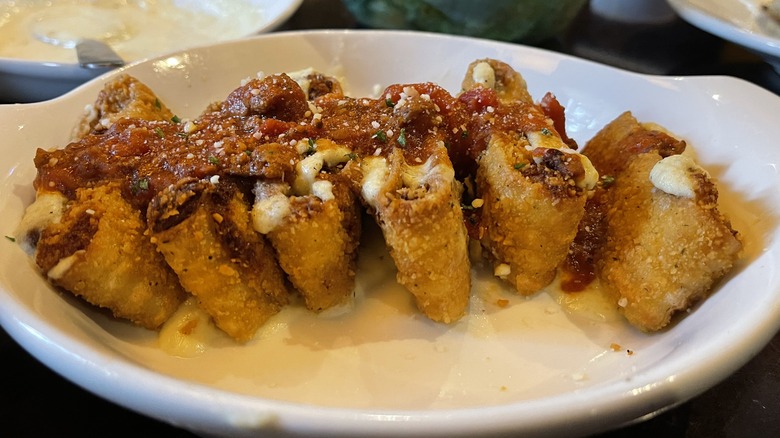 Carly Caramanna/Mashed
There are many ways to kick off a meal at Olive Garden, perhaps with crispy calamari dunked in marinara or toasted ravioli encasing seasoned beef, but never with our evening's selection: lasagna fritta, which was our next foray into OG oblivion. Learn from us, friends. This popular item is unique to the establishment and is described as fried, parmesan-breaded lasagna topped with parmesan cheese and meat sauce with pan-seared beef and Italian sausage that is then served over creamy alfredo sauce. It was a heavy (obviously!) start to our meal, but we were just getting started and up for the challenge.
What we received could be best described as a plate of deep-fried nonsense. We were expecting an exterior similar to that of a toasted ravioli, but the frittas were not at all crispy. The addition of multiple sauces added further to its sogginess and our utter confusion. There was simply way too much going on with the only flavor that shined through being one of grease. If you're still looking to kick off your meal with an appetizer, your safest (and certainly yummiest) bet is to load up on soup, salad, and breadsticks. More on that to come.
10. Chicken Parmigiana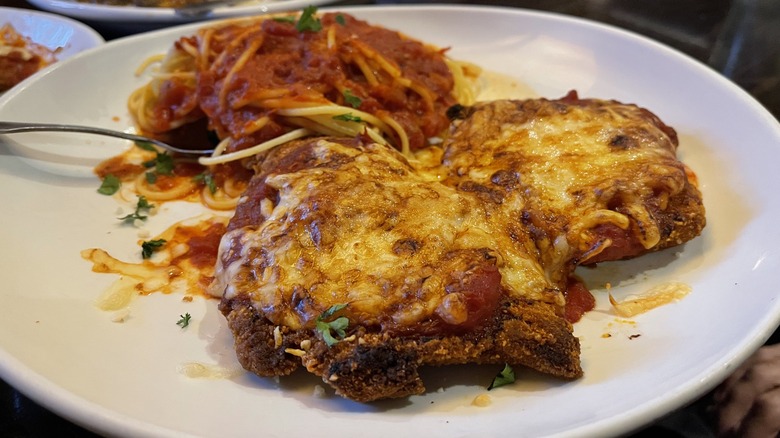 Carly Caramanna/Mashed
You don't get much more quintessentially Italian-American than the chicken parmigiana. While unheard of in Italy, this is a staple in many American restaurants and should be the shining example of how you judge them (in our humble opinion, at least). For Olive Garden's version, this classic entrée comes with two lightly fried parmesan-breaded chicken breasts that are covered in a homemade marinara sauce and then topped with melted Italian cheese. 
So, how did their version of our favorite Americanized dish hold up? This proved to be yet another disappointment.
We had high hopes for this one, so let's start with the positive. The chicken was actually cooked really well, which was surprising for a chain, but everything fell flat after that. The breading had no distinct flavor, outside of a salty profile. The sauce and cheese added little to the dish, especially since they seemed to have been left under the broiler just a bit too long. And it was served with a standard (sad) side of spaghetti and sauce that proved to be just okay, with the pasta being slightly overdone. 
Overall, it was completely forgettable and something we think should be avoided at all costs upon your next visit.
9. Tour of Italy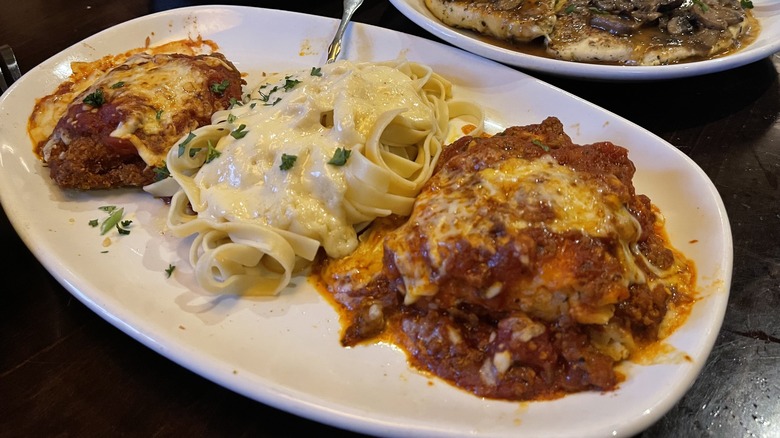 Carly Caramanna/Mashed
Our harrowing journey continued with another Olive Garden classic: the Tour of Italy. In this dish, full single servings of each of the three OG classics — chicken parmigiana, lasagna classico and the signature fettuccine alfredo — come together on one large, almost family-sized plate. With a price point just shy of $20, it is a fantastic deal, but we base that solely on the portion size.
It began with a portion of the forgettable chicken parmesan on one side. Then, cradled in the middle, you'll find a heaping portion of fettuccine that was, once again, just topped with their signature Alfredo sauce as opposed to it being mixed thoroughly. Then on the right, the lasagna classico looked like an absolute mess — a far cry from the countless photos used on menus and in commercials. It was layered with pasta, parmesan, mozzarella, and pecorino romano cheeses, and uses the chain's homemade meat sauce. 
The reason the Tour of Italy even made its way slightly up our list is solely based on its price point, as it felt less like a tour of Italy and more like a tour of the frozen aisle at your local grocery store. Unfortunately, beyond it being one heck of a deal if you're starved, there's no other reason to order this dish. 
8. Five Cheese Ziti Al Forno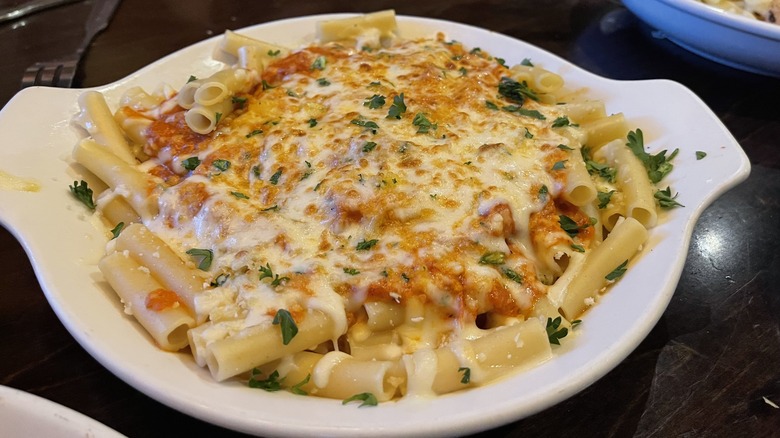 Carly Caramanna/Mashed
Things were beginning to look up, we promise. The classic and comforting dish of baked ziti brought pasta, sauce, and cheese together in perfect harmony with an explosion of flavor that's baked to ensure a nice, crusty exterior. Simply described as a baked blend of Italian cheese, pasta, and their signature five-cheese marinara (which is different from their standard marinara), Olive Garden's version is about as traditional as you'll find in any chain restaurant.
Upon first inspection, you'll notice a perfectly golden crust on the top of the dish and a generous portion of pasta beneath. The mozzarella was the prevailing flavor, with the signature five-cheese marinara acting as a secondary contributor, but we do wish there'd been a creamy element to the dish. With the menu not further describing just what cheeses are used, we're not sure if ricotta was included, but it would have added an extra layer of depth to this dish if it wasn't. 
Overall, this wasn't in any way offensive and we actually enjoyed its flavor and texture. Simply put, it was pleasant. Bonus points for it being just as delicious reheated the next day. 
7. Italian Margarita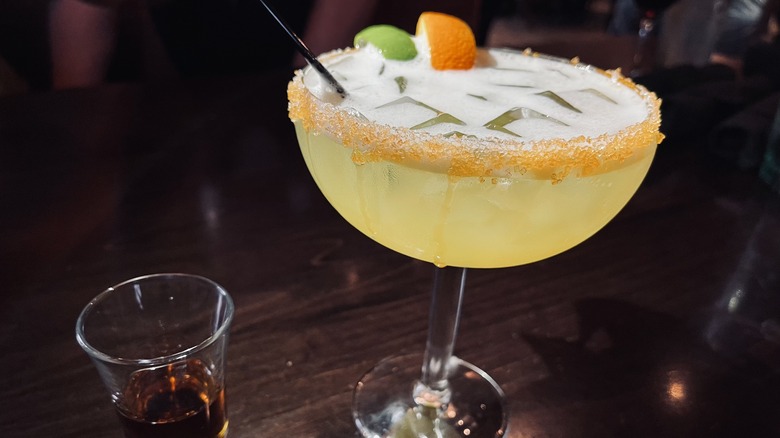 Carly Caramanna/Mashed
Nothing gets a meal going quite like a nice cocktail (and frankly, we needed a pick-me-up by this point!). With Italian food, you can usually count on a nice glass of crisp red wine or an appetite-inducing aperitivo like an Aperol spritz. 
But at Olive Garden, a place that does not exactly do things traditionally, the signature cocktail is an Italian Margarita. While the traditional version combines lime, triple sec, and tequila, the Olive Garden version sees the addition of a shot of Amaretto (an almond-flavored Italian liqueur) on the side. And the verdict? We didn't hate it. The addition of the Amaretto gave it a certain brightness with a unique tart-meets-sweet flavor. This one also has the added bonus of being quite boozy, with approximately 3 ½ ounces of liquor in it.
The Italian twist was a bit of a surprise and offered a less in-your-face sweetness than the standard chain margarita. But since it is sugar laden, it might be more classic to pair your Italian-inspired meal with a glass of wine. Still, we enjoyed its refreshing nature (and the buzz certainly prepared us for all the food we were about to consume). 
6. Tiramisu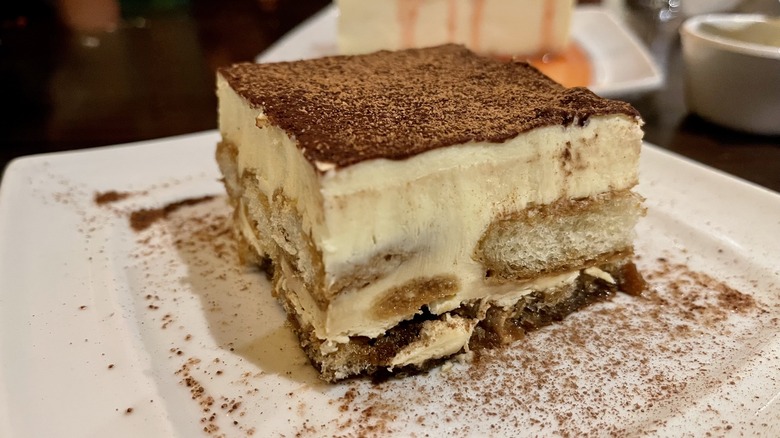 Carly Caramanna/Mashed
The tiramisu is one of the few dishes on the Olive Garden menu with actual roots in Italy. The classic, no-bake, coffee-flavored dessert is served cold. Its coffee and liquor-soaked ladyfingers or sponge cake are layered with a mixture of whipped mascarpone cheese, sugar, and eggs that are then topped off with a dusting of powdered chocolate. It's rich yet light, and offers just the right amounts of sweetness with a dash of bitterness to cap off a meal. The subtle jolt of caffeine also provides the added bonus of helping you thoroughly avoid a food coma.
Color us impressed that Olive Garden actually serves a very good version of the Italian dessert. With a non-alcoholic spin to make it a family-friendly option, it's layered with custard and espresso-soaked ladyfingers as opposed to the rum in the traditional preparation. On our visit, we found it to be incredibly delicate and flavorful. We missed the slight bitterness that the alcohol provided in soaking the ladyfingers, but the espresso mimicked it quite nicely. Bravo, Olive Garden!
5. Chicken Marsala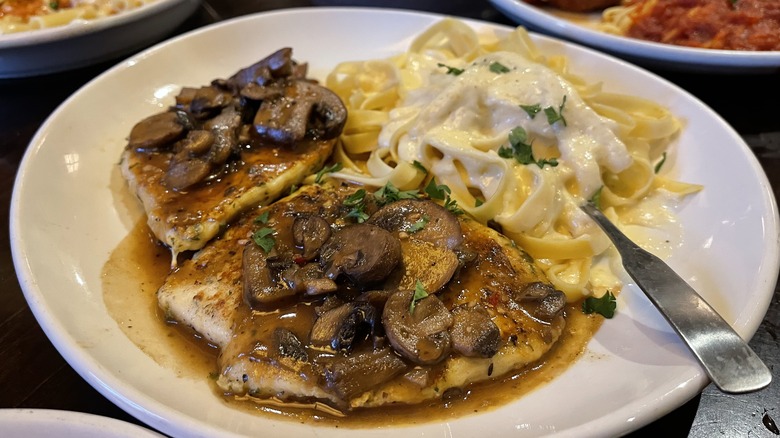 Carly Caramanna/Mashed
At this point in our meal as we were enjoying the main events, we were almost confident Olive Garden couldn't deliver in the entrée department ... and then came the chicken marsala. As luck would happen, this beacon of hope finally came along to change our minds. If you're hell-bent on ordering an entrée on your visit, we hereby declare this to be the only one you should get. 
Olive Garden describes it as "lightly floured grilled chicken breasts topped with savory mushroom and marsala wine sauce," and gleefully, that is exactly what we received. We were pretty shocked by this one, and in all the right ways. The chicken was cooked to juicy perfection while the plentiful mushrooms and marsala sauce offered delicious flavors in perfect consistency. It was a welcome diversion from the often overpowering sweet versions of marsala sauce that tend to be found at mass-produced chain Italian-American restaurants. It's served with a side of their fettuccine alfredo and we found the creaminess was a nice compliment to the savory-sweet elements of the main course. Kudos to you, OG.
4. Sicilian Cheesecake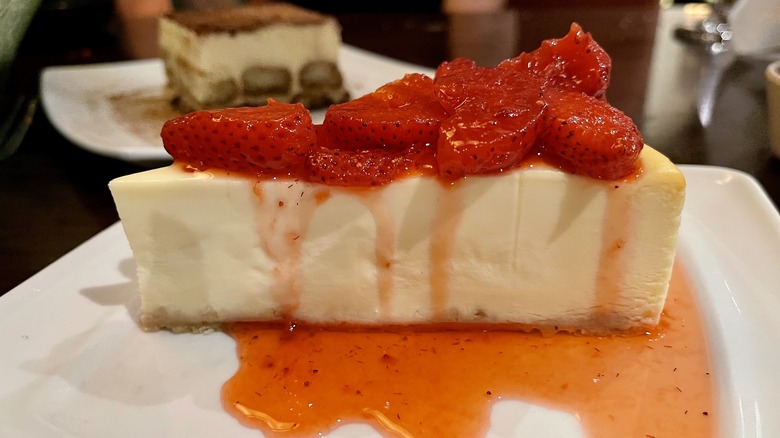 Carly Caramanna/Mashed
The roots of the cheesecake are highly debated, but one thing is clear: Do not confuse New York-style cheesecake with the Italian variety. While New York-style uses cream cheese for its thicker, more dense texture, the Italian version of the dessert uses ricotta cheese. The result is a more delicate, airy, and whipped-like texture. Olive Garden pleasantly surprised us with a splendid presentation of the classic Italian preparation. 
The body of it was super light thanks to the ricotta, and we positively loved the flavor of the shortbread cookie crust that complimented it and added a hint of sweetness and welcome crunch. Unlike so many strawberry sauces that tend to lean towards a syrupy texture and overly sweet flavor, this one tasted very fresh and used nice, large chunks of strawberries. This was a real winner and a true highlight of what was otherwise a pretty lackluster meal overall.
3. House Salad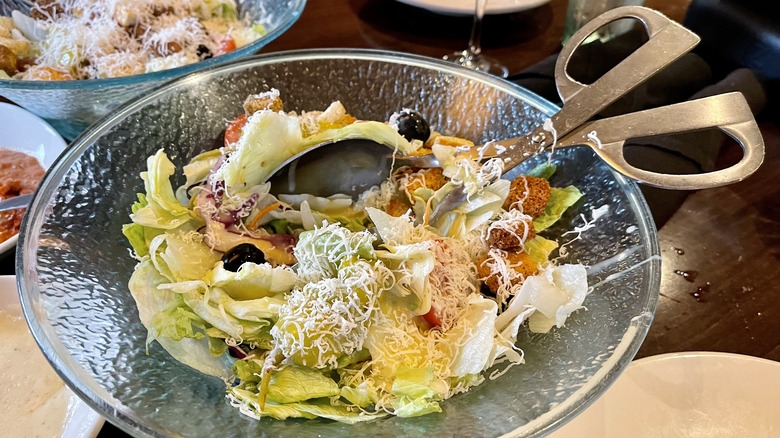 Carly Caramanna/Mashed
Ok, folks. Now, we've made it to the good stuff. The heart and soul of Olive Garden. As we inch into the top three of our list, we've entered the true reason why we love this place to begin with. While it can't always be rainbows and sunshine, there are some downright stellar options to be found here. Complimentary and bottomless with each and every meal, the house salad is a staple of Olive Garden. Served in a giant bowl (with an even larger serving utensil), it comes topped with tomatoes, olives, onions, and pepperoncini, and is served with the chain's signature Italian dressing — which it describes as a special blend of Italian spices, oil, and vinegar. We'll just call it heaven in dressing form.
This is the pinnacle of salads and the reason to visit the chain. On our visit, the lettuce was perfectly crisp and the ingredients were a wonderful complement to the dressing — which, if we were able to, we'd probably drink in bottle form. It's tangy, slightly sweet, and all around just perfect. There's a reason this salad dressing has been on the menu for more than 35 years and we doubt we'll ever see it leave. 
Another perk of this salad is that your server will also gladly hand-crank parmesan cheese over top of the plentiful dish to your heart's content. Keep it comin'. 
2. Chicken & Gnocchi Soup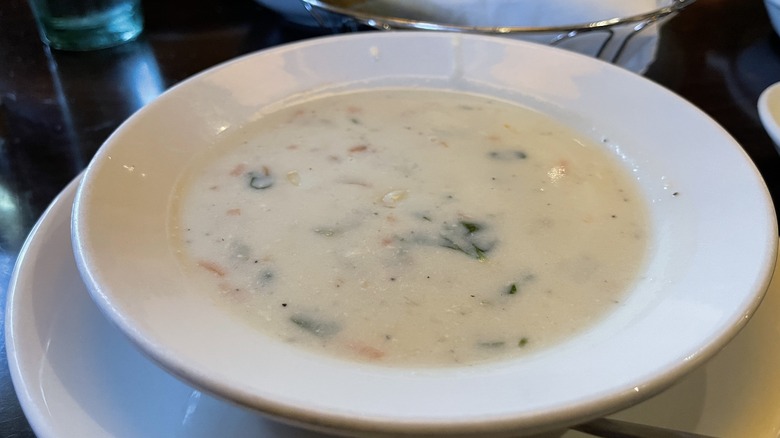 Carly Caramanna/Mashed
While you might be tempted to go straight from the free salad to the entrées, Olive Garden actually has a rather impressive selection of homemade soups. There's zuppa toscana, minestrone, pasta e fagioli, and the fan favorite chicken and gnocchi. Described as "a creamy soup made with roasted chicken, traditional Italian dumplings, and spinach," what this soup lacks in photogenic qualities, it certainly makes up for in flavor.
In fact, even when we received our entrées, we continued to retreat back to our giant bowl of comfort. Creamy without being too thick, it had the consistency of a hearty broth and was chock full of ultra-tender chicken and soft, pillowy dumplings. The only way to describe it is utterly addictive. I doubt we'll be seeking out a dinner return to the OG in our future (for entrées, at least), but the lunch special is reason alone to visit. Available on weekdays only, this plentiful bowl of deliciousness along with salad and breadsticks for under eight bucks is an absolute steal.
1. Breadsticks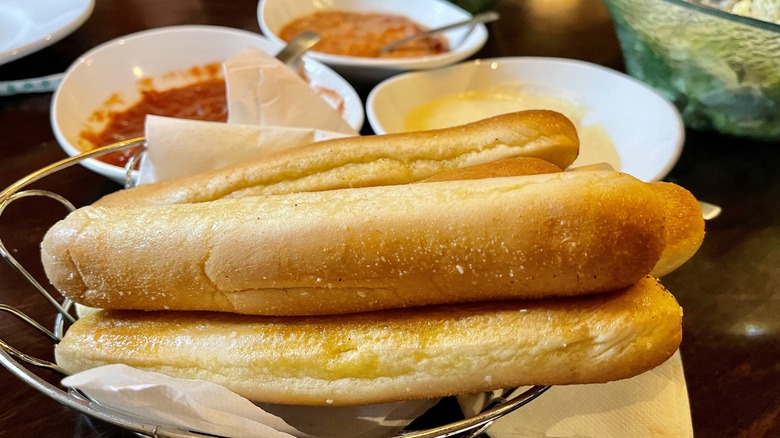 Carly Caramanna/Mashed
We would have been wholly satisfied if our meal started and ended with Olive Garden's golden brown breadsticks. Sorry, not sorry. The restaurant's breadsticks are a cathartic experience, and the true star of the OG show. Freshly-baked every 15 minutes, breadsticks are complimentary with every meal. Perfectly salted, they are served warm and feature a garlicky, buttery exterior, offering just the right amount of crunch, which opens to a wonderfully pillow-like inside where all your carb-y dreams come true. 
Also offered unlimited throughout your meal, the only thing needed to bring these babies to the next level are the dipping sauces that you can order to dip them in. Say what? Available in 8-ounce bowls, you can dip these sticks to your heart's content in fresh marinara, homemade alfredo, and five-cheese marinara sauces. A meal at Olive Garden might be full of twists and turns, but the trifecta of breadsticks, soup, and salad is the real reason you should visit.