Cinnabon Has Good News For Fans Of Its Cookie BonBites
The last time we had the opportunity to sink our teeth into Cinnabon's Cookie BonBites, "The Masked Singer" had just debuted on US television, the latest viral challenge involved unscrewing bottle caps with a single MMA-style kick, and we just knew it would last forever when Alex Rodriguez and Jennifer Lopez announced their engagement. While some things didn't last, Cinnabon fans can get excited at the news that one of the chain's best treats from 2019 is finally making a triumphant return: Cookie BonBites!
If you missed out on the chance to try these a couple years ago, Cinnabon describes Cookie BonBites on their official website as "ooey gooey cinnamon rolls INSIDE chewy chocolate chip cookies." Be still our beating, sweet-loving hearts! From the outside, they look like a large, straight-forward chocolate chip cookie, but with a mysterious bulge in the center. Break one in half and you'll soon reveal the treasure inside: Stripes of deep-brown, cinnamony filling layered with tender, cinnamon roll dough. This indulgent combo treat is definitely one worth enjoying while still warm, to experience the melty chocolate chips and a flood of sticky cinnamon bun flavor all in one delicious bite.
More on how to grab some Cookie BonBites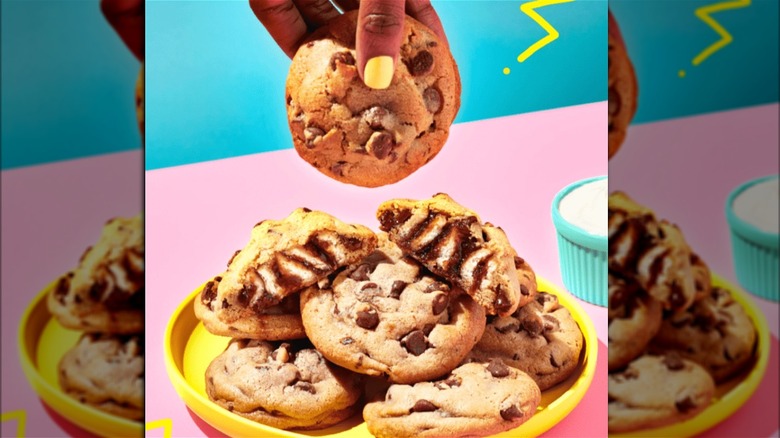 Photo Courtesy Of Cinnabon
After teasing followers with mysterious posts on their Instagram page over the course of several days, Cinnabon finally revealed news of the "sweetest comeback," driven by popular demand. And fans are now dying to get their hands on some Cookie BonBites, with one follower saying, "Can't wait to try, OMG best way to end summer."
Like so many delicious things in life, though, Cinnabon says Cookie BonBites won't be around for too long, so you should make plans to get your hands on some ASAP. According to a press release, they'll be available through the beginning of November, which is more time than we had when these treats were originally released in 2019. Look for the cinnamon roll-stuffed cookies at Cinnabon bakery locations in malls and shopping centers. They'll also be available in Cinnabons located in Pilot Flying J Travel Centers across the US.
And if you're really craving a Cookie BonBite, but don't feel like leaving the house, there's more great news for you. Cinnabon says that these treats and their other goodies and drinks can be ordered through food delivery services like Grubhub, DoorDash, Postmates, and Uber Eats. Check the Cinnabon website to find out options in your area and grab some quick because the last time, they were notorious for selling out fast.