The Worst Item At Zaxby's According To Nearly 32% Of People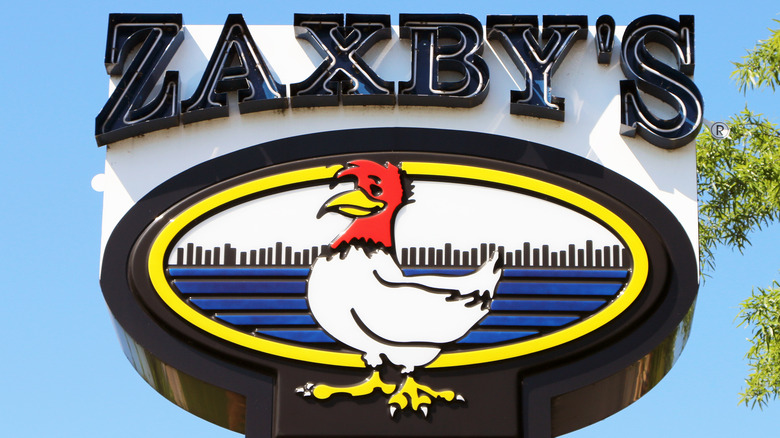 James R. Martin/Shutterstock
The Southern fast food chain Zaxby's is known for its tasty wings, loaded salads, and chicken sandwiches — particularly when their craveable cult favorite Zax Sauce and fiery Spicy Zax Sauce is involved. However, according to a new poll, opinions on the best item at the popular chain are divided.
Founded in Statesboro, Georgia by two chicken wing-loving friends in 1990, Zaxby's has since expanded to over 900 locations across 17 states, becoming a major force in the fast food game. Zaxby's was one of the earliest big names in the fast casual fried chicken sandwich market, long before the chicken sandwich wars between major chains like Popeye's and Chick-fil-A began. However, with a wide range of menu items going beyond sandwiches, picking a favorite (and least favorite) off of Zaxby's list of offerings can be challenging. 
In a recent poll, Mashed asked 603 U.S.-based readers: "What is the worst menu item at Zaxby's?" While the results were all over the board, one menu item definitively took the top spot for Zaxby's customers' least favorite item to order.
The least popular Zaxby's menu item may surprise you
Receiving the lowest amount of votes — meaning these items were more popular with respondents — were the Grilled Chicken Sandwich with 10.78% of the vote, the Zaxby's Club Sandwich with 13.10% of the vote, and the Kickin' Chicken Sandwich close behind with 13.76% of the vote. Not included in the poll was Mashed's top pick for the best Zaxby's item: the Spicy Signature Sandwich.
Zaxby's popular Boneless Wings — which were ranked towards the bottom of our menu rankings — brought in the third most votes for least favorite menu item, with 11.44% of the total. The chain's Fried White Cheddar Bites came in second in the poll, with 19.07% of the vote.
Taking the top spot on our poll with a resounding 31.84% of votes for the worst Zaxby's item were the Fried Pickles, which returned to the Zaxby's menu just earlier this year. Whether this lack of popularity was a result of the Fried Pickles being off the menu for a time, or the soggy breading reportedly found on some orders, it seems these bite-sized savory snacks can't hold their own against some of Zaxby's more popular menu options.