Here's How Much Equipment Beat Bobby Flay Stocks On Set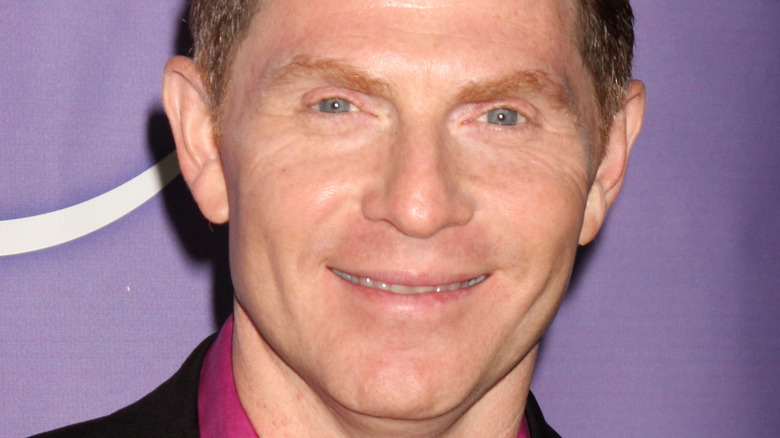 Kathy Hutchins/Shutterstock
Part of the fun of watching cooking shows stems from checking out the high-end cookware, kitchen gadgets, dinnerware, and shiny new tools featured in each episode. The Food Network's "Beat Bobby Flay" is one of those shows — two professional chefs face off in a preliminary round of intense cooking and the winner then goes to a final round where they try to out-cook Bobby Flay. When outstanding culinary talents go head-to-head in a cooking competition, they definitely need a kitchen well-stocked with equipment of equal quality and diversity.
That's just what Flay's show does. According to Danielle LaRosa, culinary producer for "Beat Bobby Flay," the set of the show features 100 pieces of equipment, including food processors, blenders, and much more (via Food Network). So, what kind of equipment and tools does Flay provide to help guest chefs get by on his show?
From spatulas to smoking guns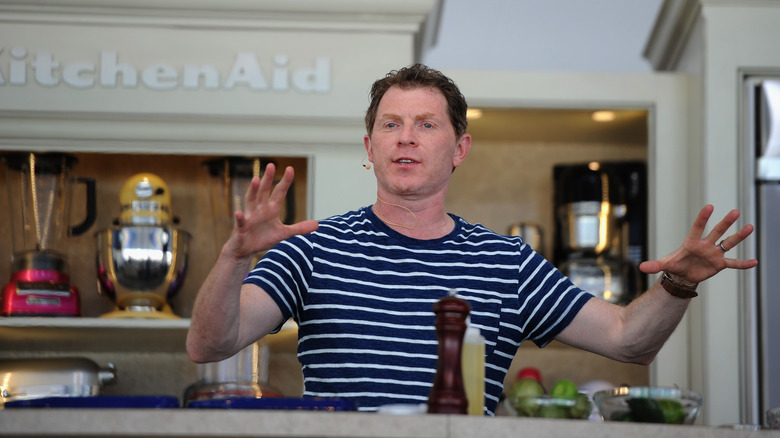 Larry Marano/Getty Images
According to Food Network, the set of "Beat Bobby Flay" features two workstations, each equipped with a working sink, stovetop, prep station, and even a deep fryer. Each station also features open shelving stocked with stockpots and pans of every size, cast-iron skillets, sheet pans, griddles, measuring cups, and a mandoline. Contestants can also expect a knife block and a canister of utensils, including wooden spoons, tongs, a potato masher, ladle, and other tools the chefs need at their fingertips. The smoking gun might rank as the most interesting tool on set. The chefs can use this device to add authentic smoke flavor to meats and other foods by loading the devices with mesquite, cherry, hickory, or other wood chips kept in the show's pantry.
Seeing what's on the set of "Beat Bobby Flay" could make you wonder what Flay considers essential for every kitchen. According to Men's Health, Flay believes any professional kitchen should contain squeeze bottles for sauces and oils, a chef's knife, a serrated knife, a meat cleaver, tongs, a Microplane, a mortar and pestle, a coffee grinder for spices, a plantain peeler, and a mango splitter. Of course, tools and cookware are only part of what "Beat Bobby Flay" keeps on set. The pantry is stocked with everything a chef could need. With this much merchandise on screen, any aspiring chef's jaw could drop when they check out the gear Flay packs into his signature show.