Instagram Can't Stop Joking About Nigella Lawson's 'Risque' Quail Post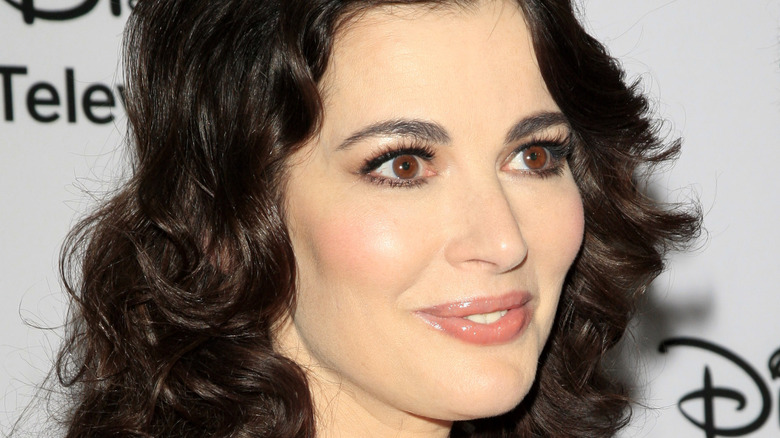 Joe Seer/Shutterstock
Nigella Lawson exudes self-confidence. She kind of takes it all in stride and isn't afraid to be herself, and we love the domestic goddess for these very reasons. Lawson has a healthy relationship with food and laughs it off when social media compares her ruby red noodles to something from a sci-fi show. The "Cook, Eat, Repeat" cookbook author wrote, "Food, for me, is a constant pleasure: I like to think greedily about it, reflect deeply on it, learn from it; it provides comfort, inspiration, meaning, and beauty ... More than just a mantra, 'cook, eat, repeat' is the story of my life." Amen – because we feel the same way.
That's one of the reasons we are always fangirling over Lawson's recipe of the day posts on Instagram and Twitter. They always look innovative, classic, and absolutely delish! Whether she is giving us a creative British twist on a classic Sicilian pasta or making us take a leap of faith with her summer pudding, the "Nigella Bites" star knows how to get her followers talking. But her latest recipe of the day has the tongues of her Instagram followers wagging but perhaps not for the usual reasons. Her fans couldn't help but notice what one might call the "risque" appearance of the food in the post. They responded with well-intentioned jokes. 
Nigella posted a pic of coquettish-looking quails
Nigella shared her #RecipeOfTheDay for Hoisin Quail on Instagram with the caption, "They do, however, need marinating for a day, before being cooked in the oven, grill/broiler, or flung on a barbecue! It's a bit of a blast from the past, this recipe, but really quite simple and very delicious!" Sounds yummy, and they look juicy and succulent as they set on top of a white serving tray, neatly lined up with their roasted legs turned inwards. And it is this seemingly "provocative" nature of the photo that has set the comments ablaze. One Instagram follower remarked, "Love a coy quail" while another shared that they "love their chunky thighs." And someone else wrote, "The picture of the quail looks like a large busted lady with her knees up. I can't unsee it." We can't help but giggle at these cheeky responses.
But those opinions are not just held by Lawson's Instagram followers. Her fans on Twitter also had similar opinions. One follower from the Twitterverse wrote, "I always think they look ladies that need the loo." While another humorously tweeted, "Um that quail placed like that is making me feel weird things..." Regardless, we are sure it is a recipe worth making and an even better conversation starter at dinner.