Nigella Lawson's Creative British Twist On This Classic Sicilian Pasta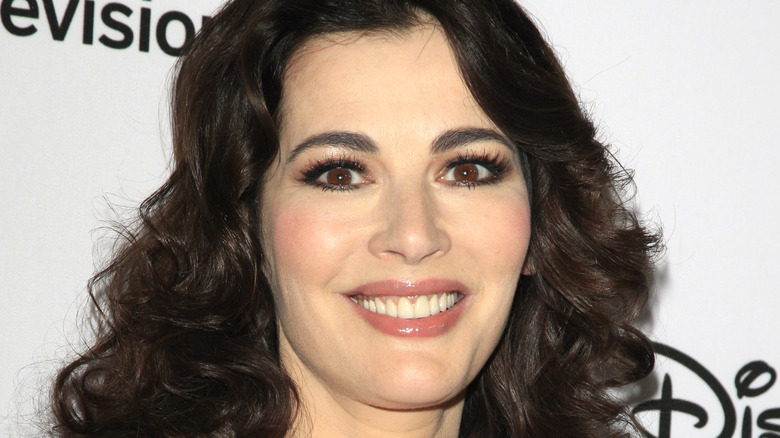 Shutterstock
Nigella Lawson has been carrying on her influential domestic ways since releasing her how-to book on the subject back in 1998, "How To Be A Domestic Goddess" (via ckbk). The British chef and TV personality is not only an incredible cook, but a blast to watch on air. She currently showcases her skills on her Food Network show "Nigella Kitchen." Lawson covers it all, from simple recipes to toss together at the end of the day to elaborate meals that require a whole afternoon of cooking. "Real food for real people for real life; when it comes to home cooking, Nigella is the real thing," Food Network says of "Nigella Kitchen."
Lawson's die-hard fans trust whatever she recommends, including her modern twist on pasta con le sarde, an established Sicilian pasta dish of tossed sardines, fennel, capers, and currants or sultanas, per Nigella's website. The chef is the first to admit this is a "hybrid" recipe, and that some Sicilians would consider toying with the original recipe sacrilegious. Lawson wanted to celebrate the Mediterranean flavors while incorporating British elements that came directly from her pantry, which is why she incorporated smoked mackerel.
Lawson leaves sardines and welcomes smoked mackerel
This recipe supports Lawson's ideal of cooking with easy, accessible ingredients while creating a unique and memorable dish for any time of day. It packs enough flavor to transport you to a five-star restaurant, but right in the comfort of your own kitchen.
One might assume that swapping sardines for smoked mackerel is the only twist on this Sicilian pasta dish, but there are other additions to shake things up: Marsala wine and dill. Lawson starts off by frying some shallots before adding the Marsala, then waits for the sauce to thicken and begin to bubble. She then tosses in the mackerel, soaked currants or sultanas, capers, and just a tad of red wine vinegar (via Nigella). Aside from adding a cup or so of pasta water and some dill and pine nuts to garnish, that's about all there is to it. 
Lawson tosses this sauce with linguine which carries the flavor perfectly, but any pasta sitting in the cupboard should suffice. Lawson shared this recipe with her admirers on Twitter, noting to all interested chefs that it "might sound weird, but it actually works really well." Though she decided to ditch sardines and fennel in this recipe, Lawson has nothing against those classic ingredients. Cooking is all about experimenting, and Lawson takes these risks for all the hesitant chefs out there.