Nigella Lawson's Ruby Noodles Are Turning Heads For This Surprising Reason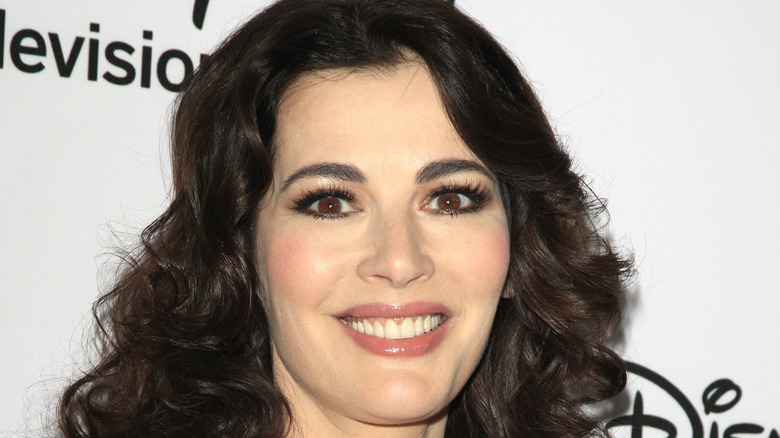 Shutterstock
Nigella Lawson is the British domestic goddess many of us aspire to be like. Lawson has taught us clever ways to use up stale bread by making a beautiful panzanella salad. The "Cook, Eat, Repeat" cookbook author has also offered those who can't stomach the taste of coriander, aka cilantro, some promising substitutes. And she has even made us feel good about enjoying tiramisu with her fun twist on this classic dessert. Simply put, Lawson is always sharing tips and tricks to help us enjoy the cooking and eating experience a little more, and we are grateful for it. But her latest recipe of the day has some of her superfans politely saying, "No, thanks." We aren't saying we are among them, but it's definitely a dish that will have your eaters talking about it at the dinner table, though perhaps not for the reason you would hope.
Lawson shared on Instagram a recipe for her ruby noodles. The "Nigella Bites" star wrote, "Positively jubilant to bring you this #RecipeOfTheDay: it's Ruby Noodles. So right for this weather. (And yes, I know they made their debut in the Christmas Comforts chapter of #CookEatRepeat) Get yourselves a carton of beetroot juice and you're off!" They sound really light and healthy, but how they sound and what they look like are two different things.
They might look like worms, or string Twizzlers
Lawson's ruby noodles are very much a statement shade of red — think red, then multiply it exponentially by a factor of red — as a result of that beetroot juice. Unfortunately, social media fans just can't get over how this vibrant color makes the noodles appear. One follower suggested they look like worms, while another wrote, "Come on, everyone knows perfectly well that's a plate of (Klingon) Gagh." If you are not a "Star Trek" fan, according to official show site, Klingon Gagh is apparently a "Klingon delicacy of serpent worms," served stewed or, preferably, live. On the other hand, another follower, thinking it was a sweet plate of candy, wrote that it looked like red licorice. (We definitely are getting those Pull 'n' Peel Twizzlers vibes.)
But as Lawson noted in her Instagram post, this isn't the first time she has shared this recipe, and it was met with mixed reviews on Twitter and Instagram then as well. Lawson shared her Ruby Noodles recipe right after Christmas of last year and conceded they do look a bit like "strawberry laces," as she calls them. She also offered a way to make them vegan, which was met with rave reviews from the vegan community, with one Tweeter offering, "Looks great! Your efforts to help vegans alter recipes as necessary is really appreciated too." What do you think these noodles look like?