Avocado Ice Pop Recipe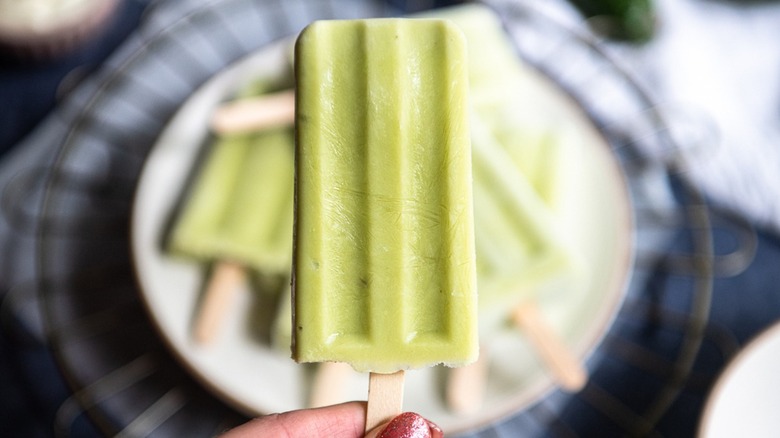 Jennine Bryant/Mashed
Popsicles are the perfect treat for anyone from kids to adults and everyone else in between. And guess what? It doesn't need to be hot ouside to enjoy a good old-fashioned popsicle. These frozen treats are great for teething babies, and they are also the perfect grab-and-go snack on the go. While most of these frozen treats are made with fruits like mango or raspberry, this one uses avocado, which has plenty of health benefits. Another great part about these frozen treats is that they're also made with Greek yogurt — another food that is incredibly good for you.
Recipe developer Jennine Bryant is the brains behind this fantastic treat that tastes just as good as it looks. She says that she loves the health factor of these, and we'd have to agree with her. "Don't get me wrong, I do love a classic fruit popsicle, but I love how healthy these feel when you eat them!" Bryant shares. "The lime makes them so fresh and zingy, and the avocado with the yogurt gives them an irresistible creamy texture."
Keep reading to find out how to make these delightful popsicles.
Gather the ingredients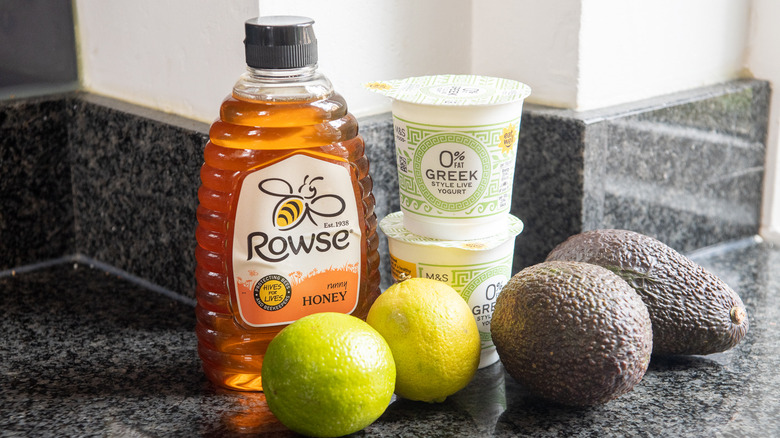 Jennine Bryant/Mashed
The first thing you will need to do is grab all of the necessary items to make this dish. If you're a healthy eater, then you may have some of the items at home already. 
The main ingredient in these yummy green popsicles is avocado, and you will need two medium ones. Keeping along with the green theme, go ahead and get two limes to add a little citrus. You will also need some 0% fat Greek yogurt. The last item that you need to get is clear honey. That adds a little bit of sweetness to these popsicles.
Blend the avocado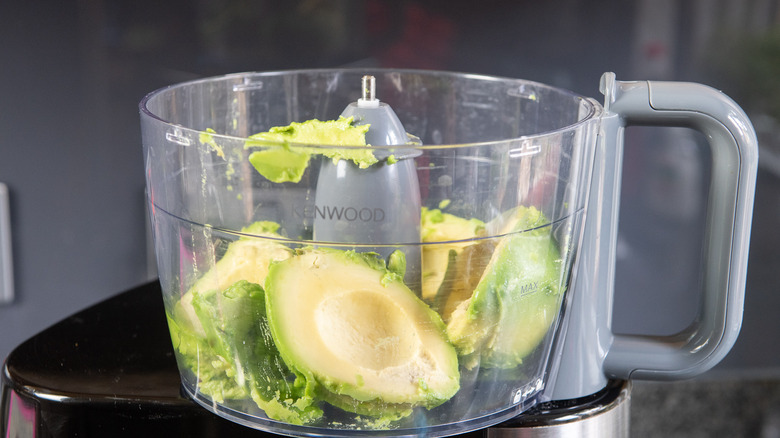 Jennine Bryant/Mashed
Are you ready to get things started? Take out a blender and plug it into one of your kitchen outlets. Then, make sure the avocados are halved and peeled before you stick them in the blender. Turn on the fancy kitchen helper and continue mixing until the avocado is smooth and no lumps remain. Then, add the lime juice to the blender and continue mixing.
"I think the best policy is patience!" Bryant says of waiting for your avocados to ripen. "I think they just taste better and have a far superior texture when they ripen naturally in their own time."
Add the yogurt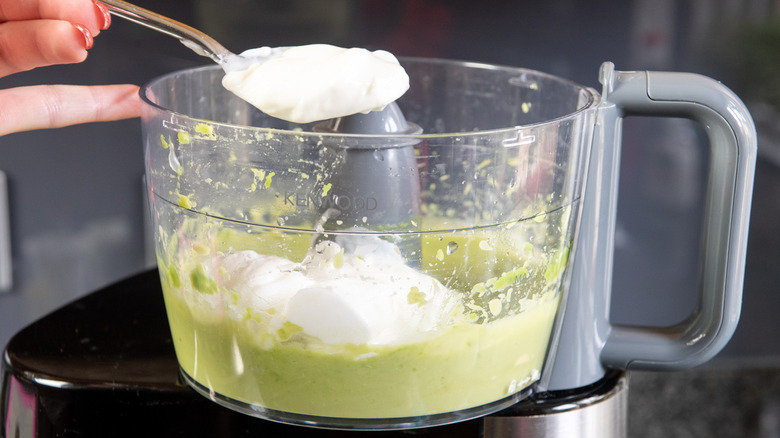 Jennine Bryant/Mashed
Now, it's time to add in the Greek yogurt. This is a common ingredient in many popsicles, and it adds some great flavor and a nice, creamy base. Not only that, but Greek yogurt also has a ton of health benefits, including being good for your gut. Need we say more? 
Once your yogurt is added in, continue blending. As you blend, be sure to scrape down the sides of the blender a few times to incorporate all ingredients. A lot of the good stuff gets sprayed on the side as the blender does its work, so scraping the sides down ensures that everything is well combined.
Add the honey and freeze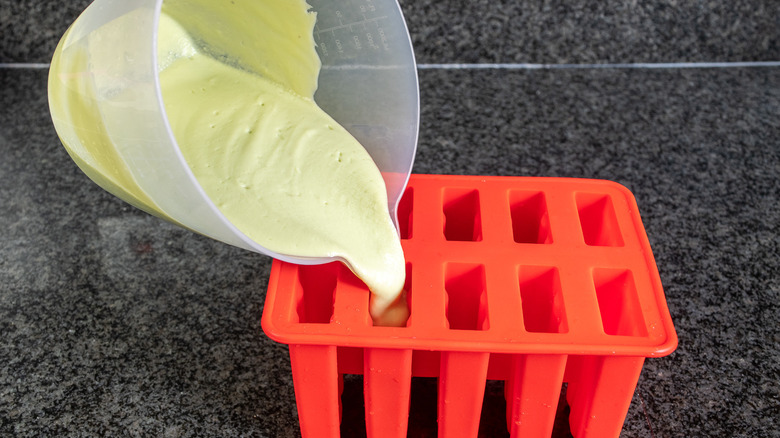 Jennine Bryant/Mashed
Now, it's time to add the honey. Just drizzle it in and then continue blending one until the popsicle mixture is well-combined. Now, decant the avocado mixture evenly into the popsicle molds. Try to make them as even as possible, but don't worry too much about getting them perfect. This recipe should make about six popsicles, which is more than enough to share with friends.
Then, stick the popsicles into a freezer and let them freeze for a minimum of four hours. This step is super important because the ingredients need to settle and freeze fully.
Enjoy your popsicles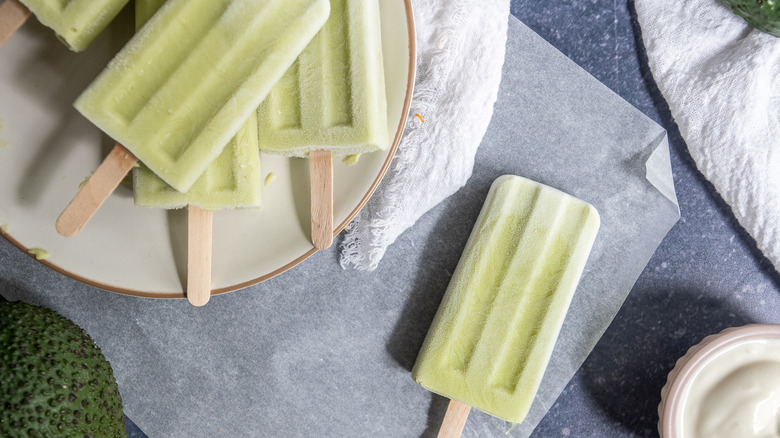 Jennine Bryant/Mashed
Once your popsicles are frozen solid, you can finally take the last and best step, which is enjoying the fruits of your labor. Once it hits your lips, you'll realize that the work it took to make these treats was worth it.
These popsicles are obviously great to enjoy on their own, but you can also drizzle a little more honey on top if you want more sweetness. "These are good to keep in the freezer for a few months, but I promise they won't last that long!" Bryant said when we asked her about leftovers. Isn't this a great, healthy snack?
Avocado Ice Pop Recipe
While most popsicles are made with fruits like mango or raspberry, this one uses avocado for a healthy twist on a classic recipe.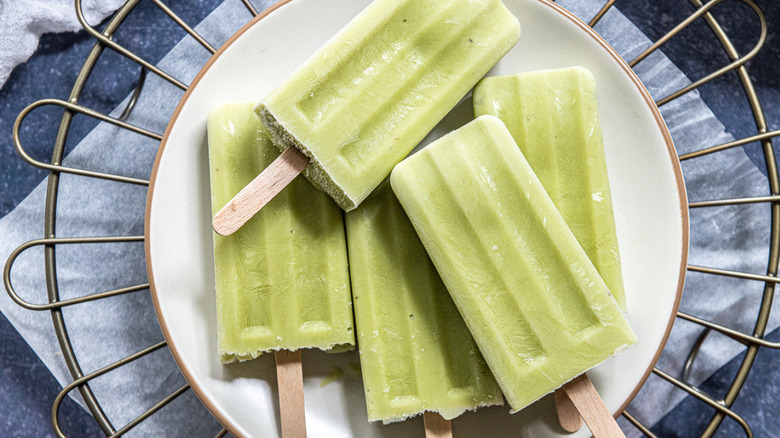 Ingredients
2 medium ripe avocados, halved and stoned
2 limes, juiced
1 ¼ cups 0% fat Greek yogurt
5 tablespoons clear honey
Directions
In a blender, add the avocado and mix until it is completely smooth and no lumps remain.
Add the lime juice to the blender and mix again.
Add the Greek yogurt to the blender and mix until combined. Make sure to scrape down the sides of the blender to incorporate all the ingredients.
Add the honey and blend one more time until everything is combined.
Decant the avocado mixture evenly into a popsicle mold. The quantity should make 6 popsicles.
Freeze for a minimum of 4 hours before eating, and store in the freezer until use.
Nutrition
| | |
| --- | --- |
| Calories per Serving | 203 |
| Total Fat | 10.1 g |
| Saturated Fat | 1.5 g |
| Trans Fat | 0.0 g |
| Cholesterol | 3.1 mg |
| | |
| --- | --- |
| Total Carbohydrates | 24.7 g |
| Dietary Fiber | 5.1 g |
| Total Sugars | 17.2 g |
| Sodium | 28.0 mg |
| Protein | 7.8 g |