Strawberry Smoothie Popsicles Recipe
Miriam Hahn/Mashed
Making your own ice pops is incredibly easy, fun, and meant for summertime. Plus, when you make your own, you know all of the ingredients that are in them. Once you've got a base popsicle recipe down, you can create all sorts of concoctions with creative add-ins to see you through the sizzling season. And this strawberry smoothie popsicle recipe from recipe developer Miriam Hahn is guaranteed to be a total crowd-pleaser. Made with fresh fruit and yogurt, it's a healthier alternative to your store-bought favorites, and the ingredients list is so short that you can make them in bulk so you never have to go without. The other great thing about this recipe is that your family will really love eating them for snack, and they'll love you for making them, too.
Just like watermelon and corn-on-the-cob are essentials for the summer months, having popsicles in the freezer at all times for a refreshing snack is an amazing way to get through the hot weather. Browsing the shelves of your local supermarket can seem like a simpler option. However, if you want a treat that's packed with natural sugars and has none of the additives then making your own popsicles is a great way to go.
These strawberry smoothie popsicles are super creamy and pack a fruity punch. You'll need to invest in some popsicle molds before you start, but once you have the supplies that you need, you'll be all set to make them whenever you'd like.
Gather your ingredients to prepare strawberry smoothie popsicles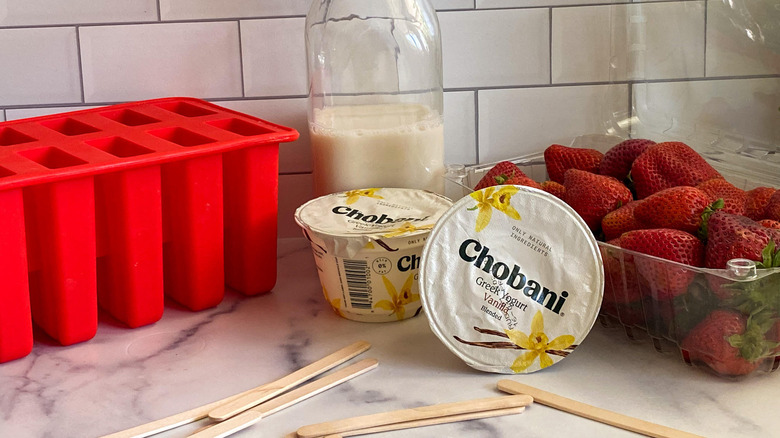 Miriam Hahn/Mashed
The beauty of this strawberry smooth popsicle recipe is that it's so simple to make. Also, all of the ingredients may already be in your fridge. If they're not, then you'll easily be able to find them at your local supermarket. To make 10 popsicles, you'll need 2 cups of fresh strawberries. The strawberries in this recipe bring the sweetness and the overall flavor. They also add a pretty color to your yummy dessert.
You'll also need 1 ¼ cups of milk and 1 cup of vanilla yogurt. Again, the yogurt will add a subtle sweetness and creamy texture to your final popsicle. If you're dairy intolerant or vegan, dairy-free milk products and yogurt would work perfectly for this recipe, so use the type of milk that works best for you and your family. Now, let's get ready to prepare these popsicles!
Prepare the strawberries and milk mixture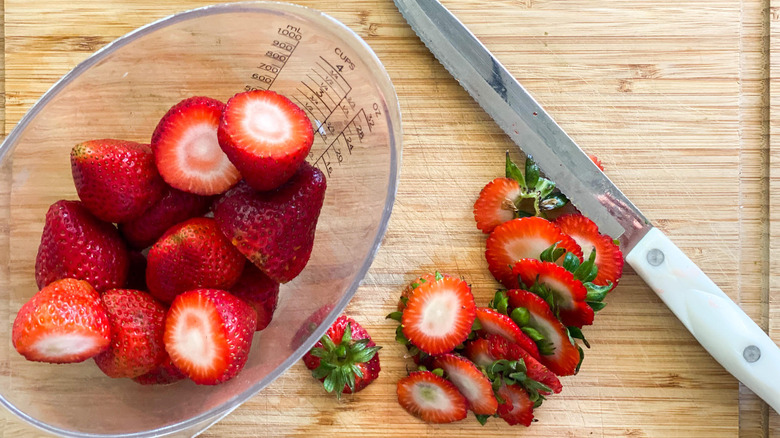 Miriam Hahn/Mashed
One of the biggest tasks when making this recipe is preparing your fresh fruit. Take each strawberry, and remove the green stems and leaves. You can do this with a small sharp knife. This will give you the precision to remove the stems but will also ensure that you don't remove too much strawberry.
It's important to wash your strawberries, and make sure they are completely clean before you put them in the blender. Then, pour your milk and vanilla yogurt into the blender. Place the lid on firmly to ensure that you don't spill the mixture. Blend the ingredients together on a medium setting until the mixture is nice and smooth.
Pour the mixture into popsicle molds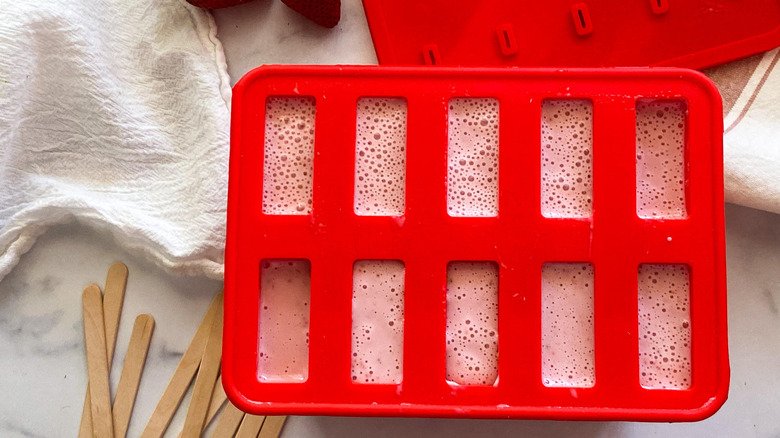 Miriam Hahn/Mashed
Before making the popsicles, you'll need to invest in some popsicle molds. You can purchase these in all sorts of fun shapes and sizes. You could go for a classic shape or something more fun like a heart or even strawberry-shaped, which would be very fitting for this recipe. They'll help your popsicles freeze into a shape that's easy to eat.
Pour the mixture into your molds, and depending on the size and shape of your molds, you should get around 10 popsicles. Hahn recommends silicone molds with a lid and slits for popsicle sticks as this will encase your mixture as it freezes and holds the sticks in place.
Freeze these sweet treats for six hours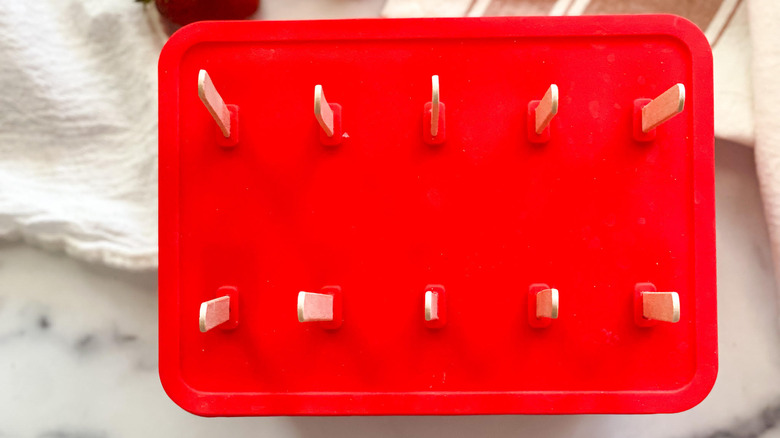 Miriam Hahn/Mashed
Once your molds are full and securely holding all of the mixture in place, you need to slide the sticks in. Then, place the popsicle molds in the freezer. They take around six hours to freeze fully, depending on the temperature of your freezer. You can't really check if your popsicles are fully frozen until you take them out and take the mold off, so it's always better to give them too much time than too little. Refrain from taking the popsicles out of the freezer until you're ready to remove them from their molds and store them individually.
Remove the popsicles, and store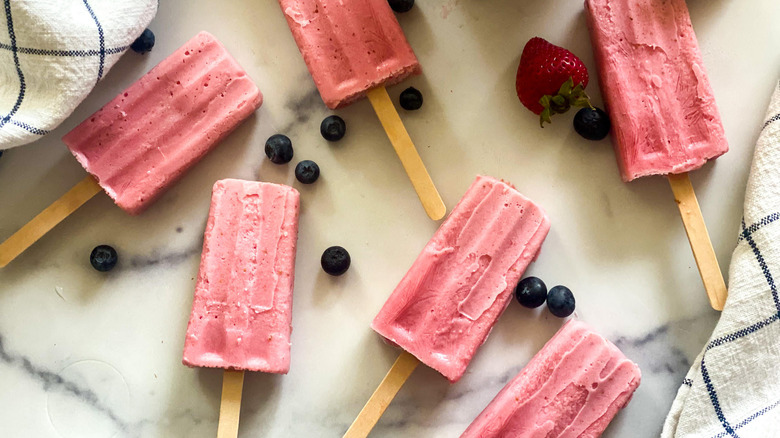 Miriam Hahn/Mashed
After six hours have passed (or when you're ready to eat the popsicles), you'll need to remove them from their molds. To do this, you need to fill a pot with warm to hot water. Put the molds in for a minute. This will loosen up the popsicle inside and make it easier to release them. Don't leave them in the water for too long, or they'll start to melt.
Open your molds, and then you can eat your strawberry smoothie popsicles straight away. If you're not ready to eat or serve them, you can store them in a plastic container or in Ziplock bags. Whatever you store them in, return them to the freezer until you're ready to eat them.
Before you eat them and store any away, be sure to take some impressive pics to post on your social media feeds. You can even place some fresh strawberries around them for a really spectacular presentation. Snack up, and enjoy!
Strawberry Smoothie Popsicles Recipe
Making your own ice pops is incredibly easy, fun, and meant for summertime. These strawberry smoothie popsicles are super creamy and pack a fruity punch.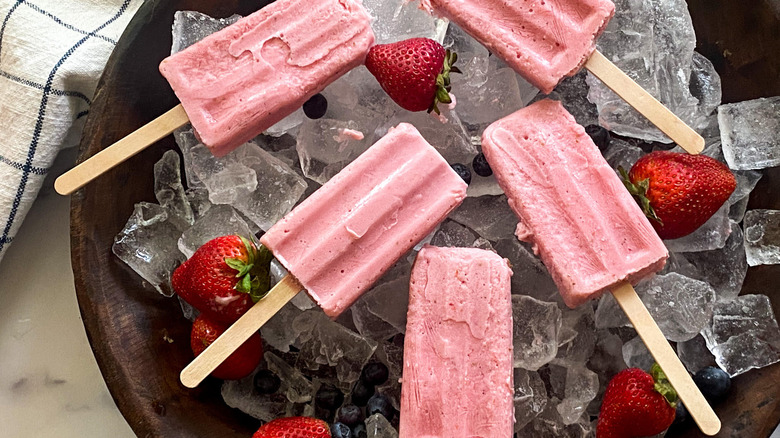 Ingredients
2 cups fresh strawberries
1 ¼ cups milk
1 cup vanilla yogurt
Directions
Trim off the green stems on the strawberries.
Pour the milk, yogurt, and strawberries into the blender. Blend until smooth.
Pour the blended mixture into 10 popsicle molds.
Place in the freezer for 6 hours.
To remove your popsicles, fill a large pot with warm/hot water. Immerse the mold in it for 1 minute, and it will loosen the popsicles so you can release them.
Put them in a covered container in the freezer to store.
Nutrition
| | |
| --- | --- |
| Calories per Serving | 49 |
| Total Fat | 1.4 g |
| Saturated Fat | 0.8 g |
| Trans Fat | 0.0 |
| Cholesterol | 4.3 mg |
| | |
| --- | --- |
| Total Carbohydrates | 7.2 g |
| Dietary Fiber | 0.6 g |
| Total Sugars | 6.4 g |
| Sodium | 29.6 mg |
| Protein | 2.4 g |