Einstein Bros' New Breakfast Sandwich Is Perfect For Queso Fans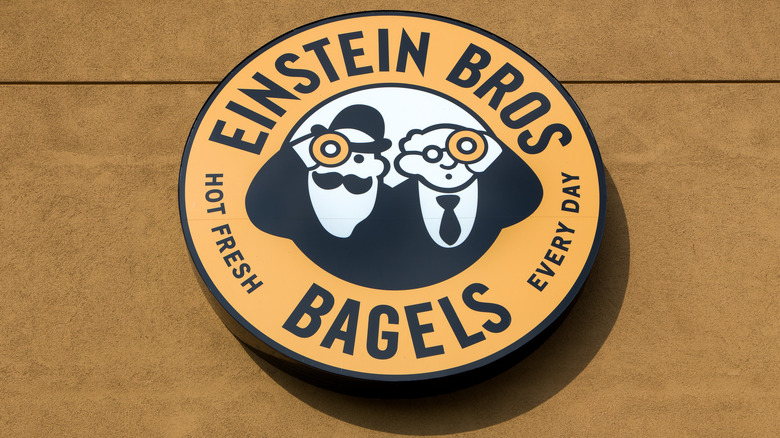 Ken Wolter/Shutterstock
National Queso Day is on September 20th, and leave it to Einstein Bros. Bagels to give fans of the cheesy dip — and the fast food chain's bagels — a reason to indulge. Per a company announcement, the quick service restaurant shared that, if you need an excuse to chow down on "delicious, ooey-gooey, spicy-melty cheese in the morning," beginning September 16th, queso lovers can enjoy their new bacon, egg, and queso breakfast bagel, which is dripping with everyone's favorite Tex-Mex dip. That's right. While many may consider queso a beautiful, velvety, and cheesy dip that belongs next to your bowl of Tostitos, Einstein Bros. is out to prove that it can be used as the perfect sandwich topping to satiate your morning hunger pangs.
Queso, which American Express Essentials describes as "almost liquid melted cheese," can bring out some strong opinions. You might recall that when Chipotle launched their queso in 2017, per USA Today, the chain was pelted with internet rocks for failing to use the two classic ingredients that have come to define this dip: Velveeta cheese and Ro-Tel diced tomatoes with green chiles. But we have high hopes for the Bacon & Queso Egg Sandwich that Einstein Bros. Bagels is bringing to menus. In fact, we think it is going to be epic. 
What to expect from Einstein Bros' new bacon & queso egg bagel sandwich
Lovers of all things bagel and all things queso will be excited to learn that this new bacon and queso egg sandwich will place Einstein Bros. Bagels signature queso in a starring role. But hold on tight because their queso has been upgraded to a new 2.0 version which now includes "double-whipped Jalapeño Salsa Shmear and spicy green chiles." (If your taste buds are starting to churn and do the cha-cha, we are with you.) Additionally, this breakfast sandwich also features crispy, savory smoked Applewood bacon piled on top of seasoned cage-free eggs atop the bagel of your choice (via press release). We are getting everything bagel vibes, yet we can also appreciate the simplicity of a plain bagel for this sandwich. But hey, that's the great thing about bagels — so many possibilities!
What was the catalyst for this new sandwich? Chef Chad Thompson, Head of Culinary Innovation at Einstein Bros. Bagels. said in the announcement, "Everyone loves queso, but until now, it has stayed off the breakfast table — for no good reason. Queso fans are going to love the pairing of our signature queso with a classic bacon and egg bagel sandwich, giving them plenty of options when they walk into an Einstein Bros. Bagels bakery." With that said, you might want to note that the Bacon & Queso Egg Sandwich will only be available at participating locations, so check your local shop's menu before you head on over.