Food Network's Aaron McCargo Jr. Says He's Ready To Take On Bobby Flay - Exclusive
Spend some time chatting with Aaron McCargo Jr. and one thing quickly becomes clear — the chef has got a personality that's as big and warm as the flavors he's known for. The Food Network Star Season 4 winner and host of "Big Daddy's House" puts his heart and soul into every dish, and loves to elevate simple classics with his own unique attention to detail. And it doesn't matter who he's cooking for — whether it's his friends and neighbors, or the toughest critics out there, like celebrity chef Bobby Flay himself.
In an exclusive interview with Mashed, McCargo Jr. shared what it was like competing on "Food Network Star," and explained how he kept his cool while making dishes for celebrity chefs, including Flay, who had the power to make or break his culinary future. "I never looked at anyone as a celebrity ... I've never looked at anybody as anyone other than my family," he explains, adding "if the president of the United States called me in to cook, I'm going to do what I normally do." Clearly, that attitude has carried him a long way.
Now, McCargo Jr. says he's ready to outcook the man who helped launch his Food Network career. We asked McCargo Jr. if he'd ever take on Bobby Flay, and if he thinks he's got what it takes to beat him. And let's just say the gauntlet has officially been thrown.
Aaron McCargo Jr. plans to take Bobby Flay down with steak and potatoes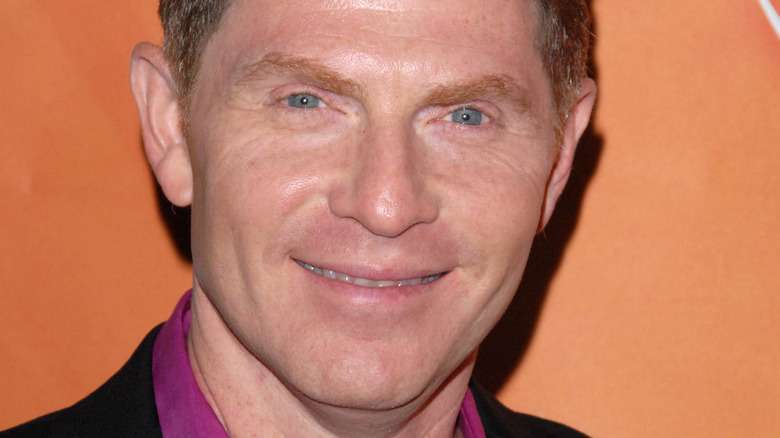 s_bukley/Shutterstock
If you ask Aaron McCargo Jr. why we haven't seen him on "Beat Bobby Flay" yet, he'll tell you he's just waiting for the invite. "Has he called me yet? No. Why? I'm not saying," McCargo told Mashed, adding "It's his call. You know I'm game." Not only is he ready to take on Flay in the kitchen, but he already knows exactly which dish he'd make for the challenge. "I would go with New York steak au poivre with au gratin potatoes," says McCargo, along with some "roasted asparagus with a funked-out twist," because according to him, "you got to do something different with it."
It's worth noting that McCargo Jr. has at least been perfecting that potato recipe for well over a decade. He says it was one of the first dishes he ever made while filming "Big Daddy's House." The dish was featured during the first week of filming, which he calls the "best week ever" for the show. "I did my mama's fried chicken ... macaroni salad ... I did a crusted prime rib, and ... those au gratin potatoes that I'm talking about, that I'm going to beat Bobby Flay with." McCargo Jr. followed that up with another call to action. "Bobby? Is he around? Can somebody call him? Like, let's do this." So chef Flay and Food Network? You heard it here first. The next challenger is ready to get cooking.
For more insight from Aaron McCargo Jr., check out the chef's website. To see the latest from his kitchen, follow him on Instagram.