Instagram Can't Believe How Much Buddy Valastro's Son Looks Like Him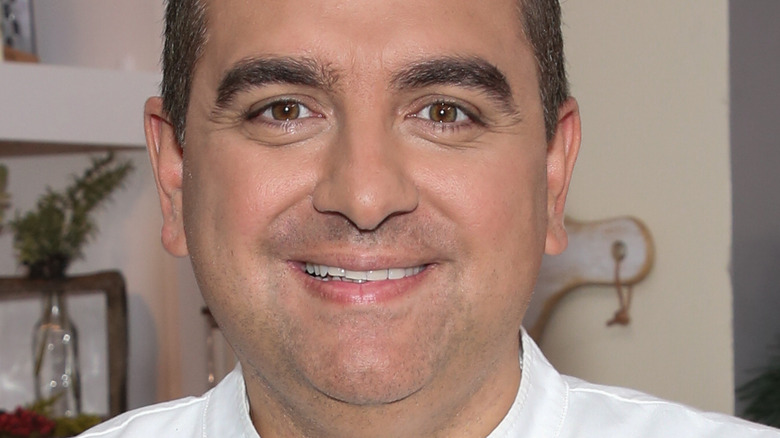 Paul Archuleta/Getty Images
There are a few things we know for sure when it comes to celebrity chefs. One is that the public can't get enough of every glimpse into the kitchens, homes, and everyday lives of the world's most talented chefs and TV personalities. From Marcela Valladolid and her charming children to the Pioneer Woman's romantic vacations, social media loves to get regular sneak peeks into the lives of celebrities.
The same is especially true for celebrities and their kids — there is now even a market for celebrity chefs' kids following in their parents' footsteps, like Matilda Ramsay, daughter of Gordon, who has published her own book of recipes (via Hello Magazine). But when star chefs share moments on photo-heavy platforms like Instagram, it can be hard to ignore certain things; like how much a kid really looks like their mom or dad.
Cake Boss Buddy Valastro essentially has what he calls his "mini-me," also known as his son, Buddy Valastro, Jr (via Closer Weekly). The resemblance between the father and son is uncanny, and Instagram can't seem to stop talking about it.
The resemblance is uncanny
The celebrity baker and owner of Carlo's Bakery shares a little bit of his food adventures and kitchen creations on Instagram, but his feed is definitely dedicated more to his family. Wife Lisa and Buddy's four children make appearances all over the baker's Instagram, and one recent photo he shared of son Buddy Jr. is causing quite a stir.
The Instagram post shows Buddy Jr. sitting in a chair at his father's newly opened Pizza Cake restaurant in Harrah's Las Vegas, and behind him is a large, black-and-white photo of a young Buddy Valastro in front of a sprawling New York skyline. The resemblance between the older photo of Valastro and his real-life son is so uncanny it's hard to tell the difference between the two.
Instagram users couldn't help commenting on the similarities, with some saying "Like father like son!" One user wrote that Buddy Jr. has his mom's eyes and "the rest is like [Buddy Sr.]," After a quick Google search, it's hard to disagree with that logic.
The father-son moment is even more appreciated by those who know the story of Buddy Sr.'s hand injury about a year ago (via Today) — one that almost ended his culinary career. Young Buddy was there at the time to intervene and help his father, likely strengthening their bond even more than what it was prior.