Buddy Valastro Made A 1st Birthday Cake For Gigi Hadid's Daughter And Fans Can't Get Enough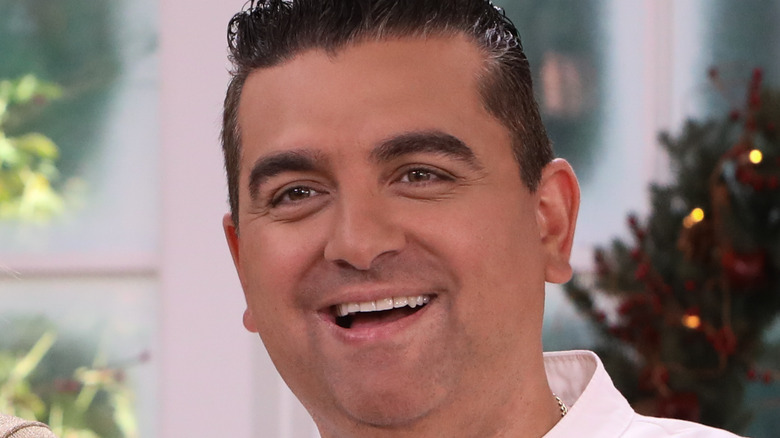 Paul Archuleta/Getty Images
September has been quite a busy month for Gigi Hadid. According to Harper's Bazaar, the 26-year-old supermodel followed up her return to New York Fashion Week in September with an appearance at the Met Gala less than a week later. However, the most important event of her month wasn't on a runway or a red carpet. As People reported, Hadid and longtime partner Zayn Malik celebrated their daughter Khai's first birthday on Sunday, September 19, with a small party featuring toys, balloons, and a stunning cake made by none other than Buddy Valastro.
"How fun was this cake we created for my friend @gigihadid daughter Khai's 1st birthday?!" the Cake Boss wrote in an Instagram post with a series of five snaps, including Hadid posing with a thumbs up in front of the three-tiered sweet treat. "Now that's how you celebrate Hoboken style baby." Along with Hadid's selfie, Valastro's post also included a few close-up shots of the cake, which was covered in colorful fondant and featured a rainbow and characters from the Netflix animated series "Word Party." He also appeared to have made a separate smash cake for the youngster that was coated in a thick layer of rainbow frosting and had a large pink number one on top.
Fans are calling Valastro's birthday cake for Hadid's daughter a "masterpiece"
Like Valastro's recent cake for Rachael Ray, his birthday confection for Hadid's daughter Khai received plenty of praise. "SO AMAZING!!!!!" one follower commented on his Instagram post, which has so far received more than 130,000 likes, while another fan on Twitter dubbed the cake "a MASTERPIECE!!" Hadid herself also took a moment to leave a sweet note. "THE BEST," she commented on Valastro's Instagram post. "I love you all. Thank you so much."
The friendship between Valastro and Hadid has actually spanned years; the Cake Boss also provided a treat for the supermodel's 25th birthday in April of 2020. According to Food Network, the baker sent his pal a delicious cake fashioned in the shape of an everything bagel, which Hadid said in an Instagram post was "a dream come true." She even offered to be an intern at Valastro's Carlo's Bakery, which turned out to be a day of Hadid improving her icing skills and getting emotional over cake. We're not sure about you, but we're absolutely loving the baking mentorship between these two, and we can't wait to see what Valastro comes up with for Khai's second birthday!