The Surprising Reason Gigi Hadid Got Emotional Over Cake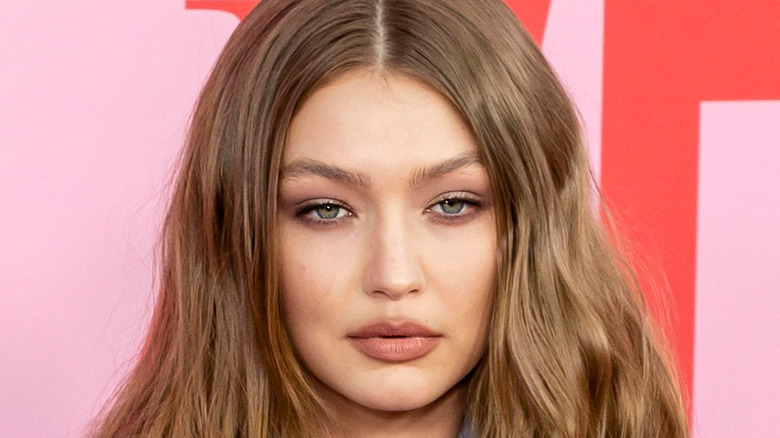 Shutterstock
Even celebrities can get starstruck. That's exactly what happened to supermodel Gigi Hadid when she got to decorate a cake with the Cake Boss himself, Buddy Valastro. Said Hadid to Harper's BAZAAR, "I'm just gonna do what I feel, because if I overthink it, then obviously I'm gonna be nervous." The model continued, "I'm just gonna pretend that it's a normal day baking without Buddy next to me, and we'll see how it goes." For the record, Valastro was pretty excited, too.
Valastro was impressed early on with Hadid's decorating skills, which may be in part due to her admitted love of frosting videos on social media. Valastro explained, "Cake decorating to me is different than baking, this is more of a creative art; baking is more of a scientific formula." The Cake Boss admitted, however, that making a cake collaboratively and on TV can have a few complications: "When you gotta decorate and talk, it's very hard — people don't realize that."
The cake itself was a traditional white round-shaped cake of multiple layers. The decorations were hand-frosted flowers in shades of peach, yellow, and orangey-pink (almost salmon) with delicate dark green stems. Valastro directed the making of traditional flower petals and roses which were then stuck to the cake and connected with flower stems in a technique called brushed embroidery. But the real icing on the cake was an emotional moment shared by Hadid.
Gigi Hadid: cake intern
Hadid shared the experience in her own words on social media saying, "Thank you @samiranasr @harpersbazaarus @buddyvalastro for this dream come true. I have been waiting for [what feels like] my whole life for my first day at @carlosbakery !" (via Instagram). In fact, Hadid was so excited she posted about it twice, adding, "My Dream Summer Internship with @buddyvalastro at @carlosbakeryCelebrating my @harpersbazaarus August Cover with the best day ever !!!" (via Instagram).
During the session, Hadid took a moment to compliment Valastro on a previous cake she got from him that took the form of an everything bagel. Describing it as the "coolest cake ever," Hadid said she burst into tears of happiness over that bagel cake. Not only was she already a huge fan, but Hadid said the cake arrived with perfect timing – at the peak of her pregnancy cravings. Resharing an everything bagel cake pic posted by Hadid, Buddy Valastro said, "Happy 25th Birthday @gigihadid meant 'everything' [bagel emoji] to us making your day extra sweet [cake emoji] @carlosbakery" (via Instagram).
It looks like for these cake fans, you can have your cake and eat it too – and it couldn't be any sweeter.