Instant Pot Lamb Shoulder Chops Recipe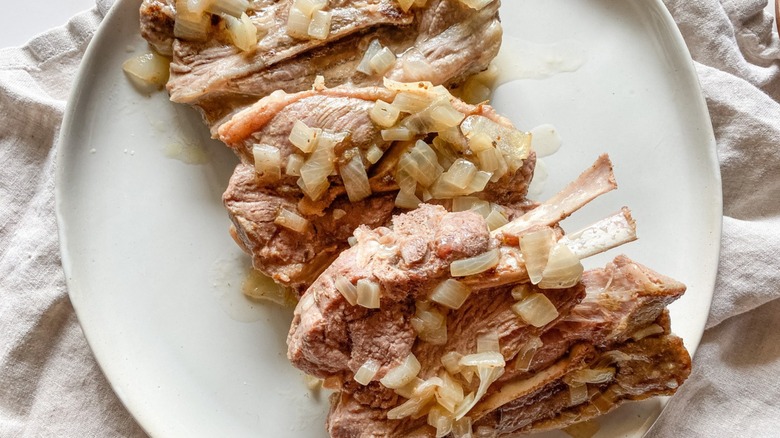 Kristen Carli/Mashed
When we think of meats, it's usually the "big three" that come first to mind: beef, pork, and chicken. There's also turkey, fish, and shellfish. Lamb, however, is often regarded as a more exotic option along the lines of bison or duck. Why should this be? Family Farm Livestock suggests that lack of availability as well as high prices may be contributing to lamb's lack of popularity. Another factor they mention is that lamb doesn't come in too many cuts. When you want to eat beef, there are a number of steak options to choose from, and there's also prime rib, roast beef, and ground beef. With lamb, however, your store may offer nothing more than a leg of lamb as well as some lamb chops.
As Electric City Butcher explains, however, there are actually several different varieties of lamb chops: the rib chop, the leg chop, the loin chop, the arm chop, and the shoulder chop. This last-named type of chop is the most readily available and also the cheapest, but it can't be simply pan-seared, as the shoulder has a lot of connective tissue which can make for a pretty tough chop. Instead, low and slow is the way to go — or else, you could make short work of breaking down that tough tissue by cooking shoulder chops in an Instant Pot as in this recipe from developer Kristin Carli.
Ready to make lamb chops for yourself? Let's take a closer look at how to do it.
Shop for the necessary ingredients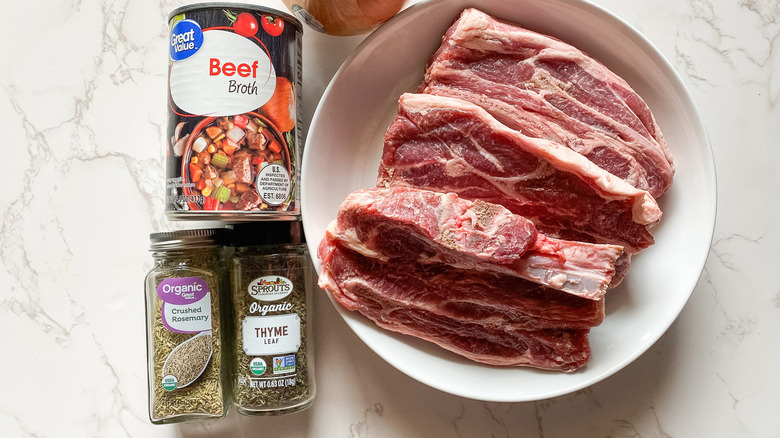 Kristen Carli/Mashed
In addition to the lamb shoulder chops, you're going to need just a few additional ingredients: olive oil for cooking (any kind will do, not just extra virgin), a yellow onion, some beef broth (Carli used the canned kind), and a few dried herbs: rosemary and thyme. Carli does say, though, that "You could use fresh herbs instead of dried," and goes on to tell us, "You can add them at the same time as the dried are added." If you decide to go this route, you'll need to use one tablespoon each of fresh rosemary and thyme, and you can use kitchen scissors to snip them up into itsy-bitsy pieces.
As to why Carli chose these two herbs, she explains, "I love rosemary with lamb. It is such a nice pine and lemon flavor." She also tells us, "Thyme is also one of my kitchen favorites, and it also has a nice lemony flavor." Both of these herbs, she feels, are perfect for lamb.
Start by sautéing the onion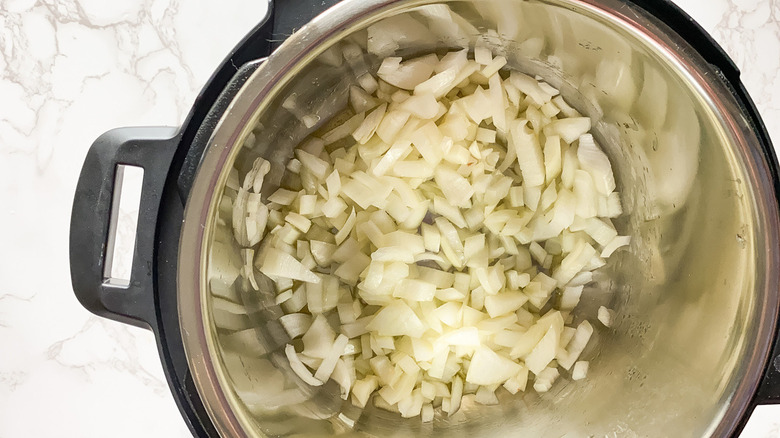 Kristen Carli/Mashed
The very first thing you need to do before you start cooking is the hardest part of the whole recipe: peeling and then dicing the onion. Once your onion is chopped and you've disposed of the peels and assorted mess, blown your nose, and washed your hands, you can now set the Instant Pot to sauté and heat the olive oil. When it starts sizzling, add the onions and cook them for about five minutes until they start too look translucent.
Let the Instant Pot cook the lamb chops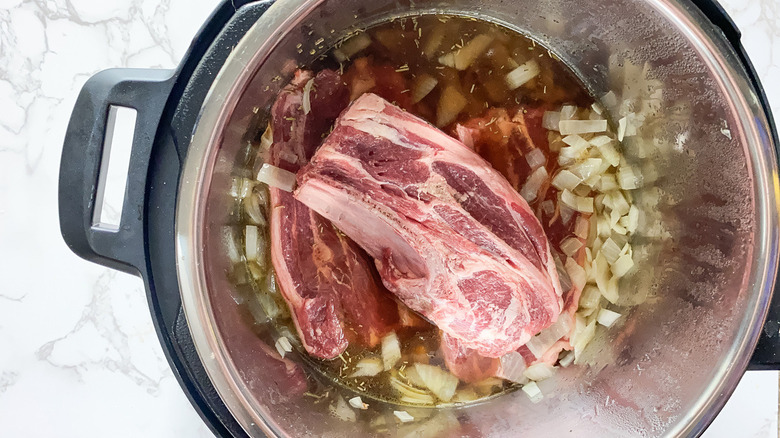 Kristen Carli/Mashed
Once the onions are cooked, pour the broth into the pot, then add the lamb chops and sprinkle them with the herbs, whether dried or fresh. Close the lid of the Instant Pot and set the valve to sealing. Once that's done, set the pot to pressure cook for six minutes. After the time is up, allow the pot to release pressure naturally. As Carli advises, "To naturally release, it can take about 10 minutes," so you can use this extra time to prepare any quick sides you may have in mind.
Serve these chops with some tasty sides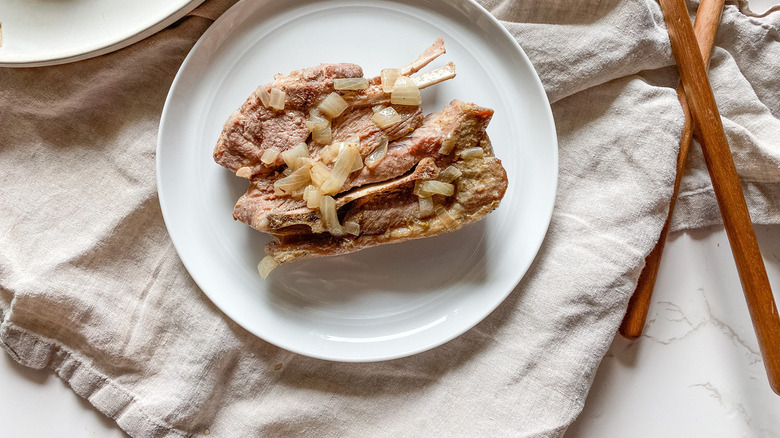 Kristen Carli/Mashed
Carli tells us, "I love to serve th[ese lamb chops] with mashed potatoes and roasted veggies for a hearty meal." If you'd prefer something a touch less hearty, you could go with a simple green salad, or you could also opt for a side dish of rice pilaf.
Don't forget about the juices left in the pot after cooking! Carli says these "would be nice spooned over the lamb," or you could add some butter and maybe some wine or lemon to make a tasty pan sauce.
Instant Pot Lamb Shoulder Chops Recipe
Who says lamb has to be hard work? In just a few minutes, you can make an incredible lamb dish in your Instant Pot. Let's get started.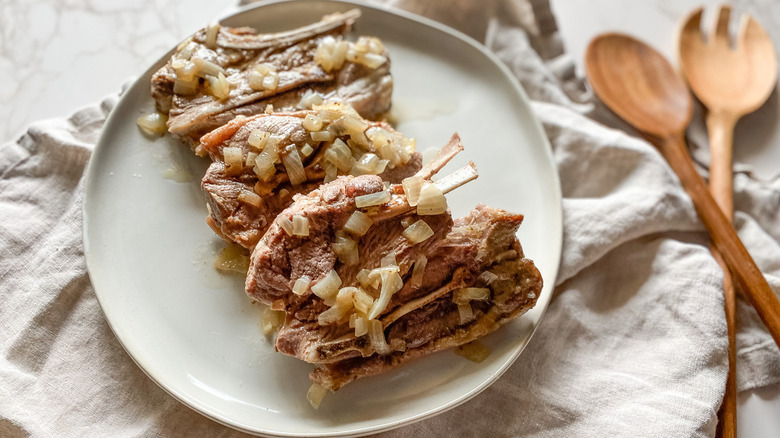 Ingredients
1 tablespoon olive oil
1 yellow onion, diced
3 lamb shoulder chops
1 (15-ounce) can beef broth
1 teaspoon dried rosemary
1 teaspoon dried thyme
Directions
Set the Instant Pot on sauté and add the olive oil.
Once the oil is hot, add the onion to the pot and sauté for 5 minutes until translucent.
Add the lamb chops, beef broth, and herbs to the pot, close the lid, and set the valve to sealing.
Set the Instant Pot to pressure cook for 6 minutes.
Allow the Instant Pot to naturally release pressure.
Serve and enjoy.
Nutrition
| | |
| --- | --- |
| Calories per Serving | 369 |
| Total Fat | 29.4 g |
| Saturated Fat | 11.4 g |
| Trans Fat | 0.0 |
| Cholesterol | 82.1 mg |
| | |
| --- | --- |
| Total Carbohydrates | 4.4 g |
| Dietary Fiber | 1.0 g |
| Total Sugars | 1.8 g |
| Sodium | 599.0 mg |
| Protein | 21.0 g |