Spanish Yellow Rice And Chicken Recipe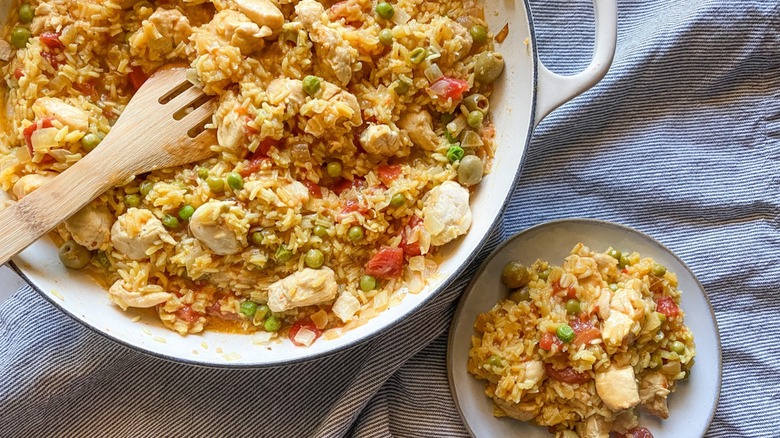 Kristen Carli/Mashed
"I love a one-pan dish!" recipe developer Kristen Carli tells us of her simple and convenient take on "arroz con pollo," which is Spanish for rice with chicken. And who would ever argue? Especially when it comes to weeknight dinners (or Sunday night weeknight dinner prep). Especially, too, when that one-pan dish involves the earthy and multi-layered flavors of Spanish yellow rice. And that happens to be exactly what this recipe for Spanish yellow rice and chicken delivers, along with this extra-added bonus: It's a complete meal, no side dishes required! "All food groups are included," explains Carli, who is also a registered dietitian with her own private practice in Scottsdale, Arizona, Camelback Wellness. In other words, without a single side dish to be prepped and cleaned up after, you have here a complete meal.
As to what it is that gives Spanish rice its depth, not to mention its gorgeous golden hue, Carli explains that it comes down to the fact that the rice itself comes seasoned with the spices saffron and turmeric. So the home cook is starting out with those flavors before they even get started cooking. And that's precisely what we're about to do now. So, let's started cooking! 
Gather your ingredients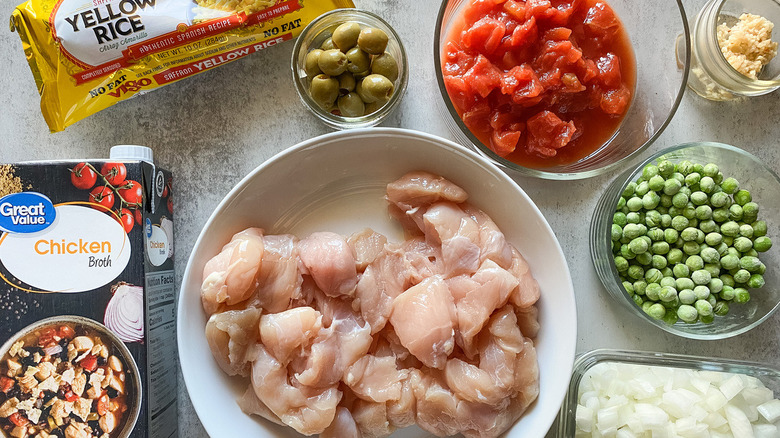 Kristen Carli/Mashed
To make Carli's recipe for Spanish yellow rice and chicken, you will need, of course, yellow rice and chicken. Specifically, you'll need 1 pound of boneless chicken breasts (cubed) and one 10-ounce package of yellow rice. You'll also need one yellow onion (chopped), 1 teaspoon of minced garlic, ⅔ cup of frozen peas, half of a 15-ounce can of diced tomatoes, a ¼ cup of pitted green olives, 2 tablespoons of olive oil, and 4 cups of chicken broth. 
A note on prepping your chicken
VICUSCHKA/Shutterstock
To make Carli's recipe for Spanish yellow rice with chicken, the first thing you'll need to do is to cube your raw chicken. That, in and of itself is quite simple (just cut the chicken into increasingly smaller pieces until each piece is bite-sized). However, it does require care because raw chicken may carry various foodborne pathogens, including salmonella and campylobacter. In fact, Consumer Reports reported (via Healthfully) that 66% of the raw chicken it tested was contaminated. Fortunately, cooking your chicken to 165 F (via USDA) should eliminate those pathogens. In the meantime, as Carli points out, "When handling raw meat, it is crucial that you use separate knives and cutting boards to handle it."
Cook your onions and garlic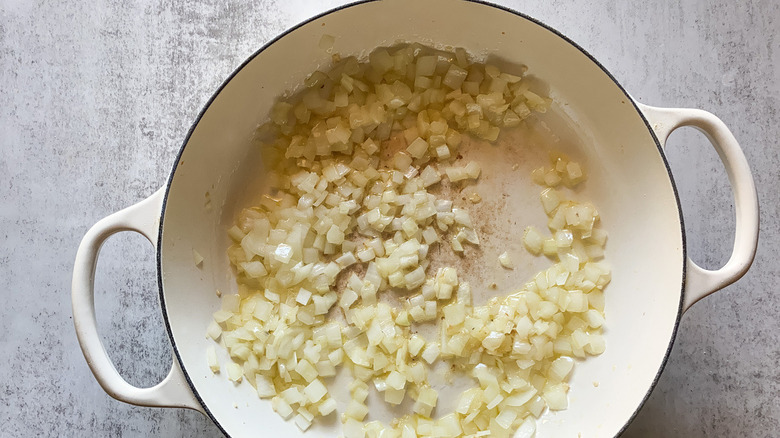 Kristen Carli/Mashed
You can usually find pre-chopped onion in your grocery store's produce aisle, but chopping an onion is easy. Just peel off the outside paper-like skin, and using a sharp chef's knife, cut the onion in half, cut each half again, and continue cutting until your onion is diced very small. When you are ready to start cooking, put a large, deep skillet over a heat source set to medium. Add the olive oil. Once the oil is shimmering, which tells you it's hot, add the onion and garlic, and cook them until the onion appears translucent. That should take around five minutes.  
Brown the chicken, then add the other ingredients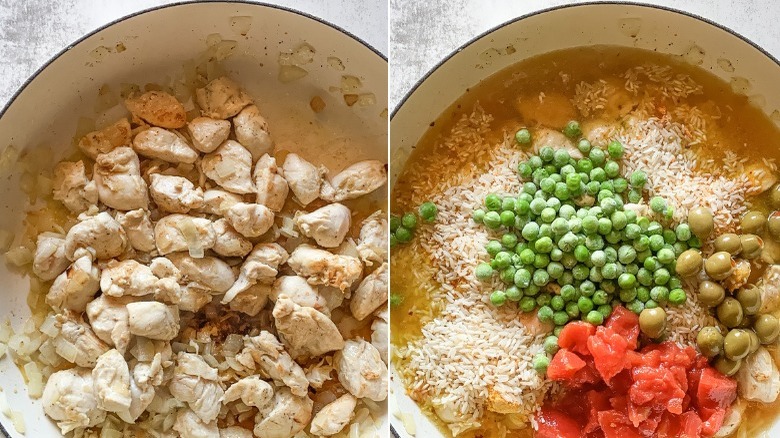 Kristen Carli/Mashed
Once the onions have cooked to translucent, believe it or not, there is going to be very little for you to do except adding the rest of the ingredients and letting the pot simmer for 20 minutes. Specifically, add the chicken to the onions and garlic. When it is browned on all sides, add all the other ingredients, and bring the mixture to a boil. At that point, reduce your heat source to low, cover your skillet, and allow your Spanish yellow rice and chicken to simmer for 20 minutes, at which point it will be ready to serve. And just like that ... your one-pan dinner is served.
Spanish Yellow Rice And Chicken Recipe
This delicious one-pan meal is perfect for a busy weeknight and is a perfectly balanced combination of protein, carbohydrates, and vegetables.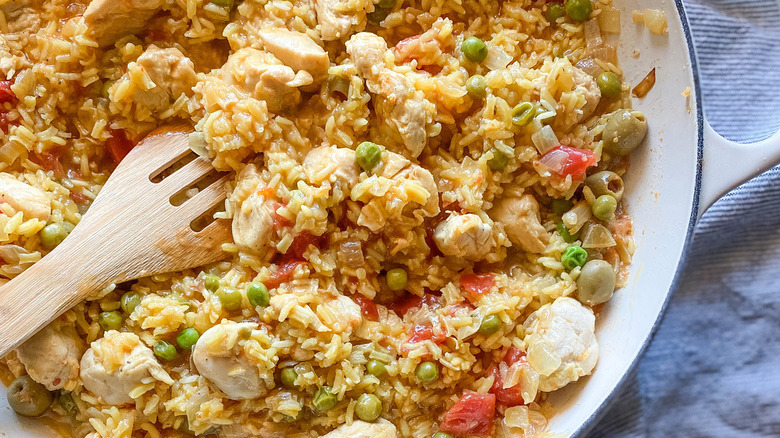 Ingredients
2 tablespoons olive oil
1 yellow onion, chopped
1 teaspoon minced garlic
1 pound boneless skinless chicken breasts, cubed
4 cups chicken broth
1 (10-ounce) package of yellow rice
⅔ cup frozen peas
½ (15-ounce) can diced tomatoes
¼ cup pitted green olives
Directions
In a large skillet over medium heat, add the olive oil.
Once the oil is hot, add the onion and garlic, and cook until the onion is translucent (about 5 minutes).
Add the cubed chicken to the skillet, and cook until the chicken is browned on all sides.
Add all of the remaining ingredients and bring it to a boil.
Lower the heat and allow it to simmer, covered, for 20 minutes.
Serve immediately and enjoy!
Nutrition
| | |
| --- | --- |
| Calories per Serving | 392 |
| Total Fat | 9.6 g |
| Saturated Fat | 1.8 g |
| Trans Fat | 0.0 g |
| Cholesterol | 60.0 mg |
| | |
| --- | --- |
| Total Carbohydrates | 48.7 g |
| Dietary Fiber | 1.9 g |
| Total Sugars | 5.1 g |
| Sodium | 361.7 mg |
| Protein | 25.5 g |