The One Food Maneet Chauhan Always Orders Out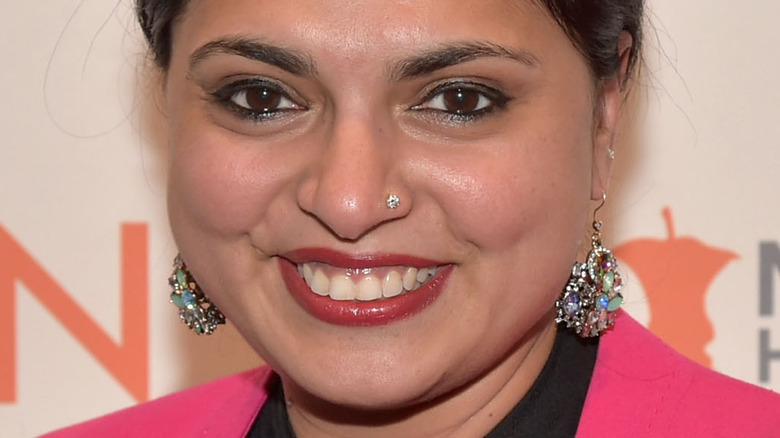 Theo Wargo/Getty Images
Maneet Chauhan is a celebrity chef who can whip up just about any dish her heart desires. Per her Food Network bio, Chauhan attended The Culinary Institute of America, where she was adorned with accolades and graduated with honors. Now a judge on the hit food competition show "Chopped," Chauhan readily admits that she is not a fan of cooking with pineapple and is a strong advocate for introducing Americans to Indian cuisine. She told Travel & Leisure, "If anyone wants to cook Indian food, take it out of your mind that it's very complicated. It isn't. Start with something simple and get used to the flavors from there."
Just last year, the celebrity chef introduced her followers to Indian recipes they can make at home — something she enjoys doing with her kids. Chauhan wrote on Facebook, "I am so excited to share simple Home cooked Indian everyday recipes with y'all. These are dishes I grew up with and make for the kids." In fact, according to a survey conducted by Peapod in 2019, an overwhelming majority of Americans — 77% — prefer to eat a homemade meal rather than go out for dinner. But, even when you have the skill to cook whatever you want, there are still dishes you would prefer to eat at a restaurant, and Chauhan is no different. 
Maneet Chauhan prefers to eat this Japanese staple at a restaurant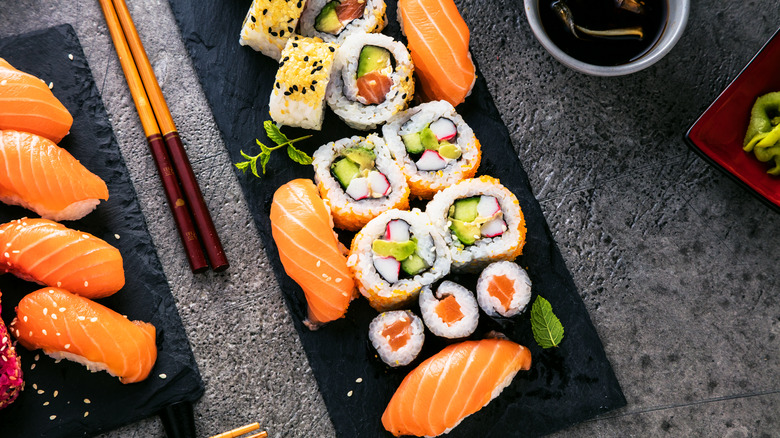 KarepaStock/Shutterstock
According to Food Network, Maneet Chauhan said the one dish that she always orders out and never makes at home is sushi, and the stylish chef is in good company. Her colleague, Marc Murphy, also prefers to order out when it comes to this dish. If you are wondering why, we aren't far behind you, but the answer may surprise you. This traditional Japanese meal apparently tastes better at restaurants, according to Super Sushi Food. Why does it taste better, though? The answer is simple. 
Sushi-making is an art. The Osaka Japanese Bistro in Las Vegas explains that, to become a sushi chef and receive the title of itame or sushi master, you have to train for as much as 10 years before receiving the title. Additionally, knife skills count when you are a sushi master, as does precision, neatness, and accuracy. In a nutshell, sushi is a lot of work. Not to mention, per Mental Floss, with close to 4,000 sushi restaurants scattered throughout the United States, there are plenty of opportunities to enjoy this meal without having to master anything other than using chopsticks.