The Candy Apple Trick From Snoop & Martha's Very Tasty Halloween Special You Have To Try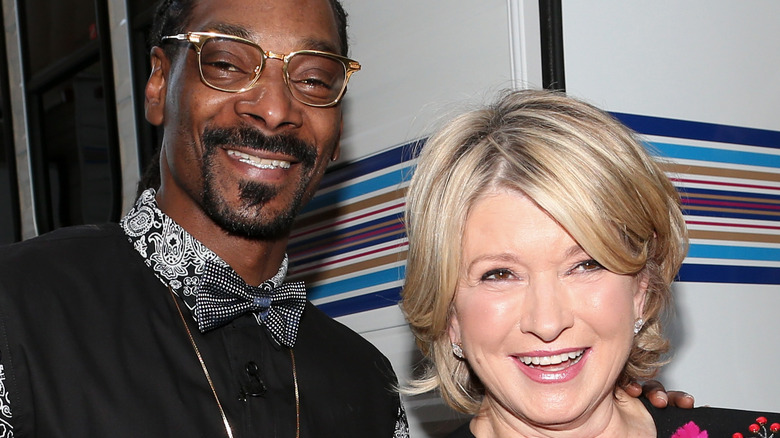 Christopher Polk/Getty Images
Come Halloween night, it always seems like apples make an appearance somewhere along the way. Whether you stop by that house that gives out apples instead of candy or bob for apples at a party, the only way most people really want to encounter apples around Halloween is in their candy form. Some people opt to make classic candy apples with a hardened sugar coating while others switch things up with chocolate or caramel.
In "Snoop & Martha's Very Tasty Halloween" special on Peacock, two of the teams presented candy apples within their immersive party backdrops and experiences. But only one team was really successful with their apples. The judges found one set of candy apples to be far too sweet, but the team that made the best candy apples found a way to avoid offering a full treat that was overly sugary. And that trick is one that's so easy, anyone can do it at home for a perfectly balanced and spooky treat.
Use both red and green apples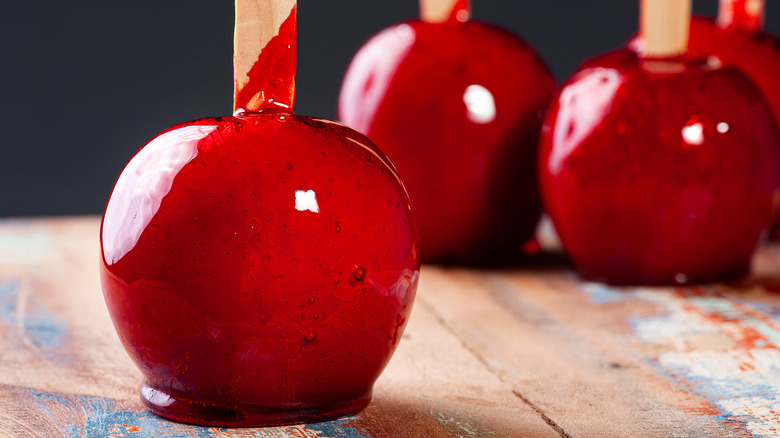 flanovais/Shutterstock
In the baking competition, The Real HallowQueens team made candy apples using sweet, red apples that were dunked in a shiny, glittering blue coat that tasted like blueberries. While some of the judges liked the first couple of bites, they ultimately thought the blueberry-flavored candy apple was too sweet to enjoy the whole thing.
Team Bone Appetit, however, used such a smart trick to get both sweet and sour flavors into the candy apples. They split green and red apples in half and then used skewers to connect mixed and matched sides. That way, one half of the candy apple was a tart green apple while the other side was a sweet red apple. Once the halves had been reconnected with skewers, the team simply covered them with candy which hardened and made them one whole treat again. You could definitely try doing this with caramel too for an unexpected and delicious spin on the classic treat.