Instagram Adores Martha Stewart's 'Chic '20s' Getup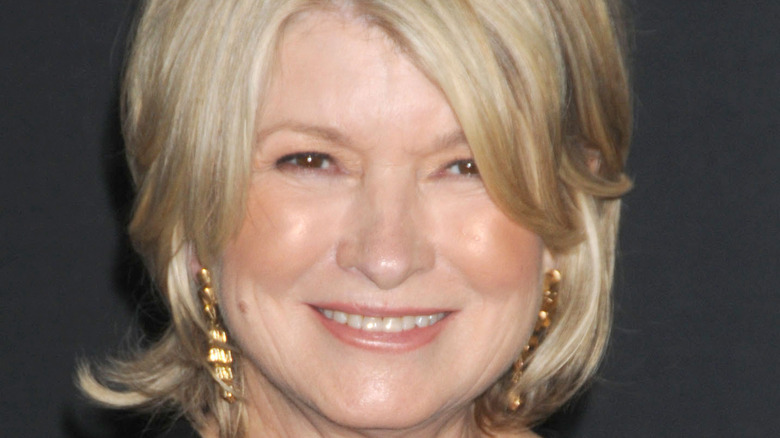 Featureflash Photo Agency/Shutterstock
Martha Stewart has become a social media sorcerer of sorts, as she continues to post magical content that captivates her audience. With 1.5 million followers on Instagram and a whopping 3.4 million Twitter fans, Stewart shares an array of posts from sultry peach jam recipes to smooches with Snoop Dogg. If you haven't been privy to some of the Instagram photos by the entrepreneur, taking a peek is highly recommended.
Keep in mind that in true Martha Stewart fashion, you'll find some posts that fans deem a bit controversial, like the time she recommended her audience buy the very pricey Mercedes Maybach or when she posted her cat carrying a limp chipmunk. There's no doubt that Stewart's social media gets people fired up, and that's probably what keeps them coming back for more.
Over the weekend, the star posted a selfie to Instagram as she prepared to celebrate a friend's birthday, Halloween-style. And the photo is already garnering a ton of attention. Here's why.
Martha Stewart has endless energy and an eye for style
According to her Instagram post, Martha Stewart had just returned home from a trip to Dubai — and was already off to another celebration; this one a costume party birthday dinner. In the images, the icon wore a headband with a large feather sticking straight up, and her cat-like contact lenses pierced the camera with an intense stare. Amazed with the 80-year-old's energy, fans took to the comments. One fan wrote, "To have your energy!!! Goals!!" and another, "Seriously Martha how in the hell do you do it, constant moving."
While some fans doted on her stamina, others focused on her ensemble. Of her outfit, Stewart wrote, "Chic twenties I pulled together old @lanvinofficial gold dress. White peacock feathers from my white male peacock, some vintage gold ribbon from Hyman hendler and white contacts for the eerie eyes."
While it's hard to imagine Stewart actually plucking the feathers from a peacock, we know the "domestic goddess" can make magic happen on demand. Fans are completely impressed, commenting, "You are the queen of Halloween always," and "Damn Martha, you always kill it."