Cocoa Puffs' New Seasonal Swiss Miss Cereal Is Only Available In One Place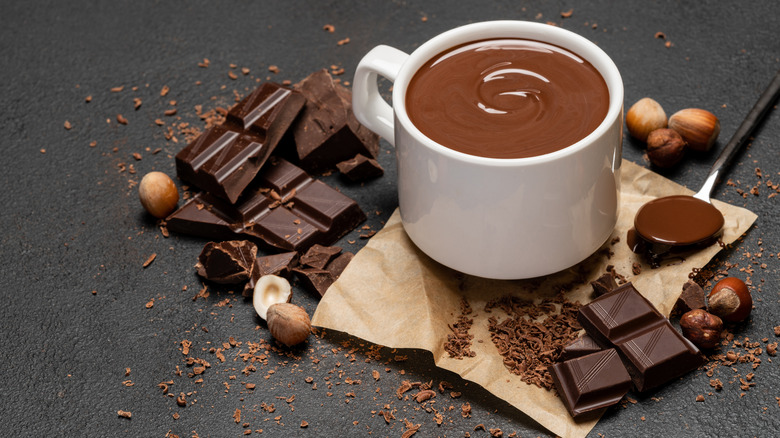 RESTOCK images/Shutterstock
What could be more relaxing than settling down with a nice warm mug of hot cocoa on a winter's night? With its rich, chocolatey flavor and delightful sweet bursts of marshmallows and whipped cream, it's the perfect beverage to warm up in the cold weather and help make the holiday season even sweeter. And now, the popular brand Swiss Miss has just announced they will be bringing even more hot chocolate goodness to fans this season with an exciting new release that puts a whole new twist on the sweet treat.
Swiss Miss is partnering with cereal giant General Mills to release the brand-new Swiss Miss Cocoa Puffs Hot Cocoa Cereal, so you can enjoy your favorite beverage at any time of the day and in a whole new way, according to Chew Boom. So if you are a hot chocolate lover, but have always wished you could enjoy your favorite sweet drink as a filling breakfast, you're now in luck. This new cereal is a perfect, convenient way to indulge all your hot chocolate cravings in the morning, for lunch, late at night, or really anytime the mood strikes.
Swiss Miss Cocoa Puffs Hot Cocoa Cereal is sold exclusively at Sam's Club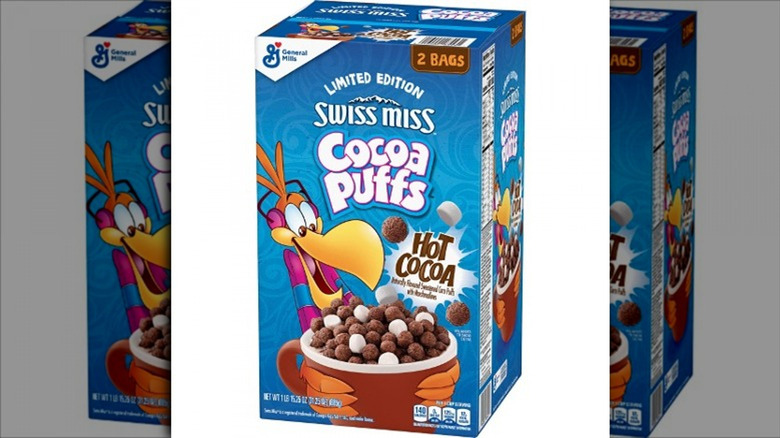 Swiss Miss
Each bite of this sweet, crunchy cereal delivers the same indulgent flavor as a mug of hot cocoa, and there's even added marshmallow pieces for extra sweetness. Once the cereal is gone, you'll definitely want to slurp up any chocolate-flavored milk left in the bowl, too. "The Swiss Miss Cocoa Puffs Hot Cocoa Cereal is everything thing you love about having a warm cup of hot cocoa with marshmallows during the holidays, but in a crunchy, chocolatey form with milk poured over — so basically the same effect, just a more convenient way to get that hot cocoa fix anywhere you may be," Swiss Miss said of the new launch in a press release shared with Mashed.
The cereal is available exclusively at Sam's Club and online at SamClubs.com for a limited time. One package of the cereal comes with two sealed bags that contain almost two pounds of mouthwatering bliss, and is priced at just $5.64 per box, according to Sam's Club. So, don't miss out on this chance to stock up on this delicious, one-of-kind deal while supplies last.