Duff Goldman Gave The Sweetest Response To This 9-Year-Old's Donut Recipe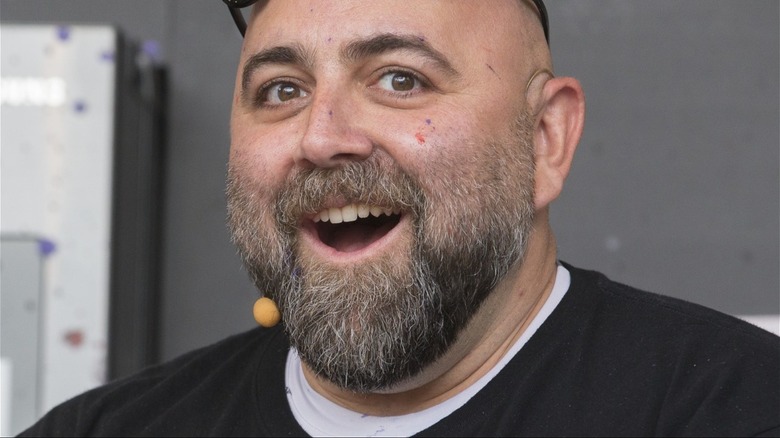 Sterling Munksgard/Shutterstock
Duff Goldman has shown he has a way with kids. If you've watched his and Valerie Bertinelli's hit Food Network show "Kid's Baking Championship," you've no doubt noticed Duff's natural talent for interacting with the young bakers. The "Ace of Cakes" star engages with the youngsters, speaking to them with respect, humor, and compassion. We get why the kids love him.
And the feeling is mutual. It's no secret that Goldman gets emotional during eliminations. In an interview with the Food Network, he spoke about one occasion that brought him to tears. "They were just baking their hearts out. I couldn't help it," he said.
A father himself since January, Duff regularly gushes over baby Josephine, and fans can't get enough of it. Just after his first child's birth, he posted to Instagram, writing that he has "no words to describe this blessing...she is the most beautiful thing I've ever seen in the whole world." Goldman's kindhearted enthusiasm even extends to his youngest fans.
Duff had an encouraging message for a young fan
Over nine seasons of "Kid's Baking Championship" and one season of "Duff's Happy Fun Bake Time," Duff Goldman has heard from many of the young fans he has inspired. One child even called Duff her "hero." Goldman also once received a sweet handwritten note from a five-year-old who thanked him for "making baking cool for boys" (via TODAY).
The dad of another young fan recently sent Duff Goldman a photo of his 9-year-old son's "Kid's Baking Championship"-inspired donut recipe on Twitter, complete with adorable kid misspellings. Dad Kevin Hornschemeier (@khornschemeier) wrote, "@duffgoldman my 9yo loves Kids Baking Championship and after watching he came up with his own donut recipe. They turned out really well! He wants to start his own bakery. As a homeschool project we bought your book and are going to learn all about baking."
The recipe does sound tasty. The citrusy donuts are flavored with orange "juise" and are finished with an orange "glase." The recipe includes the young baker's annotations of "perfecto" and "yum," as well as a smiley face. The owner of Charm City Cakes responded by retweeting the post, along with a message for the young chef's dad: "Laminate that recipe and save it so when he opens his shop he can put it on the wall. A+ all around," Duff tweeted in reply.
We have the feeling that Goldman's message will inspire this young baker to come up with even more sweet treats.