Padma Lakshmi Fans Are Loving This Response To Pete Davidson Rumors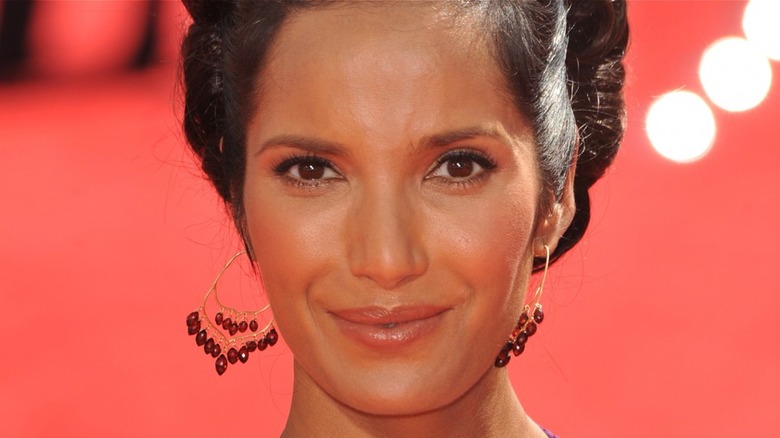 Featureflash Photo Agency/Shutterstock
In the whirlwind of celebrity gossip it's hard to keep up with the comings and goings, even when it comes to culinary superstars. "Top Chef" and "Taste the Nation" host Padma Lakshmi certainly knows this, but she likes to have fun when stories circulate. In the ever-circling rumor mill that is the internet, if there is one thing we're certain of it's that Lakshmi tweets are gold and her fans love every joke she makes on the platform. 
It all started recently, with an innocent photo at a basketball game. Lakshmi shared a snap of herself, Pete Davidson, and Chris Rock sitting courtside at Madison Square Garden during a Knicks home game. She Knows reported that the photo was posted right after Lakshmi's appearance on "Watch What Happens Live with Andy Cohen," where she opened up about her new single status after a recent break up with her poet boyfriend. Between that news and Davidson's recent connections to Kim Kardashian, some internet skeptics may have their eyebrows raised. 
The photo did look like a group of friends just enjoying themselves at the game, but the internet loves to spin some rumors. Actor Michael Ian Black picked up on the funny way stories get made up from such an innocent post and commented on the photo, "Which one of you is he dating now?" This gave Lakshmi the perfect opening. 
Padma Lakshmi's joking response to the rumors
The former model responded jokingly to the rumors, while also making a subtle comment on the way a simple post on her Twitter account has the power to get people speculating. She quote-tweeted Michael Ian Black's comment on the photo, in which he made fun of the internet's tendency to link up the most unlikely of celebrities simply because they are seen together once. In response to the question of which person in the photo Davidson is dating now, Lakshmi jokingly responded with "Chris I think." 
Her reply is cracking her fans up. In the comments, one person shared a photo of Rock and Davidson laughing while looking into each other's eyes and claimed it was proof of the supposed relationship. Michael Ian Black followed up and noted that "Chris definitely has that new love glow." Lots of fans simply commented laughing face emojis. It's pretty clear that the outing was just a good time between friends, but Lakshmi is also having a great time joking about the online rumor mill and we honestly love to see it.