Pete Davidson Has A Hilarious Story About Buying Kanye West Dinner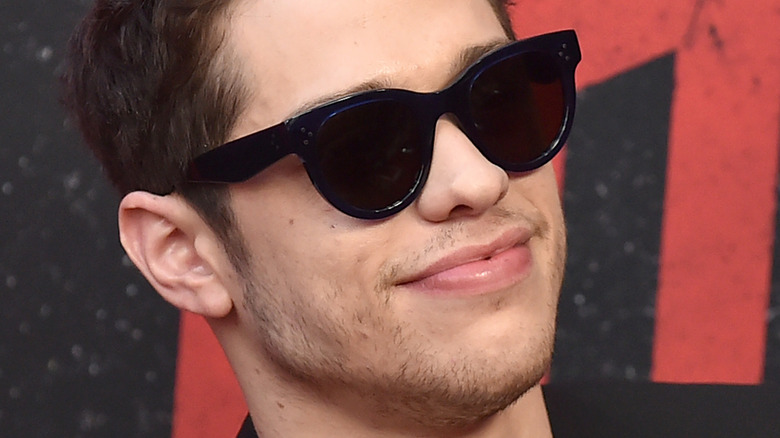 Shutterstock
If you thought Kim Kardashian's most buzzed about picture had to be one of her mirror selfies or glamorous closeups, you might be surprised to know it's actually the picture she posted of Kanye West, Pete Davidson, Timothée Chalamet, and Kid Cudi at a restaurant celebrating Kid Cudi's birthday (via Twitter). While on "The Tonight Show with Jimmy Fallon," Kardashian shared that never before had she received so many DMs about a picture, and that it captured a wonderful memory (via YouTube). "Everyone had such a good time and the vibe was so good," she recalled to Fallon.
Davidson, however, would disagree. When Davidson appeared on "The Tonight Show" two months later, Fallon could not help but ask about the dinner, which Davidson explained turned into a pretty expensive night when West showed up (via YouTube). Planning to treat his friend and rapper Kid Cudi to a low-key birthday dinner at Nobu, a high-end Japanese restaurant, Davidson showed up early to set up his tab. While, initially, the dinner was supposed to be only Kid Cudi, Davidson, and Davidson's manager — all skinny people, Davidson noted — he ended up paying for a party of six.
Pete Davidson had to book more shows after the expensive dinner
Pete Davidson prefaced his story by saying he really did have an enjoyable time at the dinner, and that Kim Kardashian and Kanye West could not have been nicer to be around. When it came to ordering food, though, West's requests had Davidson nervous about being able to foot the bill. While he put on a happy face, Davidson was actually panicking on the inside, and ended up texting his touring agent to book more shows. According to Davidson, West not only requested that they move to "the special room in the back," but also ordered "that stuff that's not even on the menu — that crazy stuff."
All jokes aside, Davidson shared that he was more than willing to go all out for his friend's birthday dinner, even if it meant doling out a little extra dough when Kim and Kanye and Timothée Chalamet decided to celebrate with them. As for the total at the end of the night, Davidson said, "It was fine, it wasn't actually as bad as you think, but it's not like it's Applebee's."