Hardee's And Carl's Jr Are Testing This Sweet And Savory Ingredient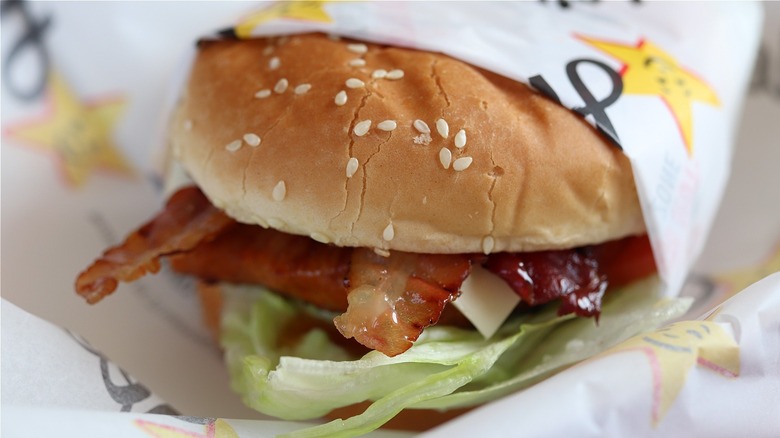 Deutschlandreform/Shutterstock
The combination of sweet and salty is a match made in heaven. Adding some sweetness and something savory in a dish is a great way to bring a balance of flavors, and the sweet and savory combo isn't just for things like kettlecorn. Sweet and savory meat dishes like this sweet bourbon chicken recipe are delicious, and Hardee's and Carl's Jr. are rolling out a new ingredient that taps into these flavors.
Hardee's and Carl's Jr. just announced they're adding candied bacon to their menu, and this topping will come on three different menu items: a candied bacon biscuit, a candied bacon burger, and in a snack pack. Whether you're looking for breakfast, lunch, or something to munch on before dinner, the food chains have you covered.
Unfortunately, candied bacon and these three menu items won't be coming out to Hardee's and Carl's Jr. locations nationwide. According to a press release sent to Mashed, these items will be available at select locations in Bakersfield, California, Champaign-Springfield, Illinois, and Dothan, Alabama. Not in one of these states? Don't worry, you can also make candied bacon in the air fryer or use your oven to make some crispy brown sugar bacon.
Which Hardee's and Carl's Jr. menu items will have candied bacon?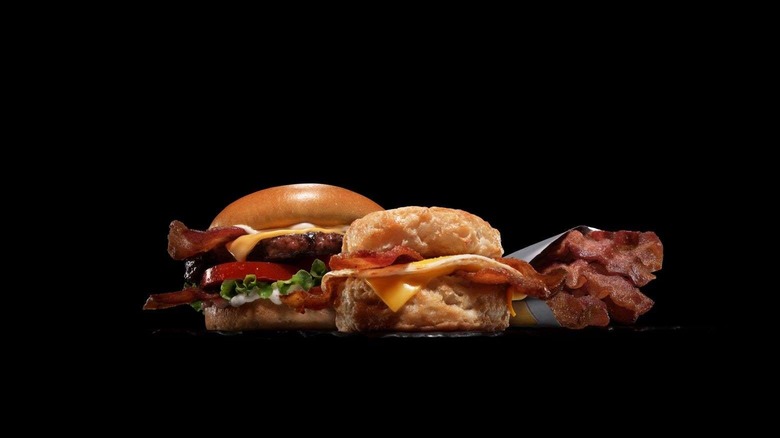 Hardee's and Carl's Jr.
Want to know more about the new candied bacon items on Hardee's and Carl's Jr.'s menu? We've got the details from the press release, and we think that any bacon fan would love to try all three new products. The press release says that the bacon is "coated with caramelized brown sugar and pepper," so you'll get plenty of sweetness and crunch.
Start your day off with the $3.49 Candied Bacon Biscuit with Fried Egg. Besides what's already in the name, the biscuit comes with American cheese. There's also the $5.49 Candied Bacon Angus Thickburger, which has bacon, tomato, lettuce, and garlic mayo, all on top of a toasted potato bun. Finally, the $2.49 Candied Bacon Snack Pack is perfect for anyone who needs a quick bite since everything is "loaded into a portable pack for on-the-go snacking." 
No matter which item you decide to buy from Hardee's and Carl's Jr., you're sure to get plenty of bacon to satisfy your cravings. Prices may vary by location.