Sweet Bourbon Chicken Recipe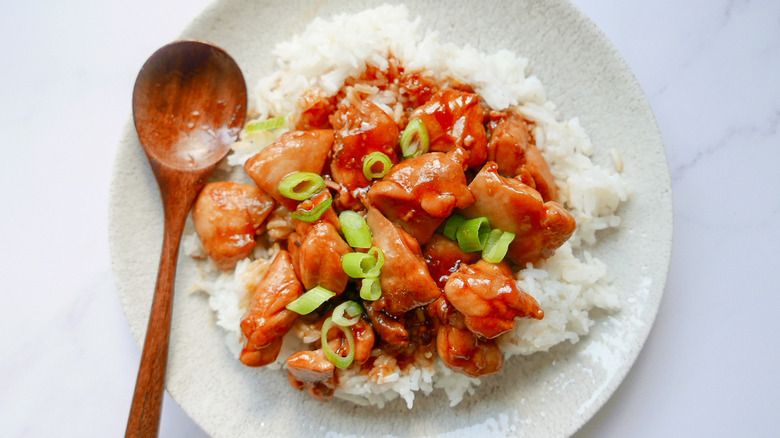 Ting Dalton/Mashed
While preparing a complex and time-consuming recipe can be very rewarding, sometimes, you just need a tasty and satisfying meal that comes together quickly using ingredients you already have on hand. But, there's no need to compromise on flavor or quality with this delightfully sweet and savory recipe for bourbon chicken that comes together in just 25 minutes.
Developed by Ting Dalton, award-winning writer and blogger at Cook Simply, bourbon chicken is a snap to whip up using just a few fresh ingredients and a handful of pantry staples. According to The Recipe Critic, this tasty recipe got its name from Bourbon Street in New Orleans, Louisiana. Of course, many recipes incorporate bourbon into the ingredients, but some do not. If you want to add a bit of additional kick to the flavorful sauce, Dalton says you can add a couple tablespoons of bourbon. 
In this recipe, it's easy to adapt to your own personal preferences while keeping the method the same. "You can change the protein to whatever you'd like," Dalton says, suggesting pork, chicken breast, or tofu. Similarly, if you want to boost color and nutrients, Dalton says, "This is great if you want to throw in veggies. You could throw in chopped bell peppers, zucchini, sweet corn, or even peas." So, fear not if you have any picky eaters at home. Bourbon chicken is the perfect weeknight dish to tweak to your family's particular tastes.
Get your ingredients to make bourbon chicken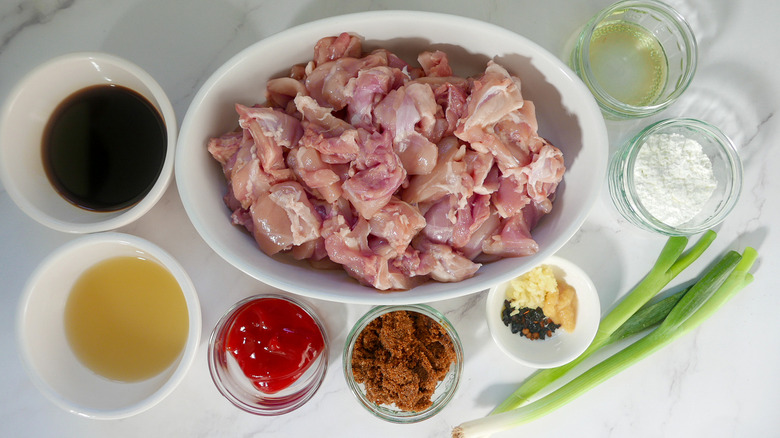 Ting Dalton/Mashed
The ingredients for bourbon chicken come together in a snap, relying mostly on things you likely already have in your pantry, with just a couple fresh ingredients. The star of the show, of course, is boneless, skinless chicken thighs, but as Dalton notes, you can change that up with a different cut of chicken, or substitute another protein entirely.
For the sauce, you'll need apple juice, apple cider vinegar, light soy sauce, ketchup, ginger, two cloves of garlic, crushed red pepper flakes, dark brown sugar, salt, and pepper. If you're adding bourbon, you'll also want to make sure you have that on hand. Additionally, you'll need corn starch, water, vegetable oil, and green onions.
Don't sweat it if you don't have exactly what the recipe calls for on hand. This bourbon chicken is very forgiving when it comes to substitutes. Dalton suggests that if you don't have dark brown sugar, you can substitute for caster sugar. Or, if you're missing the apple cider vinegar, try white wine vinegar instead.
Prep your ingredients, and make the sauce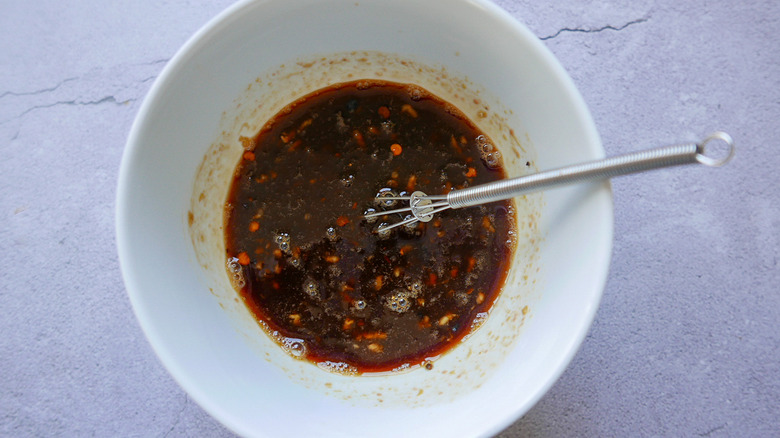 Ting Dalton/Mashed
Whatever protein you use, whether you're going with the suggested chicken thighs or substituting something else, go ahead and chop it up into bite-sized pieces, then set it aside until it's needed. This recipe comes together fast, so it's important to make sure that all of your ingredients are ready to go before you start cooking.
Next, finely mince your garlic and grate your ginger, and put them in a bowl. Measure out the rest of the ingredients for the sauce, and add them to the bowl, including the apple juice, apple cider vinegar, soy sauce, ketchup, red pepper flakes, brown sugar, salt, and pepper. If you're using bourbon, add about 2 tablespoons at this stage. (The alcohol will burn off during the cooking process.) Mix them all together well, and set aside.
Lastly, whisk together the corn starch with cold water in a small bowl, and set it aside. Make sure your water is cool, as warm water will cause the corn starch to clump. Finely slice your green onions, and set them aside.
Begin to cook your chicken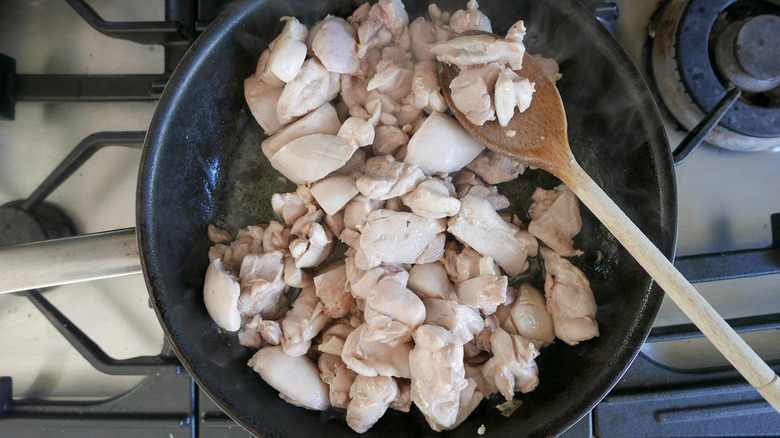 Ting Dalton/Mashed
In a large skillet, heat the vegetable oil over medium heat until it's hot. In single-layer batches, add your diced chicken to the pan, being careful not to crowd the meat. If you add too much of your meat to the pan at once, the chicken may steam instead of sear, causing you to lose some of the delicious browning on the outside of the meat.
Once the chicken starts browning on the outside, remove it from the pan with tongs or a slotted spoon, and set it aside on a plate. Repeat this browning process in batches until all of the chicken has some nice color on the outside. You don't need to worry about cooking the chicken all the way through at this stage, since you'll finish it off in the sauce later.
Add the sauce to the chicken skillet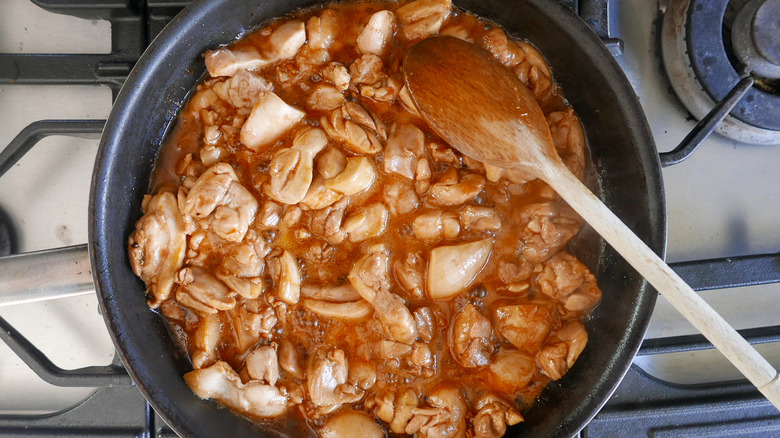 Ting Dalton/Mashed
Keeping the same skillet on the heat, add the combined sauce ingredients, stirring constantly. The sugar will dissolve, and the mixture will quickly become fragrant and bubbly. Once the sugar is dissolved, return the browned chicken to the skillet and reduce the heat to low, stirring to coat the chicken with the sauce.
Continue stirring as you drizzle in your cornstarch mixture. As the corn starch cooks, it will thicken the sauce. Continue cooking the chicken in the thickened sauce for an additional five minutes, or until the chicken is completely cooked through.
Put the dish together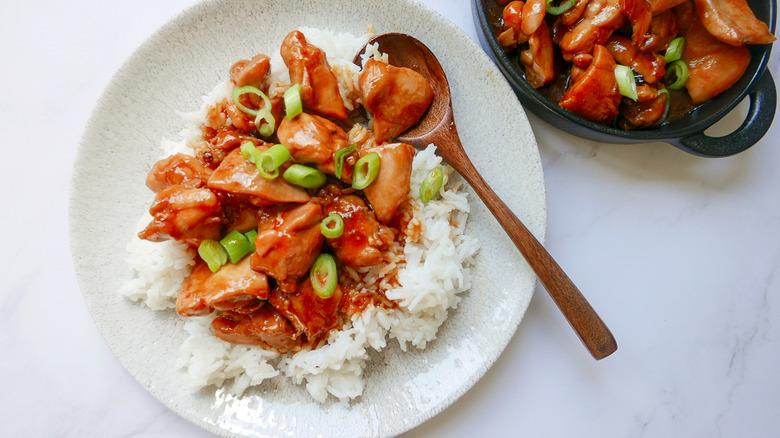 Ting Dalton/Mashed
Once your chicken is cooked through, spoon the meat and a generous serving of the sauce over your accompaniment of choice. Dalton suggests rice, but says you can use "anything you like — as long as it soaks up that tasty sauce." Bourbon chicken would be delicious served over rice noodles, cauliflower rice, or even pasta.
Top your plated bourbon chicken off with a sprinkle of sliced green onions, and serve alongside whatever vegetable sounds best to you. (Unless, of course, you added your vegetables straight into the dish itself, making it a scrumptious one-pan meal.) When making bourbon chicken for herself, Dalton says, "I like to serve it with a big helping of steamed broccoli."
Sweet Bourbon Chicken Recipe
Top your plated bourbon chicken off with a sprinkle of sliced green onions, and serve alongside whatever vegetable sounds best to you, like steamed broccoli.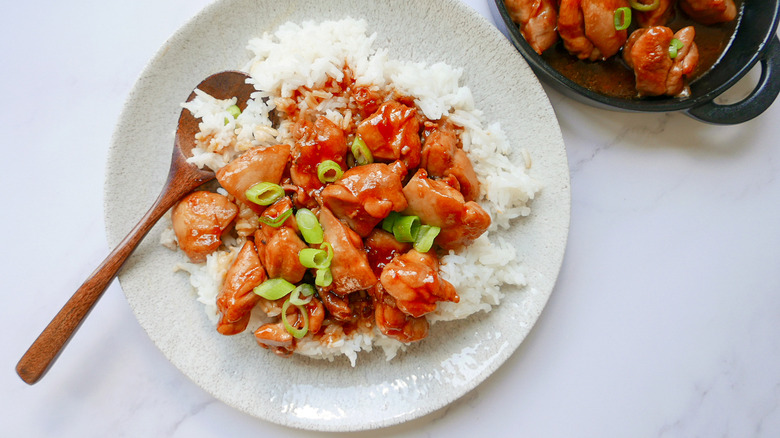 Ingredients
2 pounds of boneless skinless chicken thighs, cut into small pieces
¼ cup of apple juice
2 tablespoons apple cider vinegar
⅓ cup light soy sauce
2 tablespoons tomato ketchup
1 teaspoon ginger, grated
2 cloves of garlic, minced
½ teaspoon crushed red pepper flakes
¼ teaspoon salt
¼ teaspoon pepper
⅓ cup dark brown sugar
3 tablespoons cornstarch
4 to 5 tablespoons water
4 tablespoons vegetable oil
2 green onions, finely sliced
Directions
Cut chicken into bite-sized chunks
In a bowl, mix together the apple juice, apple cider vinegar, soy sauce, ketchup, grated ginger, minced garlic, red pepper flakes, salt, pepper, and dark brown sugar.
In another bowl, mix the cornstarch with the water, and set aside.
In a large skillet, heat the oil over a medium heat, and cook the chicken pieces until the outside starts browning. You may need to do this in a few batches. Take the chicken out of the pan, and put it to one side.
Add the sauce mixture to the skillet, and let the sugar dissolve and the sauce start bubbling through.
Return the chicken to the skillet, and stir through the sauce. Add the cornstarch mixture, and mix well. The sauce will begin to thicken. Keep on a low heat while the chicken cooks thoroughly for another 5 minutes.
Before serving, sprinkle the green onions on top, and serve over rice.
Nutrition
| | |
| --- | --- |
| Calories per Serving | 502 |
| Total Fat | 23.5 g |
| Saturated Fat | 3.4 g |
| Trans Fat | 0.2 g |
| Cholesterol | 213.2 mg |
| | |
| --- | --- |
| Total Carbohydrates | 24.0 g |
| Dietary Fiber | 0.6 g |
| Total Sugars | 15.4 g |
| Sodium | 1,064.4 mg |
| Protein | 46.9 g |