This Is One Of Michael Symon's Biggest Cooking Inspirations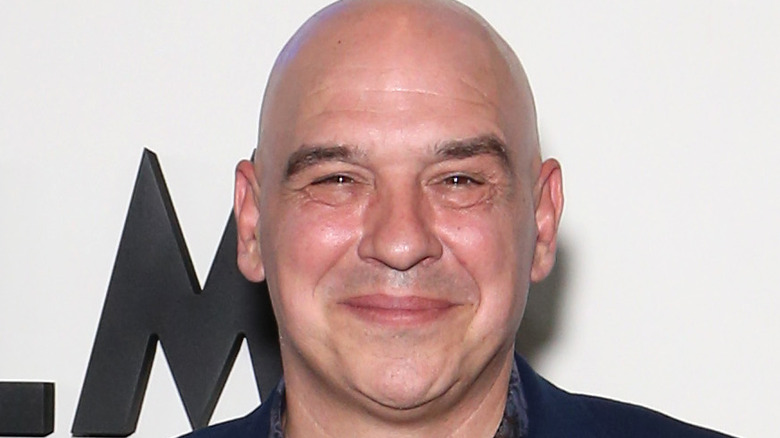 Gabe Ginsberg/Getty Images
Celebrity chef Michael Symon may be a Cleveland native, but his culinary roots lie in his Mediterranean heritage. In addition to owning several restaurants in Cleveland and beyond, including Lola, Mabel's BBQ, Bar Symon, Angeline, and B Spot Burgers, Symon also has a career as a booming television personality, appearing on shows such as "Iron Chef," "Burgers, Brew & 'Que," and "The Chew." The chef has written six cookbooks chronicling his best recipes (via Symon's website). But Symon may not have reached such great success or even gotten his start if it hadn't been for one very important role model in his life: his mother.
"My mom is one of my biggest inspirations," Symon told Brit + Co. "She is Greek and Sicilian, so our whole life revolved around the kitchen when I was growing up." Symon has been so influenced by his mother and her cooking, he built, established, and named his restaurant Angeline, located at the Borgata Hotel, Casino, & Spa in Atlantic City, after his mother, Angel, and centered its concept around her cooking.
One recipe he still can't get right
Decorated with floral wallpaper and lace curtains evoking memories of Angel's kitchen, Angeline's menu is a mashup of some of her best creations, including meatballs, garlic bread, linguini with clams, and eggplant parmigiana. Yet, perhaps the restaurant's most signature dish is "Mom's Lasagna," a 30-layer dish based on Angel's recipe that used to feed the entire neighborhood (via Food & Wine).
"Every Wednesday at my parents' house was lasagna night — the night all my friends begged to eat over," Symon told Food & Wine. "You could smell the lasagna baking houses away ... I've eaten lasagna from every corner of the Earth, and I have yet to find one as good as Mom's."
When it comes to preparing said lasagna, Symon says his mother taught him a trick or two, which included using a piping bag to evenly spread the ricotta cheese, per Brit + Co.
There is one of Angel's dishes, however, that Symon still finds daunting: her baklava.
"The baklava is a family recipe, and my mom is the only one who can make it right," Symon told Food Network. "I've been watching her make it since I was four, but I always mess up and 'over-chef' it."