The Most Popular Holiday Drink In The US Is No Surprise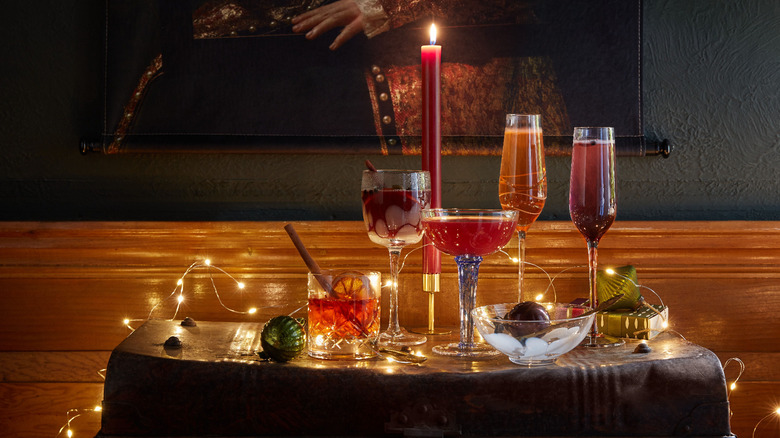 Denby
If there's one thing we all love about the holiday season, it's the tasty food and drinks. While a warm beverage is delicious any time of the year, there is just something special about enjoying festive drinks around this time. And there is certainly a wide variety to choose from — while some people might prefer family-friendly classics like eggnog or hot chocolate, others may prefer to celebrate the holiday season with the boost of a caffeinated gingerbread latte or a peppermint mocha from their favorite coffee shop. 
As well, quite a few people are fond of enhancing their celebrations with a dash of Irish cream, whisky, or a warm, boozy mug of mulled wine or buttered rum. This year, Denby, one of Britain's oldest pottery manufacturers, took it upon themselves to find out just which festive drink is the most popular in the United States. The company announced the results of their findings in a press release shared with Mashed, and the results are not exactly surprising.
Hot Chocolate is the most popular holiday drink in the nation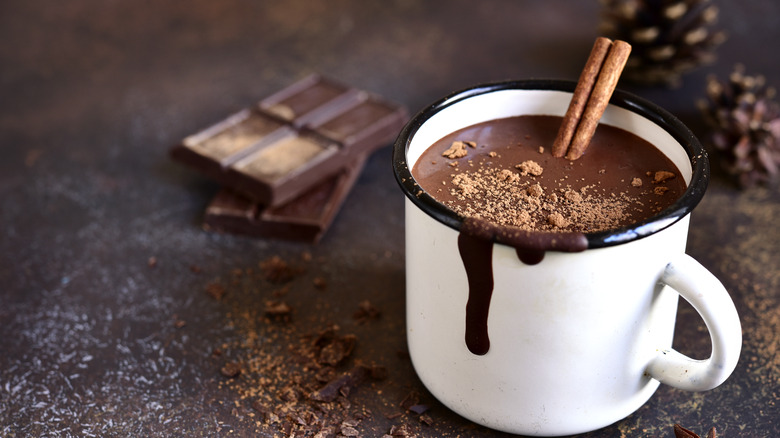 Liliya Kandrashevich/Shutterstock
According to data taken from Google Trends, Denby found that hot chocolate is the nation's clear winner, claiming the top spot in 17 states. Residents from places as varied as California, Arkansas, Delaware, Georgia, Iowa, Kansas, Illinois, and Texas all ranked hot chocolate as their number-one beverage of choice during the holiday season. Close behind traditional hot chocolate was another rich, cocoa beverage — the peppermint mocha, favored in 13 states. It combines smooth, sweet mocha sauce with espresso and an extra kick of festive peppermint syrup, while the more traditional eggnog took the top spot in eight states.
So, if nothing puts you in the holiday mood more than settling down with a mug of sweet hot chocolate, then you're not alone. But, just because it's a classic drink, that certainly doesn't mean it's boring. There's no shortage of ways to enjoy it, such as adding innovative ingredients like caramel, white chocolate, Nutella, or even chili to mix up the flavor (via Taste of Home). Or, you can always swing by your local Trader Joe's and pick up one of their decadent Snowman Hot Cocoa Bombs, or enjoy a melting snowman hot chocolate with hidden mini marshmallows from Aldi. But, no matter how you prefer your hot chocolate, there are really no wrong ways to enjoy this delicious holiday drink.