National Cookie Day 2021: Where To Get The Best Food Freebies And Deals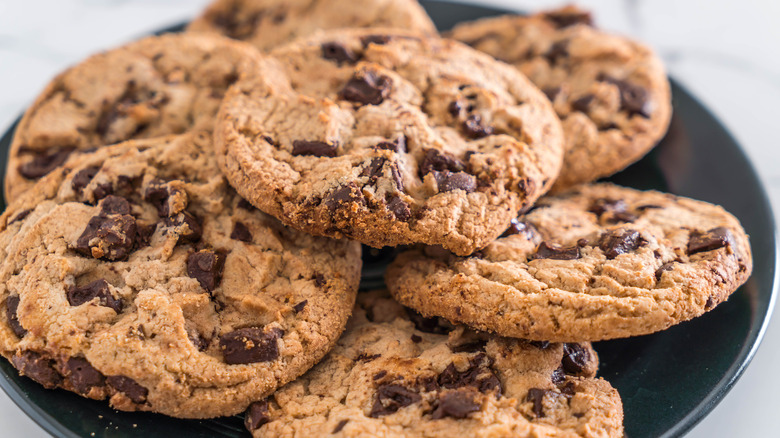 gowithstock/Shutterstock
The only thing better than a warm, freshly baked cookie is a warm, freshly baked cookie for free. Luckily for chocolate chip cookie fans, oatmeal raisin die-hards, and simple sugar cookie lovers, the year's most cookie-filled holiday is nearly upon us.
National Cookie Day 2021, which will fall on Saturday, December 4, per National Today, is the ultimate celebration of all things sugar, flour, and butter. To ring in the holiday, some of the nation's top cookie makers will be offering customers tasty freebies and limited-time deals to make the most of this once-a-year occasion. From cookie giveaways and online BOGO offers to treat-filled fuzzy friends, these are the best deals to look out for this National Cookie Day. Keep an eye on this list for updates throughout the week.
Nestlé Toll House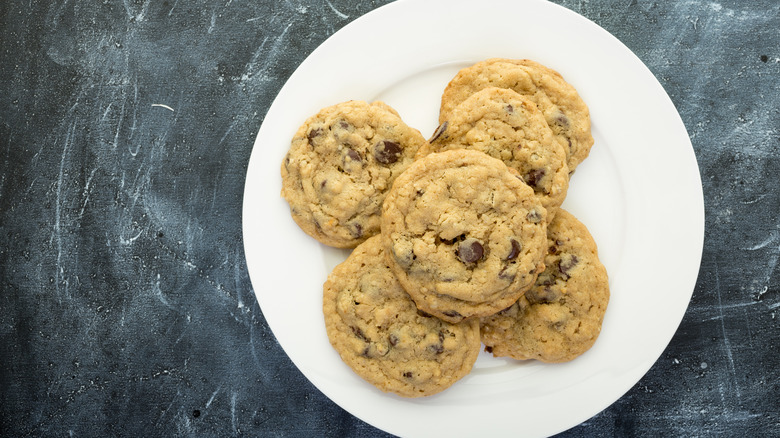 Edward Fielding/Shutterstock
The iconic bake-at-home cookie company Nestlé Toll House will ring in the sweets-centric holiday with a special deal for customers who are willing to show off their holly jolly holiday spirit. The company's chain of Nestlé Toll House Cafés is offering a free chocolate chip cookie, while supplies last, to any customer who wears a Santa hat or dons Santa-themed attire on December 4, according to an announcement sent to Mashed.
The cookie company kicked off the holiday season with a new campaign aimed at convincing Santa Claus to leave the North Pole early this year for a special stop at a Nestlé Toll House Café location for some of its world-famous cookies. "We hope [Santa] can make it, but if he can't, we're pleased to embrace the giving spirit of the holidays by offering free cookies to customers at participating locations on December 4," Ziad Dalal, CEO of Nestlé Toll House Café by Chip, said in a press release. 
Subway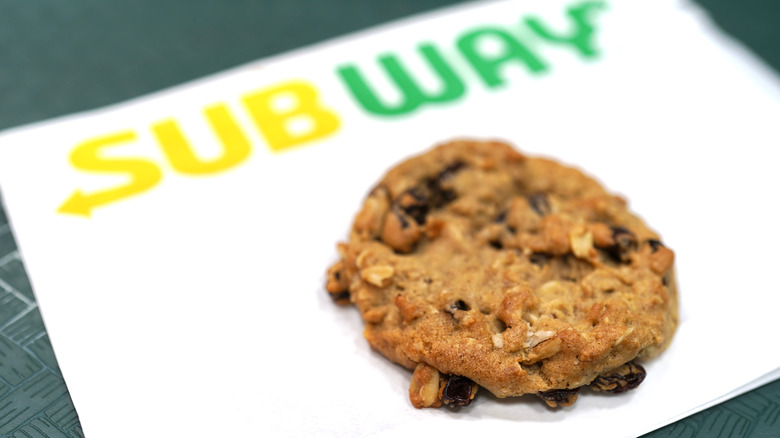 Prachana Thong-on/Shutterstock
While most know Subway for its Footlong subs, others are devotees of its sweeter menu offering: cookies. This year, in celebration of National Cookie Day, Subway will be kicking the festivities up a notch by launching a pop-up restaurant dedicated solely to its popular cookies. In a press release shared with Mashed, the company announced the debut of Cookieway, a cookie-themed pop-up that will be opening its doors at 91 Allen Street in New York City from December 2 to 5, featuring "mouth-watering treats, exclusive merchandise, larger-than-life cookie installations, and sweet moments." 
The Subway cookie flavors featured at the pop-up will include classic fan favorites, as well as limited-edition seasonal options like caramel apple, caramel brownie, s'mores, and two flavors only available at Subway locations outside of the U.S.: double chocolate and M&M. Fans visiting Cookieway will have the chance to snag a free six-pack of cookies, with an option to donate to Make-A-Wish Metro New York. According to Carrie Walsh, Subway's chief marketing officer, "Subway is launching Cookieway as a special thank you to our fans, who overwhelm us with love for our cookies and have helped make Subway cookies the co-star of our menu, alongside our subs." Can't make it to NYC? Download the Subway app for a chance to get 10% off and free delivery for your next order, a Cookie Day offering that lasts through the end of the year.
Mrs. Fields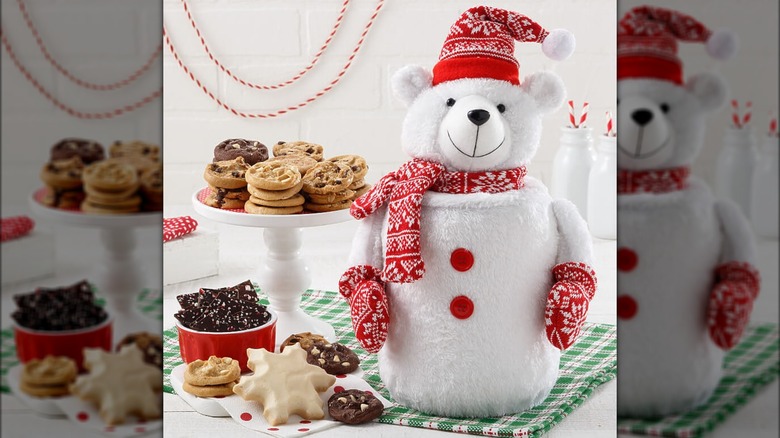 Mrs. Fields
The shopping mall staple, Mrs. Fields, aims to spread the National Cookie Day love around with a cuddly, family-sized treat. In a press release sent to Mashed, the brand, which ships its products nationally, announced a limited-time deal on one of its most adorable offerings ever.
The Roly Polar Bear is a plush polar bear — who sports a stylish winter hat, scarf, and mittens — filled to the brim with a variety of Mrs. Fields treats, including one frosted snowflake cookie, 30 "Nibblers" bite-sized cookies, and a portion of shattered peppermint bark. The Roly Polar Bear will be available for a special reduced price of $41.99 (down from the original price of $59.99) from December 1 to 5. The company will also be offering a number of sweet seasonal deals in honor of National Cookie Day, which you can view on the website.
Tiff's Treats
The popular Texas-based cookie company Tiff's Treats, which has 69 locations across Texas, Georgia, Tennessee, North Carolina, and Oklahoma, per its website, will be offering a free warm chocolate chip cookie to every sweet-toothed customer who stops by any Tiff's Treat location on December 4 (via The Advocate).
The Southern cookie retailer also announced a series of giveaways in honor of the holiday on Twitter: "Today we're kicking off #CookieWeek in celebration of #NationalCookieDay this Saturday, December 4th. To celebrate, we're giving away prizes each day this week," encouraging fans to follow Tiff's Treats on Instagram for the chance to win prizes like a $250 Tiff's Treats gift card, an unlimited free delivery membership, and dozens of fresh cookies.
Maxine's Heavenly Cookies
The wholesome cookie retail brand Maxine's Heavenly Cookies, which specializes in vegan, gluten-free, and non-GMO soft-baked cookies sweetened with natural ingredients like dates and coconut sugar, will be offering online National Cookie Day incentives perfect for healthful cookie lovers. Customers will have the opportunity to get buy-one-get-one deals on all of Maxine's cookies, variety packs, and snack boxes from December 4 to 5 by entering the code COOKIEDAY at checkout, says an announcement shared with Mashed.
Included in Maxine's lineup of soft-baked treats are flavors like snickerdoodle, peanut butter chocolate chip, cinnamon oatmeal raisin, mint chocolate chunk, walnut banana bread, and chocolate-chocolate chunk, as well as seasonal options like pumpkin pecan spice, gingerbread, and chocolate peppermint candy cane.
Insomnia Cookies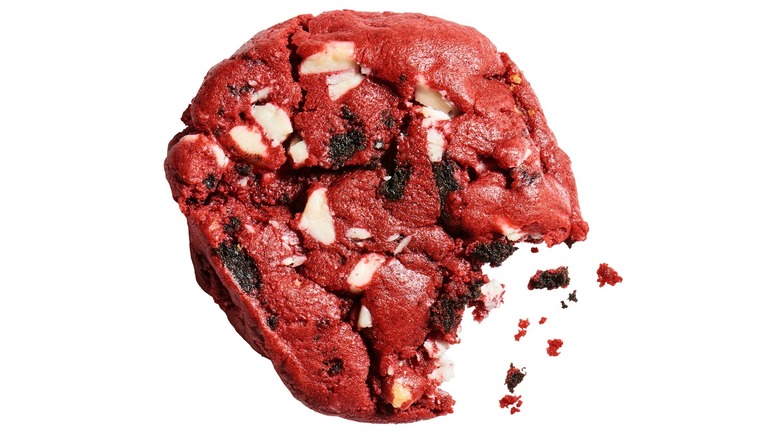 Insomnia Cookies
The late-night cookie institution, Insomnia Cookies, will be making the most of the national holiday by debuting a brand-new flavor on December 4. According to the brand, the new Filled Chocolate Chunk Cookie is "a tantalizing take on the classic Chocolate Chunk ... stuffed to the brim with Insomnia's very-own rich, creamy Chocolate Cookie Butter and loaded with its iconic chocolate chunks." The limited-time Filled Chocolate Chunk cookie will be available all month, while supplies last.
In addition to the new flavor, the cookie chain will also be celebrating National Cookie Day by offering customers one free Classic Cookie at all Insomnia Cookies locations, with no purchase necessary. If you're looking to double (or triple) down on the celebratory freebies, Insomnia — which ships nationwide — will also be offering two special deals for the holiday: buy four Deluxe Cookies, get two free; or buy 12 Classic Cookies, get six free.
Cheryl's Cookies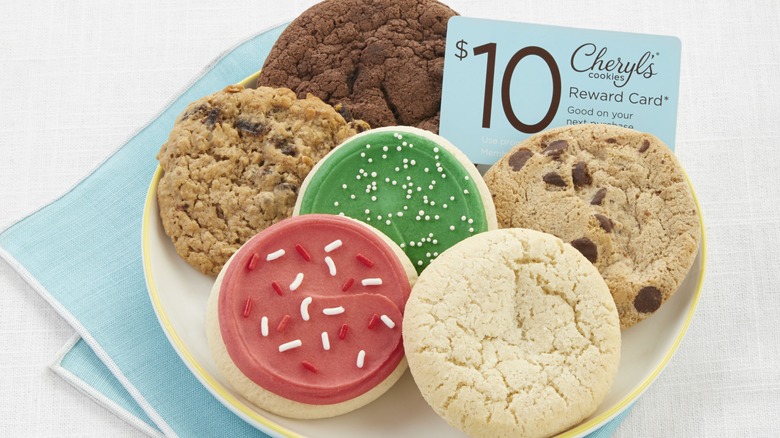 Cheryl's Cookies
This cookie-centric company will be celebrating National Cookie Day 2021 by offering a free cookie on December 4 to all customers who stop by one of their retail locations and drop off a letter to Santa. And for cookie lovers who don't live near a Cheryl's location, the brand is also offering a special National Cookie Day sampler — a six-pack of classic chocolate chip, sugar, oatmeal raisin, chocolate obsession, and buttercream frosted cut-out cookies — for $9.99. This sampler can be shipped nationwide (via Cheryl's).
The Ohio-based bakery has also unveiled a tasty line-up of new seasonal flavors, including Peppermint Chocolate, Gingerbread Cookie, Macadamia White Chocolate, and Cranberry White Chocolate, just in time for serious holiday snacking — all but guaranteeing that Santa will have plenty of tasty treats to choose from under the tree this year.
Pieology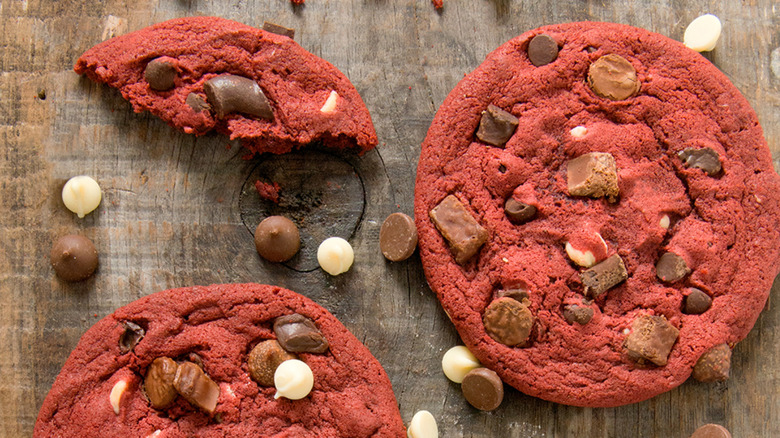 Pieology is best known for its pizzas, but its cookies have a devoted following, too. Pieology serves David's Cookies, and they're almost as good as the specialty pizzas. In celebration of National Cookie Day, you can get any two cookies for just $4 at the chain on December 4 and 5.
Plus, Pieology is bringing back its red velvet cookie for a limited time. Fans can try one red velvet and one chocolate chip cookie — both for less than $5. Or, you can stick with a classic option like the Reese's Peanut Butter Cookie.
Great American Cookies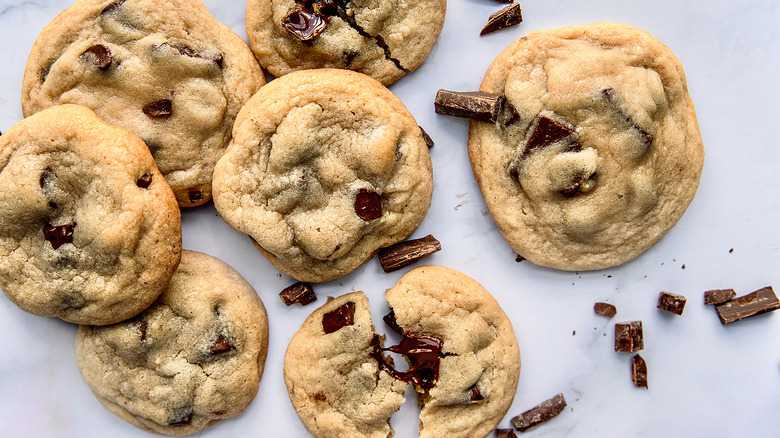 Kristina Saeli/Shutterstock
Fans can head to Great American Cookies on National Cookie Day for a free chocolate chip cookie with any purchase. The chain is known for its creative cookie cakes, but the store also offers individual soft-baked cookies in fun flavors like Double Fudge M&M. There's even a festive-looking green Mint Sugar Cookie, just in time for the holiday season. 
If you're really in a sweet mood, you could try one of the chain's "Double Doozies," which feature a thick layer of icing spread between two soft-baked cookies. What better time than National Cookie Day to enjoy this decadent treat?