Exclusive Food Tour Of The Disney Festival Of Holidays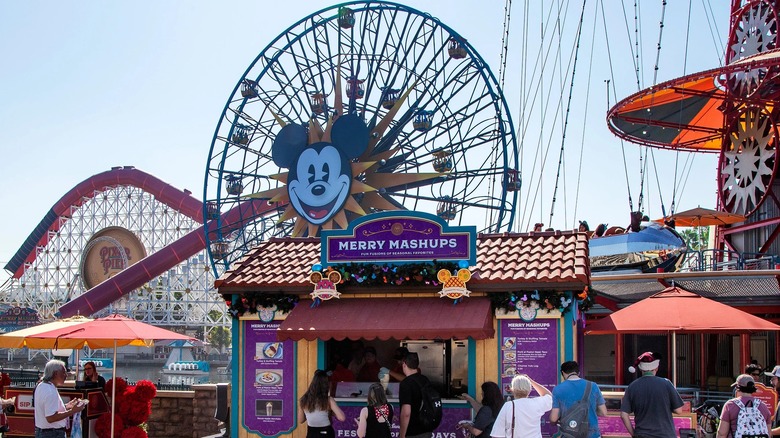 Christian Thompson/Disneyland Resort
If you want the full Disneyland holiday food experience, it can take days, if not weeks, to sample the resort's extensive menu of season's eatings (and drinkings). But if your time is limited, make it a priority to visit California Adventure to enjoy the creative culinary offerings at the Disney Festival of Holidays, which brings plenty of cheer now through January 9. While parades, musicians, and other festive activities are part of the annual celebration, the fantastic array of delicious offerings are the main draw, with pop-up marketplace kiosks set up across the park slinging sweet and savory bites and beverages of the non-alcoholic and boozy varieties.
We wanted the inside scoop on what's cooking at this year's event, so we sought the expertise of California Adventure's General Manager Gary Maggetti, who gave Mashed an exclusive tour of the festivities, including a backstage peak at the Park Banquets Special Events Kitchen where a lot of the festival culinary magic happens (unfortunately, per the magician's code, we're sworn to secrecy about we saw!).
But there's plenty of other information to digest when it comes to this year's fest. Here's everything you need to know about eating and drinking your way through the 2021 Disney Festival of Holidays.
How to attend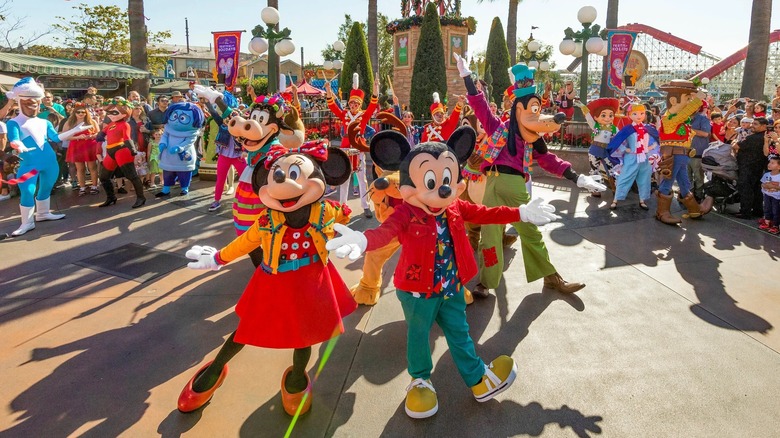 Joshua Sudock/Disneyland Resort
Before we start our tour, here's some important advice: If you want to join the celebration for the Disney Festival of Holidays, we suggest booking a ticket to California Adventure as soon as possible because advanced reservations to the park are required, and availability is limited. You have the option of a single park ticket or a Park Hopper pass, which allows you to go back and forth between California Adventure and Disneyland Park. That means if you purchase a ticket for just Disneyland Park, you won't have access to the Festival of Holidays.
Also note: If you purchase a Park Hopper pass but intend on spending most of your time enjoying the Festival of Holidays, make sure to designate California Adventure as your starting park, which will allow access to the park from opening to closing. If Disneyland Park is your primary park, you won't be able to access California Adventure until 1:00 p.m. (This is a COVID-era rule put in place to help manage the crowds at both parks.)
Buy a Sip and Savor pass
Admission to California Adventure provides you full access to the Festival of Holidays, including the marketplace kiosks. We do encourage you, however, to snag a Sip and Savor Pass, which is available for purchase throughout California Adventure. For $56, you'll get eight tabs redeemable for any non-souvenir or alcoholic Festival of Holidays food or drink item. (If you've attended the Disneyland Food & Wine Festival, you'll probably be familiar with the routine.) Buying a pass may save you some money considering many dishes cost over $7. Plus, it will make the transactions more convenient.
Just remember to rip off a tab from your lanyard in front of the cashier. Otherwise, it won't be valid. And if eight items seems like a lot, the food comes in tasting-sized portions, so if you're using the pass to cover your meals throughout the day, it won't be over-indulgent. Of course, you can always split the pass with a friend or family member or simply order a la carte. If you're hitting multiple marketplaces in a row, for many items, you'll able to order in advance at your first stop, so you can skip the purchase line at the next kiosk.  
What's on the menu this year?
Sarah Gardner/Mashed
Whether you celebrate Christmas (or Navidad), Hanukkah, Kwanzaa, Diwali, or are simply an everyday food lover, there is something for everyone at the Festival of Holidays. "I like to talk about it this way," said Maggetti, "imagine going to a park, and everybody is having a potluck. Everybody brings their favorite holiday item. That's what we celebrate. So, no matter how you celebrate, how my family celebrates, it's a chance for our guests to try unique flavors that maybe they haven't tried before. But somebody brought it this year."
If you're a regular at the festival, which debuted at California Adventure in 2016, you can expect plenty of fresh additions to this year's menu. Maggetti noted that half of all menu items are brand new, and the entire beverage roster has been completely revamped. And for the first time, Festival of Holidays items will be available beyond the eight marketplaces at permanent eateries such as Sonoma Terrace, Smokejumpers Grill, and the Pym Tasting Lab on the Avengers Campus.
You may also notice that the 2021 menu has a global influence (with a particular focus on pan-Latin cuisine), and according to Maggetti, that was by design. "The idea was, and it came from one of our cast members, that we haven't been traveling for a while," he said. "So let's take a trip."
On that note, here is what you can expect walking the full Festival of Holidays marketplace circuit.
Holiday Duets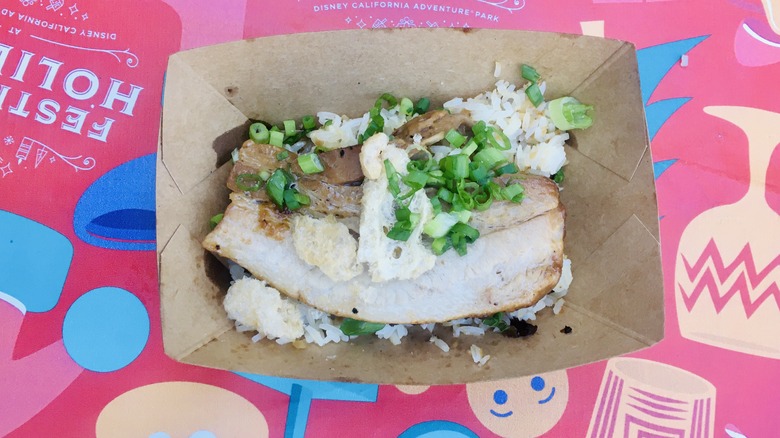 Sarah Gardner/Mashed
If you're starting your culinary tour from the entrance of California Adventure, the Holiday Duets marketplace will be your first stop, but the kiosk can be easy to miss — it's tucked into an alcove just past the Carthay Circle Restaurant (if you've hit the Avengers Campus, you've gone too far). Specializing in "perfect pairings, curated for your culinary delight," this is a stop you definitely don't want to skip over. All four items offered here are worth trying, but the stand-out is the unctuous Braised Pork Belly Adobo. The Filipino favorite, which is served over a bed of garlic fried rice, is a perennial top seller at the Festival of Holidays. "If we took it off the menu, there would probably be picketing," said Maggetti.
This year, the dish is paired with a refreshing Calamansi Melon Lemonade (the featured citrus is a popular fruit in the Philippines). Rounding out the Holiday Duets roster is a standard Shrimp & Grits, which is prepared in celebration of Kwanzaa, and the tropical Pabana Cachaça Colada. For those who haven't visited Brazil, you may be unfamiliar with cachaça, the rum-like spirit fermented from sugarcane juice, and it turns out it makes a perfect pairing with passionfruit, banana, mango, coconut cream, and lime.
A Twist on Tradition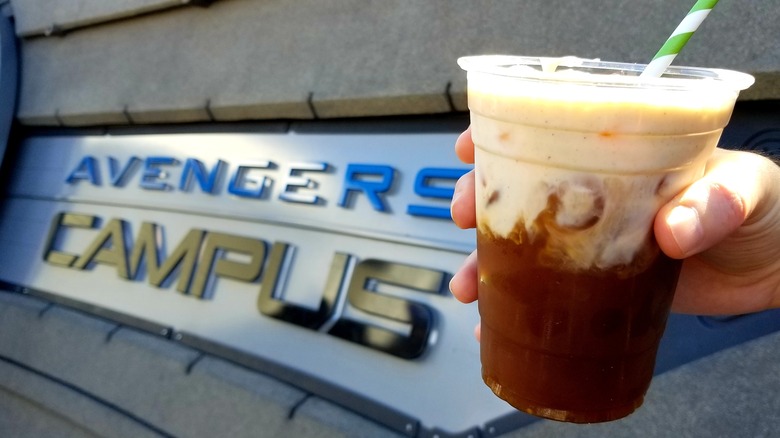 Sarah Gardner/Mashed
Get back on the main drag and keep to your right. Across from the entrance of the Avengers Campus, you'll come across the A Twist on Tradition marketplace where you'll find "tempting twists on holiday classics." That holds true with the Reimagined Beef Brisket Wellington, a take on the British favorite that you certainly wouldn't encounter coming out of Gordon Ramsay's kitchen, especially since the meat is piled on top of a Mickey ears-shaped puff pastry. Repping Hanukkah is the Reuben Potato Bites, a Jewish deli mish-mosh of corned beef and tater tots topped with Russian dressing and rye toast crumbles.
For beverages, there's the non-alcoholic offering of a Churro Toffee Cold Brew Latte, which you may need to rely on at some point during the day for a much-needed caffeine and sugar boost. Speaking of sweet, try the Lolea No. 1 Red Sangria for a fruity pop to your wine, or if you're looking for a traditional white, order a glass of the Wither Hills, a sauvignon blanc from New Zealand.
Brews & Bites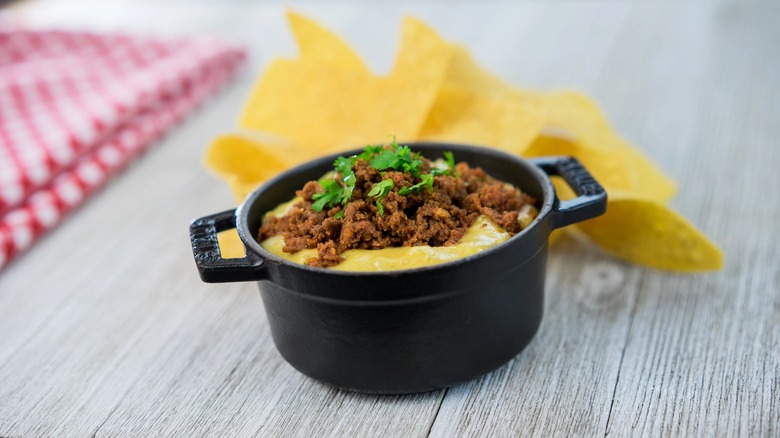 David Nguyen/Disneyland Resort
Beer lovers will want to keep moving and stay to their right where they'll encounter the Brews & Bites marketplace. The tagline here is "frosty beers and good cheer," and with a dozen different options on tap, it certainly lives up to that billing. The options cover multiple styles from lagers and hoppy ales to the darker double-digit ABV stuff. "For the Brews & Bites marketplace, we really wanted to make sure that we had local breweries and some seasonal beers," Maggetti said, and indeed, nearly all of the offerings were brewed in California or have a festive spin, with a few checking off both boxes.
For something on the heavy side, go with the Imperial Cookie Stout from San Diego's Karl Strauss, but if you want to keep things light and festive, order Golden Road's Christmas Cart, a cherry and spice wheat ale that is brewed just a few miles away at the brewery's Anaheim outpost. Since there are too many great beers to choose from, your best bet is to go with one of the two flights or both if you're bringing some drinking buddies into the equation.
The sole food option is the Impossible Chorizo Queso Fundido, and the chips (which are house-made tortillas) and dip combo makes for an ideal beer pairing. No surprise, Brews & Bites attracts a crowd, especially as the day progresses. But rest assured that unlike some of the lines at the park, this one moves fairly quickly.
Winter Sliderland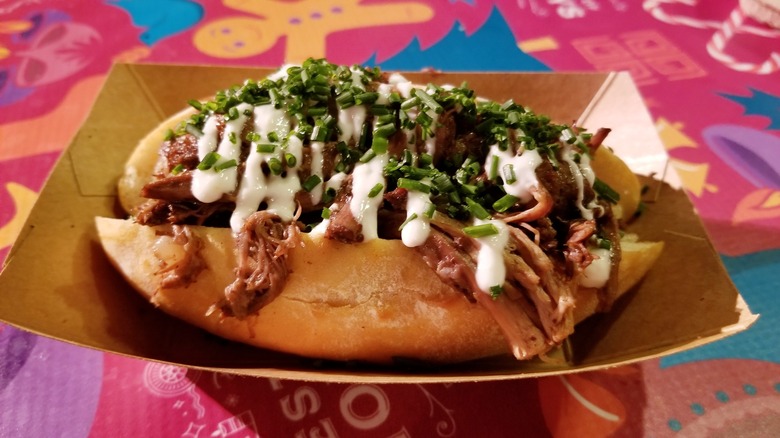 Sarah Gardner/Mashed
The tour continues as you continue up the main thoroughfare, walking past the turnoff toward Pacific Wharf. On your left, you'll hit the Winter Sliderland marketplace where "merry miniature holiday feasts" await. We highly recommend the tender pot roast, which is topped with a horseradish cream and stuffed into a hefty potato roll. But if you really want to feel the burn, the Nashville Hot Turkey Slider, another Kwanzaa offering, definitely brings the heat. A fried turkey tender slathered in spice is served on white bread and topped with thin slices of dill pickle for a sweet and sour touch.
Now, you'll probably notice that no actual cooking is being done at any of the marketplaces. But don't worry — the massive central kitchen keeps everything fresh, and in the case of the Nashville Hot Turkey Slider, crispy. (We can vouch for that.)
As for the drinks, beyond the garnishes, they're all pre-made, which is a good thing in this case considering the congestion that would ensue if the beverages were handcrafted. At Winter Sliderland, you can enjoy a Bourbon Cranberry Cocktail, which gets a churro-like boost from the house-made cinnamon-sugar syrup. Sticking with the red theme, there's a non-alcoholic Prickly Pear Tea Lemonade that features Joffrey's Coffee & Tea Company Ceylon Black Tea Cold Brew blended with prickly pear puree and house-made lemonade.
Grandma's Recipes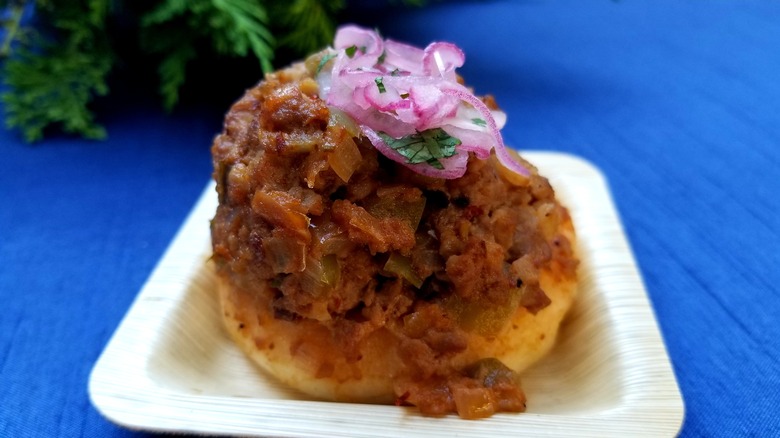 Sarah Gardner/Mashed
Not too far from Winter Sliderland, get a taste of "traditional flavors shared from generation to generation" at the Grandma's Recipes marketplace. While the "flavors" may be familiar, the items are likely not, at least for two of the three offerings here. Beyond its mouse-y shape, the Gingerbread Mickey is your standard Christmas classic cookie with a blend of sweet and spice and everything nice.
But we doubt the Impossible Arepa Encantada is in your abuelita's cooking repertoire. The picadillo-like topping may taste like meat, but it's actually plant-based ground "beef." As for the arepa, it's stuffed with a dairy-free queso, making this a fully vegan spin on a Colombian classic (and a delicious tie-in to Disney's latest animated film, "Encanto").
If you're a fan of Mexican fresas con crema, Berries 'n' Crema transforms the strawberries and cream dessert into liquid gold. Huckleberry and raspberry are added to the mix with a blend of whole and condensed milk and house-made strawberry whipped cream standing in for the crema. A sprinkle of fruit-flavored cereal is added for good measure.
Making Spirits Bright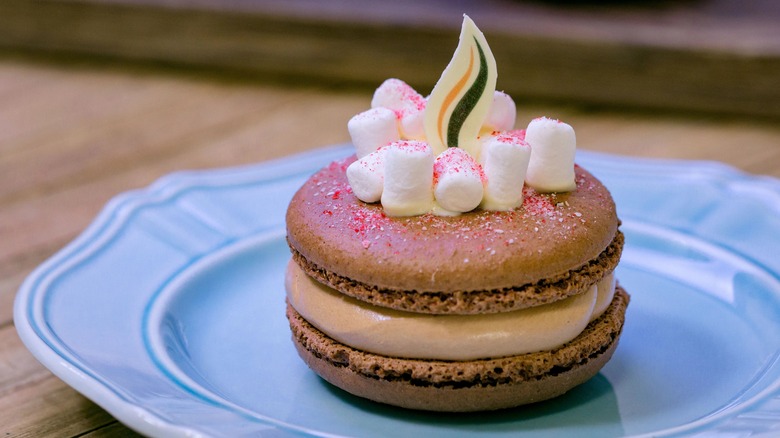 David Nguyen/Disneyland Resort
As the name of this kiosk not so subtly implies, Making Spirits Bright specializes in imbibing, and its tagline is fittingly "joyous toasts to the season of celebration." With a prime location in front of the Christmas tree, wine is the booze of choice, with both red and white flights available. Each option comes with a trio of samples, and each pour is sourced from across the Golden State. If you're in a particularly celebratory mood, grab a glass of Chandon Brut, a sparkling wine from, you guessed it, California.
When the weather starts to cool off (which it will when the sun goes down), the Maple Hazelnut Hot Buttered Rum is an ideal winter warmer. Maple syrup, hazelnut, cinnamon, nutmeg, and clove adds a little bit of sweetness and a little bit of spice, and a topper of salted caramel whipped cream joins in on the fun.
Only desserts are served here, with your choice of a Cinnamon & Sugar Holiday Tart (similar to that of the "Pop" variety) and a "Hot Cocoa" Marshmallow Macaron with a nifty "open fire" topping.
Favorite Things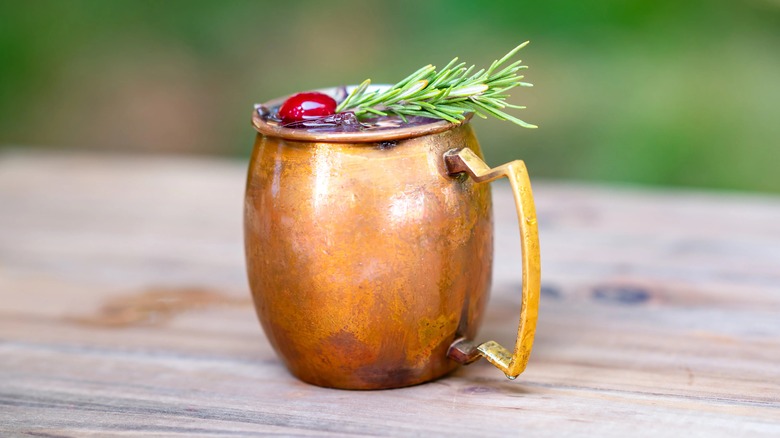 David Nguyuen/Disneyland Resort
If you're on the hunt for some Diwali dining, stop by the Favorite Things marketplace, home of "yummy dishes, gifted with flavor." There you'll find traditional Chana Masala (lightly spiced chickpeas) with a side of grilled naan. For those of you who are already getting nostalgic for your Thanksgiving meal, order the Holiday Stuffing Mac & Cheese, which is back again at the fest. Both of those dishes, by the way, are vegetarian.
On to the beverages, heavy on the suds. If you're a fan of the hoppy stuff, the Festival Beer Flight will scratch that itch. But if you're into sipping something big and boozy with notes of dark cocoa and coffee, the Stone Brewing 2014 Imperial Russian Stout is a must-order (the seven years of aging has definitely done it some good. For a stout side-by-side, the Karl Strauss Brewing Company Wreck Alley ain't too shabby either.
There is also a Mexican version of a Moscow Mule that subs in smoky mezcal for vodka and adds hibiscus (the signature flower flavor of the popular agua fresca jamaica), which works in perfect harmony with the standard ginger and lime duo.
Merry Mashups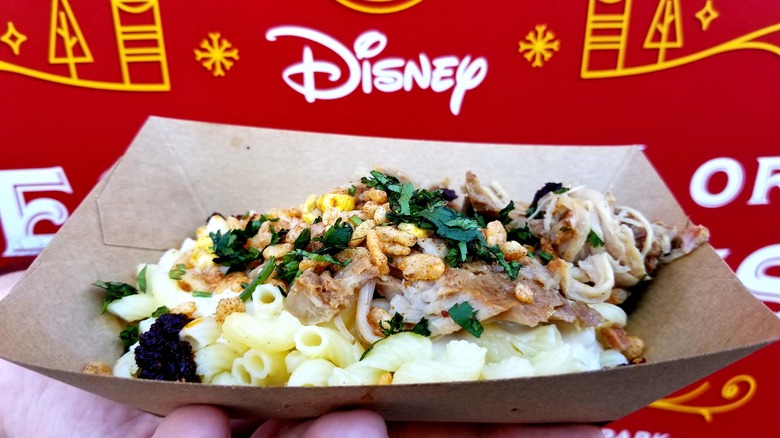 Sarah Gardner/Mashed
Well, we've come to the end of the line, and, indeed, they've saved the best for last. As much as we enjoy the Holiday Stuffing Mac & Cheese, the Esquites Carnitas version is that much better, with juicy pork, a creamy blend of cotija cheese with some welcome crunch from the combo of corn kernels and spiced puffed rice.
Be sure to grab plenty of napkins if you order the Holiday Spiced Wings, which get some added zing courtesy of citrus and cranberries. Last but not least on the food menu is the Holiday Mix, a merry blend of cereal, mini marshmallows, chocolate, and even some sprinkles. During our tour with Maggetti, we ran into Christiana Orejel, an assistant pastry chef at the park, and she was proud to mention that the recipe was passed down from her mother. "When I was little, we used to eat it all the time," she told us. "It's a little bag of deliciousness that you can't stop eating."
There is only one beverage offering, and that's probably because the Honey Guava Pisco Punch is all you're going to want. "Pisco, from Peru, is something not a lot of our guests get to try," Magetti said. Well, if this is your first time trying the grape-based brandy, rest assured that it won't be your last.
The Merry Mashups marketplace, which is located in front of the Golden Zephyr, promises "fun fusions of seasonal favorites" and delivers.
The rest of the fest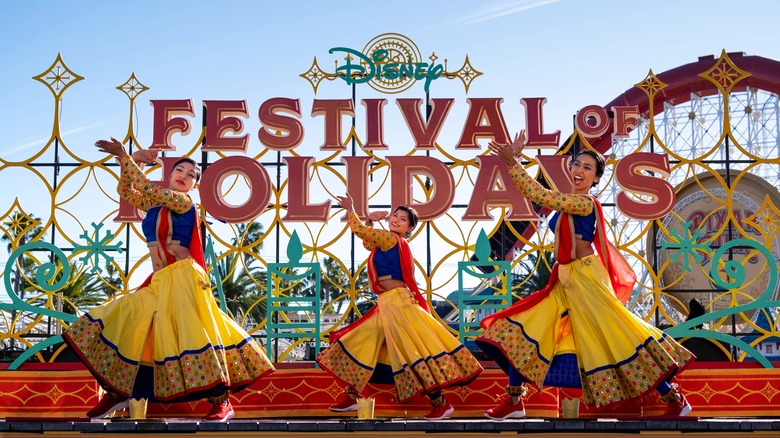 Scott Brinegar/Disneyland Resort
As we mentioned earlier, the Festival of Holidays food and beverage circuit extends beyond the marketplaces. If you're craving Mexican, Paradise Garden Grill (which is the home base for Viva Navidad — expect appearances from Latin bands and Disney characters) has an extensive menu of south-of-the-border specialites. Among our Disneyland holiday food favorites were the Loaded Latkes at Smokejumpers Grill (which is also serving up a holiday shake complete with a red wreath donut) and the Holiday Snack Molecules (a sweet and savory combo of gingerbread and Mexican hot chocolate caramel corn, mini pretzels, honey-roasted peanuts, dried cranberries, and popped sorghum), which is available by the bag at Pym Tasting Lab.
Though the World of Color nighttime water and light show remains on hiatus, there is plenty of musical entertainment to pair with your meal (or presumably, meals), with acts such as Blue13 Dance Company, The Mistletoes, Mostly Kosher, and the Grammy-award winning Mariachi Divas serving up a collage of sound that represents the entire holiday spectrum. 
"The idea is to get the entire theme park as part of the festival," Maggetti said. "So, when you come to Disney California Adventure for the holidays, it's an overall experience. That's what's been very important to us. We want this to be what we're known for. If Disneyland [Park] is known for the traditional heritage, that nostalgic feeling, we want to be known for the ability to celebrate multiple cultures and multiple holidays."