Instant Pot Sorghum Recipe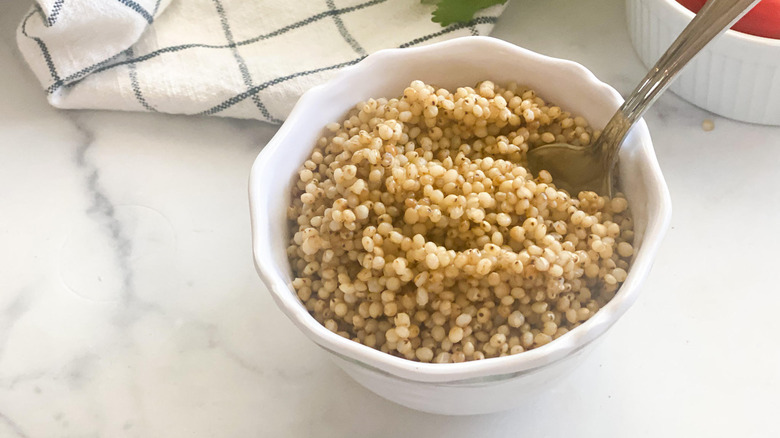 Miriam Hahn/Mashed
You may consider this grain to be a pretty simple and humble ingredient, but sorghum has many different uses and names, including great millet, durra, and milo (via Britannica). It can also be used in many different recipes. It's the fifth most produced grain in the world, according to Statista, falling behind the more commonly used rice and corn. However, sorghum is an incredibly versatile grain that shouldn't be ignored, especially in your own kitchen. 
As well as being super filling, sorghum has a number of nutritional benefits. Per Healthline, it's rich in iron and potassium, as well as vitamin B6, magnesium, and manganese. It's been known for reducing some forms of inflammation and may act as an antioxidant. Furthermore, if you have celiac disease and need to eat a gluten-free diet, sorghum and products made from sorghum are gluten-free, making this a safe grain alternative.
Sorghum can admittedly take a while to cook on a stovetop, but we've got a solution. Recipe developer Miriam Hahn has created a recipe for Instant Pot sorghum that takes out practically all the complications of cooking this grain. Now, it can easily work as an accompaniment to a meal or even as the base of the main dish. This recipe has very little preparation time at all and is very adaptable, which means you can focus on cooking the rest of your meal, safe in the knowledge that your side dish will be perfect.
Gather your ingredients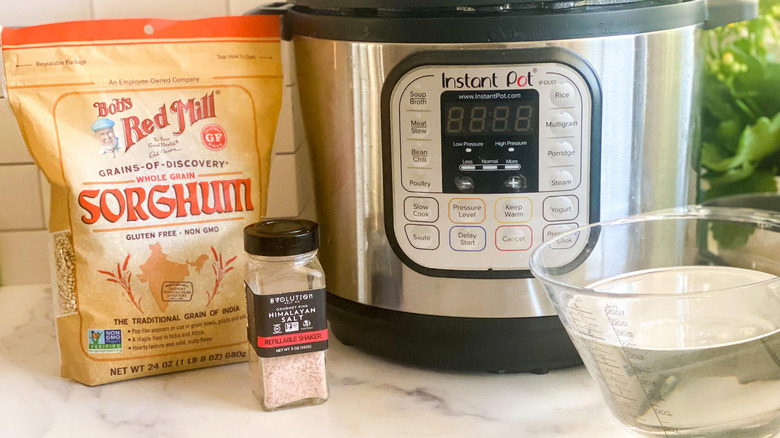 Miriam Hahn/Mashed
As there are three ready-to-go ingredients in this recipe for Instant Pot sorghum, you'll need very little time to prepare. You'll need 1 cup of sorghum and 3 cups of water, along with 1 teaspoon of salt. This will serve around 4 people. You can always scale this recipe up or down but you will need to do a bit of simple math if you choose to do so. You always want to make sure that you maintain the 3 cups of water to 1 cup of sorghum ratio.
If you want to add vegetables to your sorghum once it's cooked then you will want to think about preparing them and cooking them at this point too. This recipe only calls for around two minutes of preparation and 30 minutes of cooking time. Plus, once the sorghum is in the Instant Pot, it more or less takes care of itself, leaving you free to work on other aspects of the meal. If you're looking for some suggestions, some simple roasted broccoli could work really well here, or perhaps you'd prefer some perfectly steamed veggies.
Rinse the sorghum and add it to the Instant Pot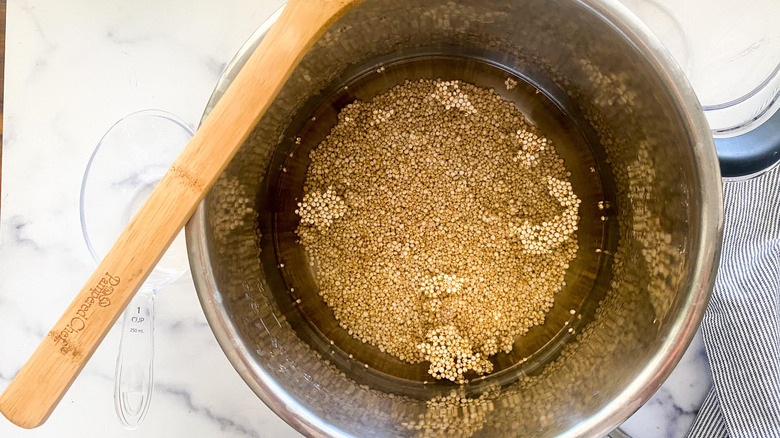 Miriam Hahn/Mashed
Once you've measured out your ingredients, put the sorghum into a bowl and run it under a cold tap. Leave to sit in the water for a little while and stir a few times so all the grains are thoroughly soaked. This will wash away excess starchiness and any impurities or residue that could affect the final taste and texture of the cooked sorghum.
Drain the sorghum and pour it into your Instant Pot. Add your teaspoon of salt and three cups of water to the Instant Pot as well. You want all of your ingredients to incorporate so using a fine grain of salt (as opposed to larger grained varieties like kosher salt) will be preferable. Stir the ingredients in the pot and ensure that the sorghum is thoroughly covered by the water.
Seal the lid and select high pressure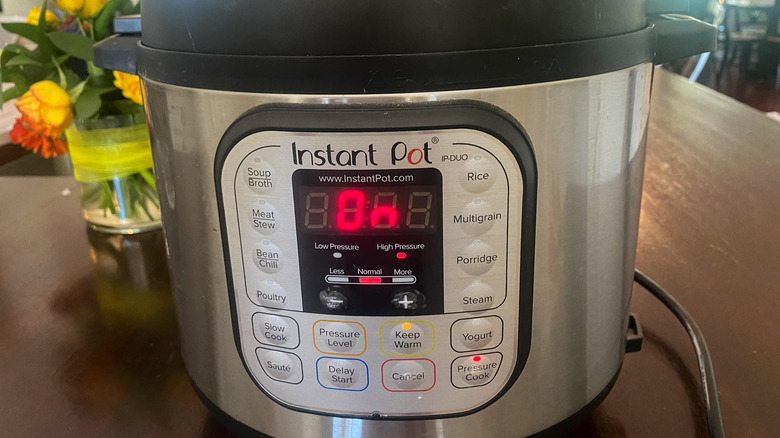 Miriam Hahn/Mashed
Once you're happy that all of your ingredients are incorporated you can seal the lid of the Instant Pot. Place the lid on the pot, set the valve to "sealing", and set the pressure to the "high pressure" setting. Turn the cooking dial to 30 minutes. 
Putting your ingredients in before the Instant Pot has reached pressure may seem counterintuitive, but it will take about 15 minutes for your device to reach the pressure you need. And it's only when the Instant Pot has reached that high pressure that the actual cooking will begin and the timer will start its countdown. That said, all devices can be a bit different, so it's worth keeping an eye on your sorghum in the early stages of cooking.
Drain and serve the cooked sorghum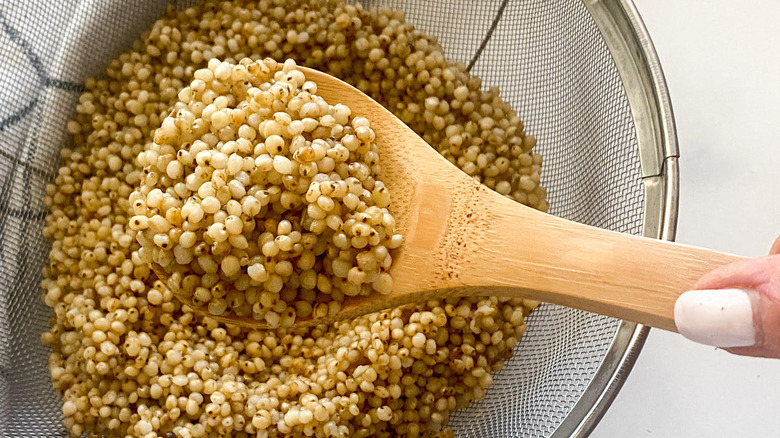 Miriam Hahn/Mashed
When the cooking time is over and your clock has counted down from 30 minutes you can carefully release the pressure valve on the lid. This will set the Instant Pot to vent. Ensure you're not in the path of the valve, as the hot steam will be released through the lid. Remember to not touch the pot until it's finished venting.
When all of the steam is released from the Instant Pot you can open the lid and lift out the inner pot with your fully cooked sorghum waiting for you just inside. Stir the grains gently and then pour them into a sieve to drain any excess water that might be left behind. Shake the sieve firmly to ensure that you've got rid of any water.
Then you can pour the sorghum into a fresh bowl. You can easily serve the cooked grain on its own after completing the recipe. Similarly, you can stir cooked vegetables into the mix, creating a more colorful and flavorful side dish. For hot applications, it's best to eat the sorghum straight after you've made it or, if you choose to chill it, sorghum can also be an interesting and nutritious addition to grain-based salads. If you have any leftovers, consider freezing your cooled sorghum in a sealable freezer bag.
Instant Pot Sorghum Recipe
Sorghum can take a while to cook on a stovetop, but this recipe for Instant Pot sorghum that takes out practically all the complications of cooking this grain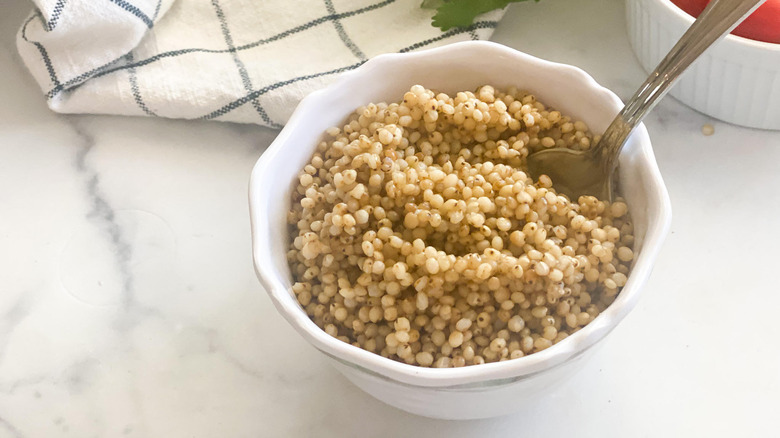 Ingredients
1 cup sorghum
3 cups water
1 teaspoon salt
Directions
Rinse the sorghum with cool water.
Add the rinsed sorghum to the Instant Pot with 3 cups of water and 1 teaspoon salt. Stir the mixture gently to incorporate.
Set the valve on the lid to "sealing" and select the "high pressure" setting. Set the timer to 30 minutes.
When the cook time is over and the Instant Pot beeps, carefully switch the valve on the lid to venting. Make sure that you stand back while the steam is released through the lid.
When all of the steam has been released, open the lid and remove the inner pot. Drain the excess water by placing the cooked sorghum in a sieve.
Nutrition
| | |
| --- | --- |
| Calories per Serving | 158 |
| Total Fat | 1.7 g |
| Saturated Fat | 0.3 g |
| Trans Fat | 0.0 g |
| Cholesterol | 0.0 mg |
| | |
| --- | --- |
| Total Carbohydrates | 34.6 g |
| Dietary Fiber | 3.2 g |
| Total Sugars | 1.2 g |
| Sodium | 525.0 mg |
| Protein | 5.1 g |