Must-Have Items For Your New Year's Eve Charcuterie Board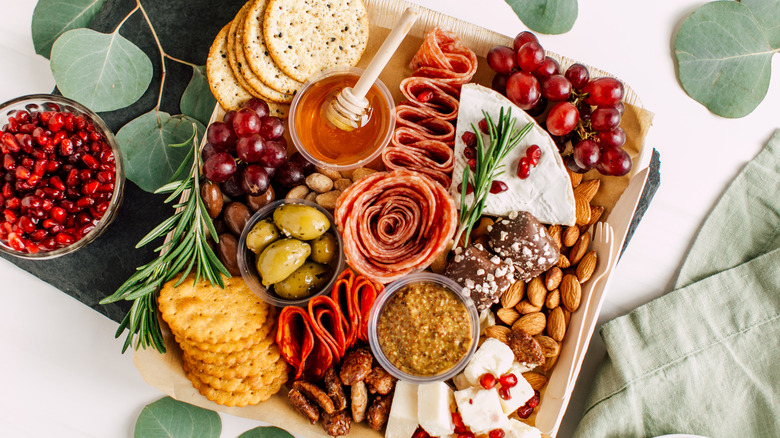 Katheryn Moran/Shutterstock
Can you believe that it's almost 2022? Things are moving quickly. While it's not quite Christmas yet, it's time to plan your New Year's Eve holiday spread. Hear us out. You know what they say ... once October strikes, you blink, and the holidays are over. Don't worry! We've got you covered.
If you are hosting the New Year's Eve bash this year, you can't forget to include a charcuterie board for the occasion. Charcuterie boards are an easy way to pull off an impressive appetizer spread, and they can also be made into a full meal. Shop for your ingredients, display them nicely on a wooden board or a large piece of parchment paper, and have your guests dive in! With enough patience, you can create a spectacular arrangement that all your guests will admire.
Alternatively, if you are looking to avoid many hands on your food, one new trend that has come out of the pandemic is known as jar-cuterie. Include a sampling of all of your favorite charcuterie board ingredients in individual mason jars. Guests can come in, grab a jar, and avoid risking the transmission of germs.
While most charcuterie boards include standard meats and cheeses, we want to help you to think beyond the boring standard charcuterie board. You deserve better. Your guests deserve better. We are leveling up as we head into 2022! Follow our plan below to pull off an epic charcuterie board that you and your guests will love.
Cured meats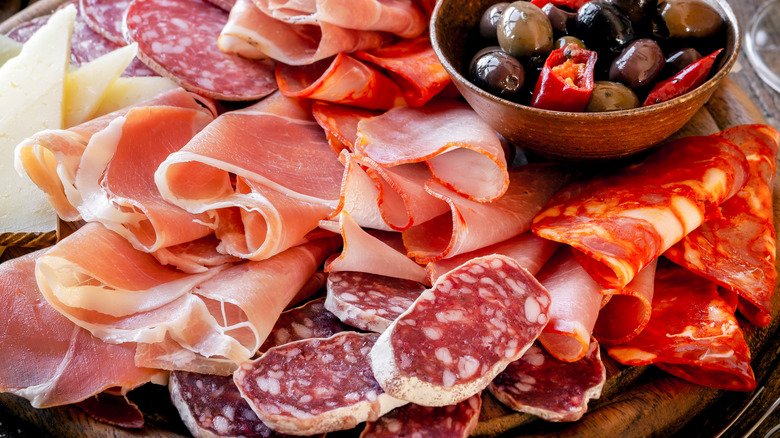 kuvona/Shutterstock
You can't have a charcuterie board without the cured meats. The word "charcuterie," by definition, means a collection of cold cured meats. We cannot in good conscience recommend a charcuterie board without cured meats. We would be remiss!
So you know you need to include cured meats, but which ones should you choose? We recommend classic cured meats like prosciutto, genoa salami, capicola, and jamon iberico. These slices are typically pretty easy to locate as opposed to some rarer but tasty finds like nduja sausage. The best places to find these meats would be at your local well-stocked grocery store or a specialty meat store.
As far as presentation, we recommend using a mix of simply elegant folded meats arranged neatly on the board and taking it up a notch by creating some easy meat roses, which can be made by layering sliced meat in a wine glass.
Soft sheeses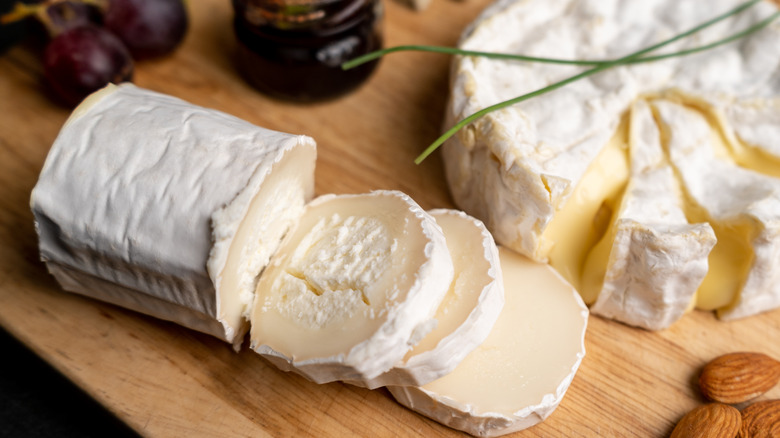 Wenkang Shan/Shutterstock
In addition to meats, you will absolutely need cheese on your charcuterie board. We recommend a mix of both soft and hard cheeses to provide variety. Let's dive into the soft cheese category first.
We would recommend choosing at least two types of soft cheese for your charcuterie board so that guests have a variety of cheeses to spread on crackers and bread. Don't forget: This means you will need to include some spreading knives for your guests to use as well.
In terms of soft cheeses, you cannot beat a classic brie because it is neutral in flavor and a general crowd-pleaser. To spice things up a bit, your second soft cheese can be a bit more adventurous. We love herb goat cheese or blue cheese for the extra funky flavor. Not everyone will love this cheese, but those who do will be extra thankful you included a little something different.
Hard cheeses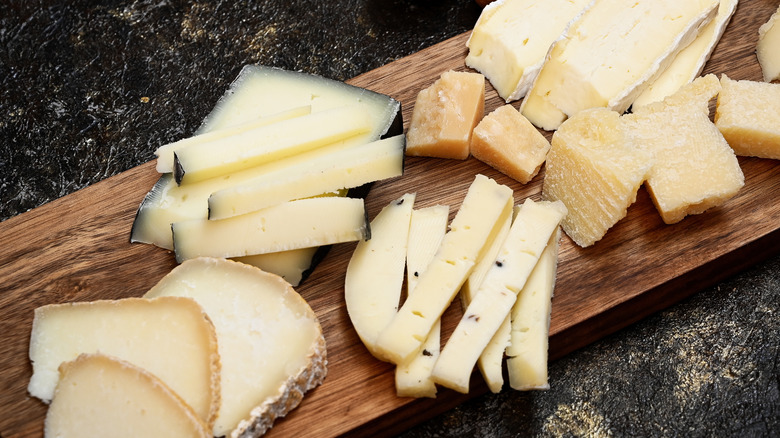 Yulia Tabakova/Shutterstock
Now for the hard cheese category. We recommend including some classic flavored cheeses as well as some unique cheeses. For the classic cheeses, you cannot go wrong with a sharp cheddar, gouda, or asiago. These cheeses are beloved by many! By including a few of these classic cheeses, you will have options for those who are less daring when it comes to cheese tasting. For something more unique, we recommend cheeses that have been infused with flavor and add-ins like cranberry or mustard. We also cannot seem to get enough of the Unexpected Cheddar from Trader Joe's. If you have access to a Trader Joe's, this one is a must-have.
Trader Joe's has some other solid options, but Whole Foods has an impressive spread as well. When buying cheese for your charcuterie board, plan for each guest to eat about two ounces of each cheese. This way, you will have enough for everyone to enjoy.
Olives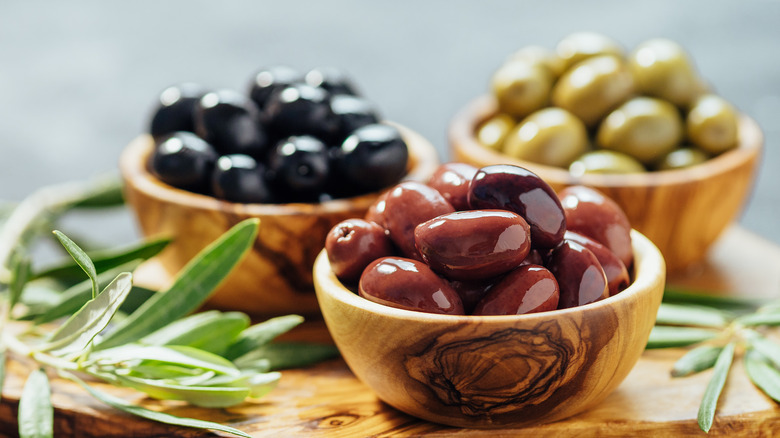 Fascinadora/Shutterstock
Now that you've considered the essentials — meats and cheeses — you can have fun including some extras that really help to elevate your charcuterie board. Olives are amazing additions because they can provide the briny, salty, or sometimes buttery flavor that helps to round out the heaviness found in the meat and cheese.
There are so many types of olives! Just take one look at an olive bar, and you will see. We recommend a variety of olives to appeal to your guests' various tastes and to provide a mix of colors on your board. Firstly, you will want to make sure you have castelvatrano olives. These bright green olives are our personal favorites because they are mild in flavor and appealing to even the self-proclaimed olive-haters. Additionally, you will want to include deep purple kalamata olives because they offer that classic salty olive flavor and are widely available for purchase
Nuts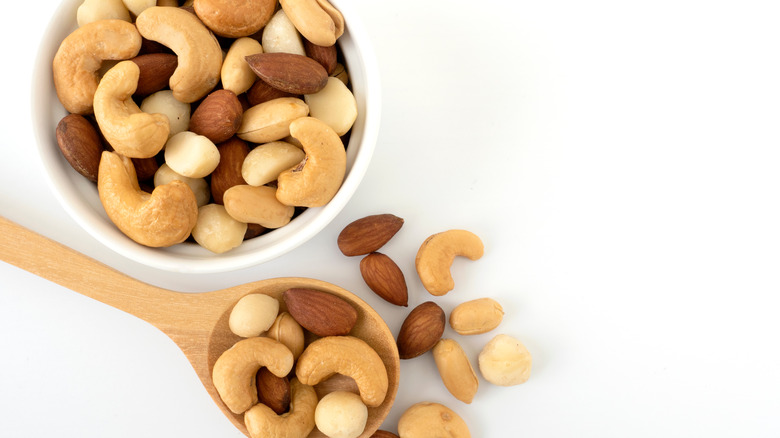 Marshii.P9/Shutterstock
Another crucial addition to any charcuterie board is salted nuts. Pistachios, pecans, marcona almonds, and cashews are some of our favorites, but you can choose any you like. We recommend to avoid using overly flavored nuts and instead opt for simply salted to not overpower the flavors of the rest of the charcuterie board. That's right! Save those Thai chili lime and mesquite barbeque nuts for your afternoon snack plate.
In addition to being a salty, crunchy snack, nuts also provide a vegetarian source of protein. This means any vegetarians that are attending your New Year's Eve bash will not feel neglected when they stumble across your board of various meats.
Serve your nuts in small bowls or ramekins placed on top of the board. This will ensure you have avoided cross-contamination for any guests with nut allergies. Nuts tend to roll away and get stepped on. Placing them in small bowls will prevent the nuts from spilling all over the place.
Fresh fruit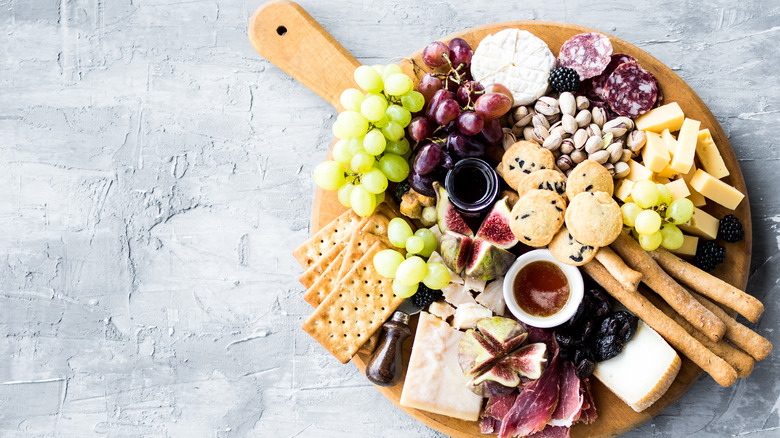 Nelli Syrotynska/Shutterstock
Include some refreshing sweetness to your charcuterie board. Fresh fruit will be a welcome reprieve after all these heavy, intense ingredients. We recommend including sliced figs, berries, and apples, as these flavors tend to pair best with meats and cheeses. We also love the addition of stemmed cherries for the ease of handling and grapes on a vine for their elegant appearance. Be sure to avoid high-liquid content fruits like watermelon unless you want to soak your entire charcuterie board.
This goes without saying, but be sure to wash your fruits before you serve them up on the charcuterie board. We knew you would, but we had to mention it. If you are using apple slices on your board, squeeze a little bit of lemon juice over them to avoid browning. The lemon juice helps to prevent oxidation that normally causes apples to brown when exposed to air.
Dried fruit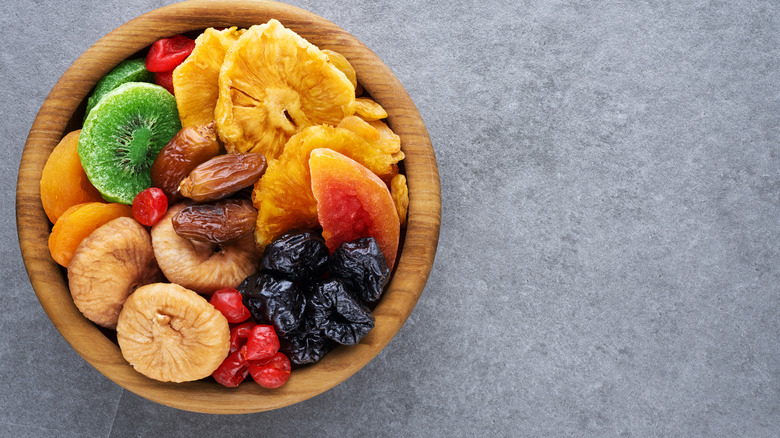 vitals/Shutterstock
More fruit? Yes, we promise it's worth it. In addition to fresh fruit, we also recommend including some dried fruit to your charcuterie board as well. Dried fruits such as dried apricots and sweet medjool dates are our favorites!
Dried fruits work so well on a charcuterie board because they are shelf-stable and provide a bit of chewy texture in contrast to the other charcuterie board components. Combine some crackers with cheese and dried fruit in one bite, and you're in for a tasty surprise!
We like finding our dried fruit at Walmart or Trader Joe's for the most affordable prices and widest selection. No need to spend an arm and a leg on all of the charcuterie board components to create an impressive presentation. It's always advised to start with reasonably priced ingredients. We recommend prioritizing the bulk of the spending on serving high-quality meats and cheeses, so going to budget route when it comes to fruit just makes sense.
Fruit spread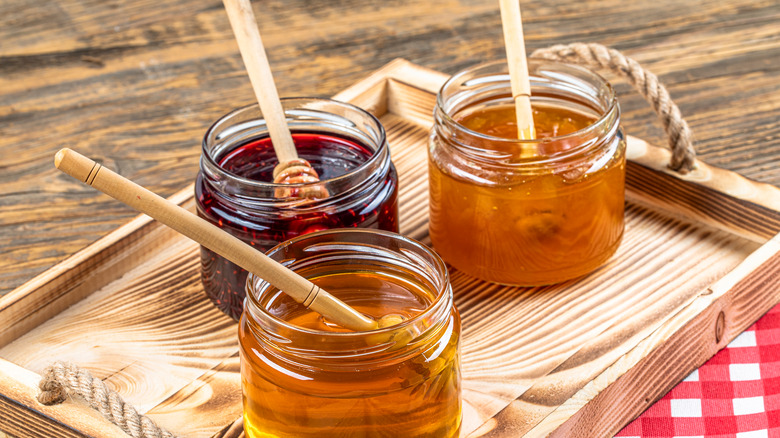 Mehmet Cetin/Shutterstock
In addition to fresh and dried fruit, we also love to include a fruit spread on our charcuterie board. Some of our favorites include apple butter, plum preserves, fig jam, or even a spicy tomato and pepper jam. These are rather easy to make at home, but if you don't want to take a stab at a new recipe for this New Year's Eve board, you can buy fruit spreads at almost every grocery store. We find our specialty jams at Whole Foods for the most creative flavor concoctions. Prickly pear fruit spread, anyone?
Fruit spreads and jams are flavorful ways to complement many of the salty components on the board that we already have going on: cheese, meats, crackers, etc. They're also perfect for spreading on crackers or bread, creating an opportunity to build the best bite ever. Be sure to include a separate spreading knife for each spread offered.
Assorted crackers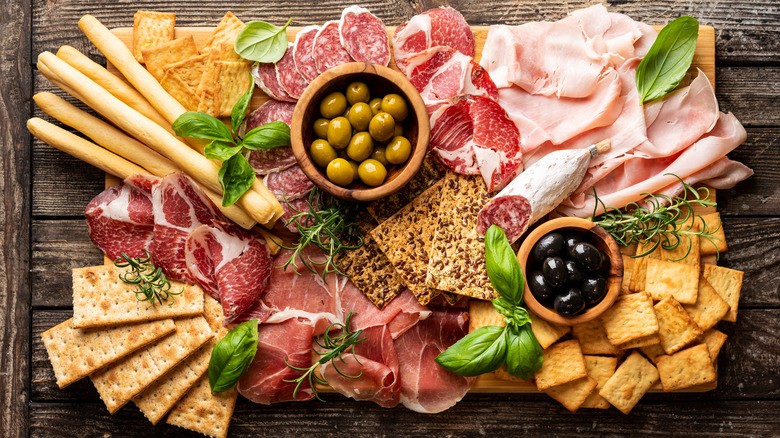 Goskova Tatiana/Shutterstock
This component is quite essential. We'd argue that you need an assortment of crackers on any charcuterie board in order to fully enjoy the other ingredients on the board. Crackers allow you to build epic bites. Picture this: You take a cracker and layer on herb goat cheese, top it with genoa salami, spicy tomato jam, and a date. Could you create that deliciousness without a cracker? We think not.
We recommend providing a variety of crackers for your guests. Our favorites include water crackers, seeded crackers, wheat crackers, and thin breadsticks. We also think it would be nice if you included gluten-free options in case any of your guests avoid gluten. Remember, if they have celiac, it's best to make sure their crackers do not get cross-contaminated with the other crackers. We don't want anyone to get sick at your party! That would be a major party foul.
Baguette slices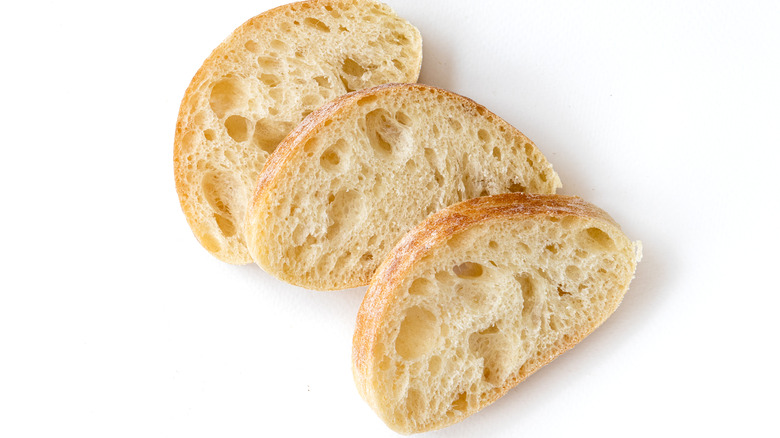 PhotoPaper/Shutterstock
In addition to crackers, we also think it's a good idea to include toasted baguette slices. Trust us, you and your guests will also want bread. Who doesn't want to be provided with more carb options?
These toasted baguette slices are very simple, not to mention affordable, to make, and they provide another opportunity for stacking the ultimate charcuterie bites. They are neutral in flavor, so they pair well with any cheese, meat, or fruit spread your heart desires.
For about a dollar, you can find a fresh baguette in most grocery stores. Slice the bread up into thin slices. Then, bake the slices on a baking sheet for 15 minutes at 350 F. Remove the baking sheet from the oven, and you will have warm, slightly toasted baguette slices that pair well with all the other components of the charcuterie board. C'mon! Give the people what they want. Bread, always bread!
Pickled items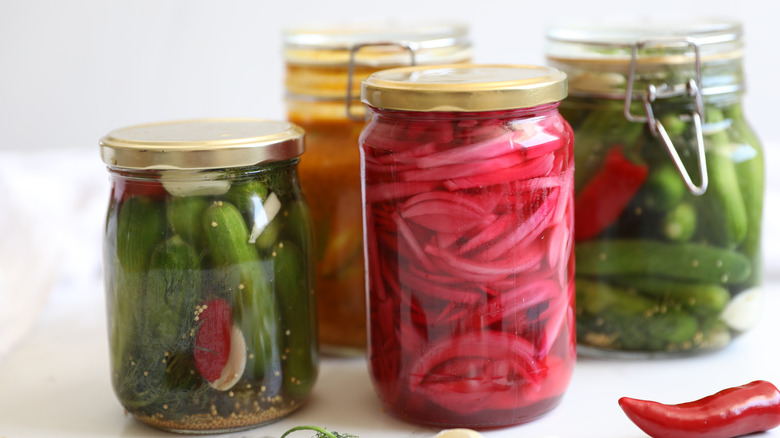 rontav/Shutterstock
This one falls into the category of briny ingredients, just like the olives. Pickled items such as pickled asparagus, pickled cucumbers, or cornichons on your charcuterie board give guests the opportunity to be wowed with the salty, briny flavor combinations that await them.
Got 24 hours and some vinegar in your pantry? If so, you can make simple pickled veggies at home, or you can buy them at any local grocery store. If you want to make your own quick pickled veggies, most recipes start by including vinegar, water, and spices in a jar along with the veggies of choice. Then, chill them in the refrigerator for at least 24 hours.
We personally love including pickled beets, cornichons, giardiniera, pickled carrots, pickled peppers, and pickled radishes on our boards for a variety of colors and flavors. They not only taste good but look pretty on your holiday charcuterie display.
Sweets that shine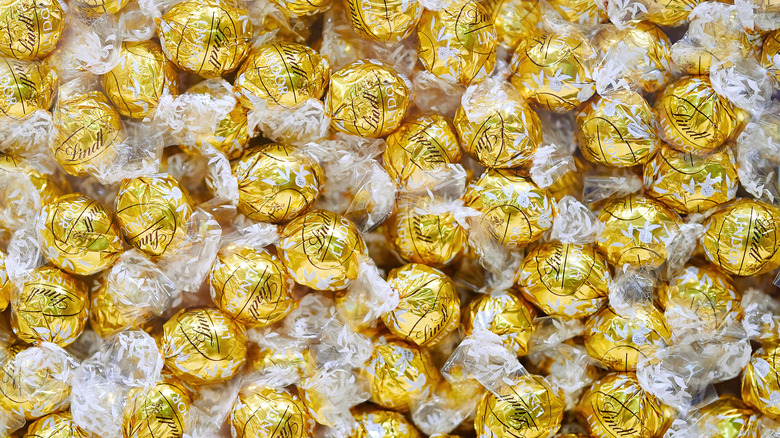 Tricky_Shark/Shutterstock
Last but not least, we recommend including some sweets. That's right! You heard us correctly. While not a traditional charcuterie board ingredient, we think that every New Year's Eve charcuterie board should include something sweet. And better yet, something shiny. It is a festive celebration, after all!
We love adding gold-wrapped Rolos, Lindt truffles, Ferrero Rocher chocolates, gold-wrapped butterscotch candies, silver-wrapped Hershey's kisses, or even gold coins to add a little sparkle as well as a little sweetness to your holiday board. This will provide added color and texture to your display. It will also be a very welcome addition to the otherwise relatively savory offerings. So, stock up on those holiday candies. They will be necessary for this New Year's Eve charcuterie board.
Adding this extra touch of sweetness and decoration will make your charcuterie board feel extra special, which is exactly what you want for New Year's Eve!