Ina Garten Proves She's A Swiftie With Sweet Birthday Tribute To Singer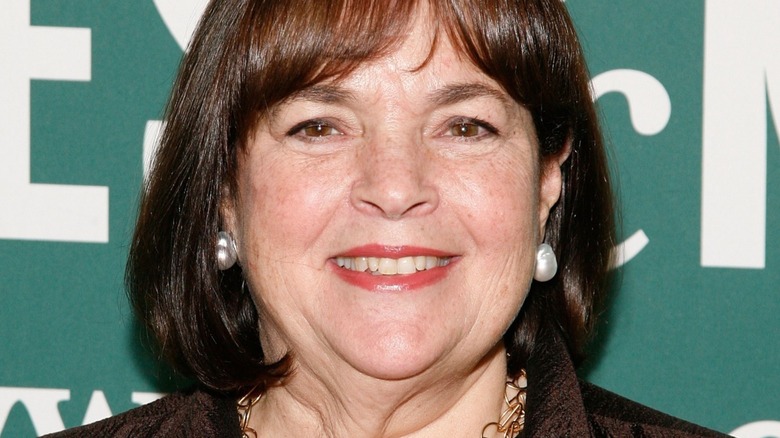 Andy Kropa/Getty
Happy birthday, Taylor Swift! Today, December 13, marks yet another trip around the sun for the Grammy Award-winning pop star, who is blowing out 32 candles on her birthday cake this year (via Biography). In celebration of Swift's special day, social media has been flooded with birthday wishes for the star from fans all around the globe –- many of whom have probably whipped up a batch of chai sugar cookies and ordered a Taylor Latte from Starbucks to honor the singer, as well.
Amongst the many fans out there who are sending well-wishes to Swift today is Food Network star Ina Garten, who took to her Instagram account earlier with a sweet birthday tribute for the singer that proves she's just as much of a Swiftie as the rest of us. "Happy Birthday to one of the most creative artistic genius[es] of our time!" the cookbook author captioned the post, which also included a photo of Swift rocking a sequined jumpsuit and singing on stage. "You are such an inspiration for anyone who wants to sail their own ship. Sending love."
Fans are 'loving everything' about Ina Garten's birthday tribute to Taylor Swift
Fans of Ina Garten and Taylor Swift loved seeing their worlds collide with the Food Network star's sweet Instagram message for the singer, which has amassed over 34,000 likes and dozens of comments. 
"This is my favourite 💜 I love listening to @taylorswift while cooking @inagarten recipes," one user wrote. "Loving everything about this," added another fan, while a third expressed their desire to get together with the celebs and "make roasted chicken together."
Garten's birthday tribute to the "All Too Well" singer may seem a bit random, but, as it turns out, the pair go much further back than you may realize. According to E! News, the stars first met in 2014 when they spent a day cooking and drinking whiskey sours together for an issue of "Food Network Magazine" and they have been friends ever since. In 2015, Swift penned an essay about the "icon" for Time Magazine in which she said that Garten's "goal is to make things easier for us. Fans love her warmth and generosity. She shows us how to create memories that we'll treasure for years to come. For that, we will always cherish the merry and magnificent Ina Garten." So, clearly, the love goes both ways.
The "Barefoot Contessa" has also been vocal about her love for the birthday girl over the years, with her Instagram post today only being the most recent example. Garten gushed over her celeb pal last year during an Instagram Live with Katie Couric, calling her "unbelievable" and "so, so smart" (via People). Swift even made the cut as a guest for the television host's dream dinner party, which we're sure that fans of this friend duo would love an invite to, as well.