Taylor Swift's Chai Sugar Cookies Are The Perfect Thanksgiving Dessert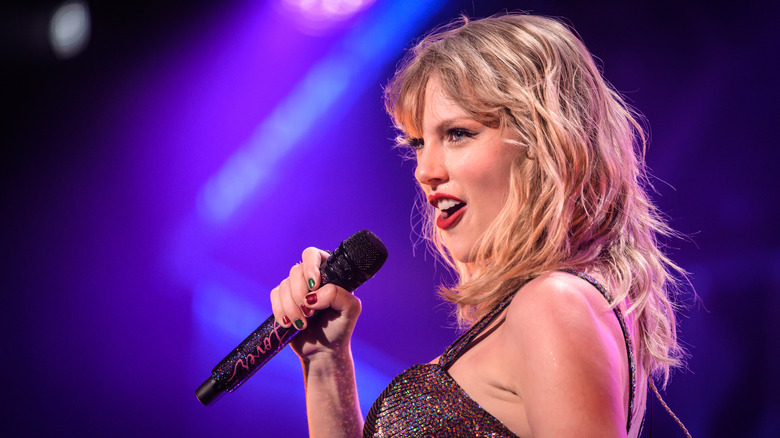 Brian Friedman/Shutterstock
When you think of pop music, it's hard not to think about the genre without thinking about one iconic name: Taylor Swift. And if you're a true Swiftie, you probably know Taylor has a knack for making you feel like she's your BFF. She's totally relatable. It's also no secret that Taylor loves to bake, especially during the holiday season, and isn't shy about sharing her mad baking skills on Instagram. From her celebratory 4th of July flag cake to her parodied "Shake It Off" charity bake-off with celebrity chef Jamie Oliver, baked goods are a key ingredient in every Swift holiday hang-out sesh (via PEOPLE). 
That's where Swift's (a.k.a. Tay, Tay-Tay, T-Swift, and T-Swizzle) now-famous Chai Sugar Cookies come in. These cookies first appeared back in October 2014 on Tay's Tumbler account. Also known in Swiftie circles as the "1989 Secret Session Cookies," Tay shared them during "secret" album-listening sessions to promote her record "1989." Sadly, the Tumbler post has since been deleted, but dutifully, the internet kept her recipe alive. Taylor took the Giant Vanilla Sugar Cookie recipe from Joy the Baker and adapted it to add some seasonal spice for the holidays. "I added the chai element to the recipe because I thought it would infuse cozy holiday vibez into the cookie and it really did," she explained (per Hello Giggles). With Thanksgiving just around the corner, it's time to shake off that same-old dessert table and "bake, bake, bake, bake" these spiced-up delights.
How to bake Taylor Swift's Chai Sugar Cookies
According to Joy the Baker, every year around the holidays her blog blows up with folks searching for Tay's chai-flavored cookies. So, she decided to document the recipe for generations to come. To make these soft and tender holiTAY cookies, you're going to start with softened unsalted butter and a neutral oil like canola or vegetable, plus two types of sugar: Granulated and powdered. You'll also need all-purpose flour, baking soda, kosher salt, chai spices, and an egg to bind everything together. For the glaze, you'll want to grab more powdered sugar, a dash of nutmeg and some milk or eggnog.
For the cookies, preheat your oven to 350 degrees Fahrenheit and follow Joy the Baker's recipe. If you don't have all of the chai spices the recipe calls for, some fans suggest mixing in a packet of Chai tea mix. While the cookies are baking, you'll want to make your glaze, preferably with eggnog for the full holiday flavor effect. Per Hello Giggles, Taylor points out in her original post that you can go with icing, but as you add more milk or eggnog to your powdered sugar your icing slowly becoming a glaze. "But glazes are legit too so basically just LIVE YOUR LIFE." Have you ever heard more sage advice than this? Take it from T-Swift. Make these cookies for Thanksgiving. Live your life.