Here's What Taylor Swift Really Eats In A Day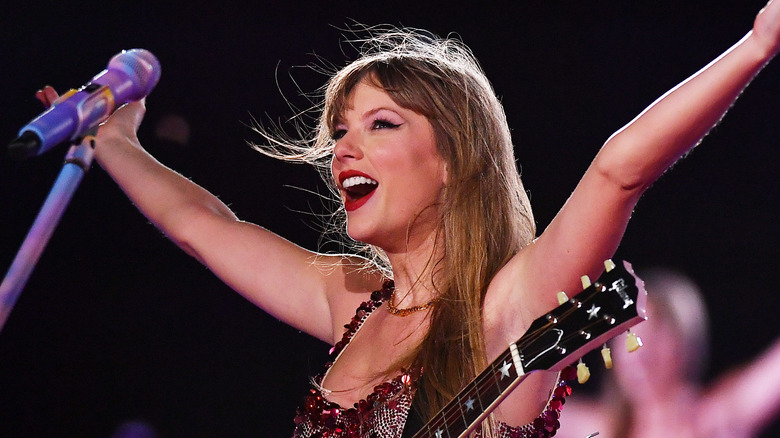 Marcelo Endelli/tas23/Getty Images
If you're curious about the food that fuels Taylor Swift's chart-topping energy, you'll want to take a look at what she really eats in a day. Marketing and branding expert Allyson Stewart-Allen says, "A key reason for Taylor Swift's incredible success is down to the relatability of her personality and music across generations and cultures" (via The Standard). We think you'll find that the food she eats is relatable as well. Even though her Eras Tour launched her into billionaire status, she's not sitting around every day with a fridge full of caviar and foie gras.
We found that Swift has revealed many of the foods she eats in interviews throughout the years. In the past, she posted lots of food and drink pics on social media. However, in 2017, she deleted every post on her Instagram account in order to promote her then-new album "Reputation." Her other social media accounts have also been scrubbed over the years. While subsequent social media posts have been a little less personal, the internet has luckily immortalized some classics like her cookie recipes, even if they're no longer on Tumblr.
We have your backstage pass to all the foods Swift eats from the moment she wakes up until her final meal of the day. We think you'll find the list interesting, and some of her eating and drinking habits may even be inspiring.
She likes big breakfasts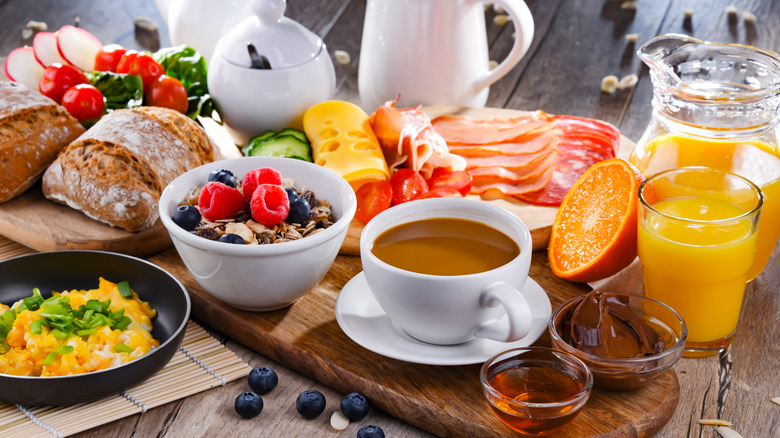 Monticelllo/Getty Images
When you work as hard as Taylor Swift does, you want to start your day with plenty of fuel. She told Bon Appétit in 2012 that big breakfasts are especially important on days when she has a concert ahead of her. All that singing and dancing takes a lot of energy. So, on concert days, she makes sure to have a breakfast that will stick with her throughout the day. With such a busy schedule, there's no guarantee she'll have time to stop to get another proper meal until much later in the day.
Her big breakfasts include items like sausage and eggs. She also loves biscuits and drinks orange juice every morning. One of her favorite breakfast dishes to make is buckwheat crepes. She tops these with ham, a fried egg, and Parmesan cheese.
Swift also loves to make cinnamon buns, too, and posted pictures of buns she baked for herself on Instagram in 2020.
She eats differently during the week than on weekends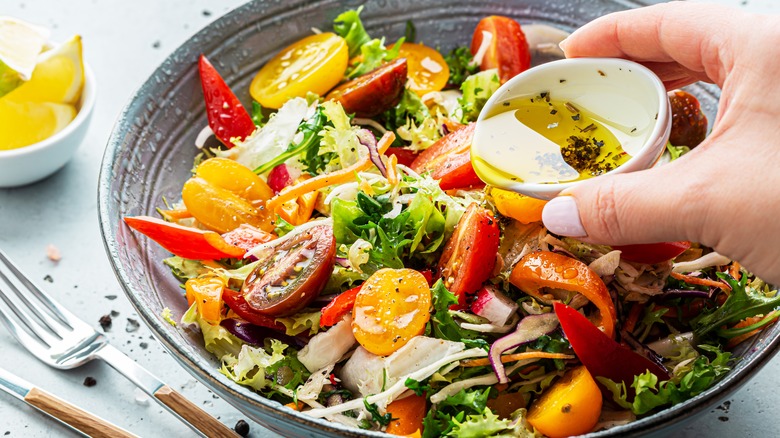 Pinkyone/Shutterstock
Taylor Swift leads an active lifestyle, fitting in workouts like hour-long runs into her days in addition to all the activity she gets from practicing for and performing in her shows. In a 2010 interview with WebMD, she revealed that she eats differently during the week than on the weekend. She said, "During the week, I try to eat healthily, so that means salads, yogurt, and sandwiches. No sugary drinks. I try to keep it lighter." In choosing what she eats, she said that she doesn't "like to create too many rules where I don't need them." Instead, she tries to follow common sense and make adjustments based on whether she's been eating healthy or not.
One example of how she changes her diet between weekdays and weekends is how she orders at Starbucks. She is a big fan of Starbucks and counts coffee as her favorite beverage — in the 2010 interview, she said it wasn't something she'd ever cut out of her diet. Depending on the day, she orders different beverages. During the week, she opts for drinks like skinny vanilla lattes, but all bets are off on the weekend when she goes for options like pumpkin spice lattes (when those are in season).
Here's what she's eating from restaurants
Most of our insight into what Taylor Swift likes to order when she's eating out comes from people spotting her around town. The internet is full of photos of Swift and famous friends heading out to enjoy meals at restaurants.
Swift seems to like variety when it comes to her dining choices. While speaking with Vanity Fair, she ordered a chicken sandwich and lavender lemonade for dinner. She has been spotted eating gluten-free pizzas with a glass of wine at L'asso in New York City. She has frequented bakeries for treats, burger places like Shake Shack, Italian restaurants, fine-dining establishments, and even vegan restaurants (despite not being vegan). While she's not a big fan of casseroles, she loves the sweet potato casserole at Del Frisco's.
So, what does she like when she's eating fast food? She told Vogue in an interview for the publication's "73 Questions" series that, if she were ordering at a drive-through, she'd get a cheeseburger and fries and indulge in a chocolate shake.
She drinks a ton of water
Taylor Swift's water-drinking habits are notorious. She stays well-hydrated and has no trouble drinking enough water every day. In her 2010 interview with WebMD, she said, "I drink so much water my friends call me an alien." She makes sure to keep plenty in her dressing room, car, and everywhere elsewhere to stay hydrated. When she's on stage during concerts, she drinks her frosty cold water with a straw, most likely to avoid removing her lipstick during the middle of a performance.
Swift's water habit also inspires her fans. She sells a covered cup with a straw as a part of her merchandise offerings at concerts. It's covered with pictures of her, causing one fan on TikTok to say, "When the cup has Taylor on it ... you feel obligated to drink water." Another TikToker who got one of the cups at a concert said, "I've used it every day. ... I'm so hydrated. I didn't even used to drink this much water. I fill it up at least two times a day."
She has more than just a thing for Diet Coke
In 2013, Taylor Swift entered into a long-term agreement to promote Diet Coke and become a brand ambassador. When Coca-Cola issued a press release about the agreement, the company said, "Taylor tells us that every day Diet Coke plays a small part in helping her stay extraordinary. It's one of the many reasons she's the ideal partner to represent our brand." For her part, Swift said, "Diet Coke just gets me and my lifestyle." With Swift needing to keep up her energy without adding a ton of sugar to her diet, it makes it a great choice for her. Even before her partnership with the brand, she said that she always stocked it at home.
If you're a television watcher, you likely started seeing her in Diet Coke ads in 2013 during the brand's Stay Extraordinary Campaign. The company also used her for print and digital ads, so if the algorithm gods thought you might be a Diet Coke or Taylor Swift fan, you likely saw a few of these ads online, too.
She drinks a variety of cocktails but has one favorite
When Taylor Swift is out and about or sitting at home, she enjoys a variety of cocktails. While she has a favorite and tends to enjoy classics, she also likes to try new drinks.
In Taylor Swift's "73 Questions" interview, she revealed that her favorite cocktail is vodka with Diet Coke. This choice isn't too surprising considering that she loves Diet Coke so much that she's chosen to become a brand ambassador for it. However, Swift doesn't just sit around drinking Diet Coke with vodka every time she has cocktails. In an interview with Elle, she said that she's learned to make several other classic cocktails to mix it up. She makes an Old Fashioned when she's in the mood to add Angostura bitters, sugar, and orange peels to her bourbon. For a refreshing summer drink, she goes with mixing rum and club soda with lime, mint, and simple syrup to make a mojito. Another classic she taught herself to make is a Pimm's Cup, which starts with fresh strawberry and cucumber slices that get combined with gin- and quinine-based Pimm's No. 1, lemonade, and sparkling water. Aperol spritzes made with Aperol, Prosecco, and soda water are also part of her repertoire.
While she enjoys many classics, she also likes to try new creations when she's out and about. At the 2023 MTV Video Music Awards, she enjoyed an off-menu drink made with Barcardi Superior Rum and coconut water.
She loves to cook, bake, and grill at home
While Taylor Swift has enough money to hire a personal chef if she wants one, that would take away from one of her greatest pleasures: cooking. In her 2012 interview with Bon Appétit, she said, "I've been my mom's kitchen helper since I was a little kid." That experience grew into a passion for cooking that continues today.
Swift even hosts dinner parties. However, she tends to choose simple recipes so that she doesn't get over-stressed with dinner prep. She also has a few recipes on rotation in her cooking repertoire that she likes to repeat, including Southern chicken and dumplings, grilled burgers, marinated chicken, and various veggies. Another dish she likes to cook for friends is lemon pasta topped with Parmesan cheese and pine nuts. Ina Garten even taught her to make mustard-roasted fish.
Swift loves everything stereotypically associated with the fall season, including getting into baking mode. If you were among her friends and family members, you'd find yourself gifted with all sorts of baked goods from pumpkin bread to chai cookies with eggnog icing. She used to share some of her baking recipes on Tumblr, but the only ones left after her social media purge seem to be ones immortalized elsewhere online.
There are certain items she always keeps in the fridge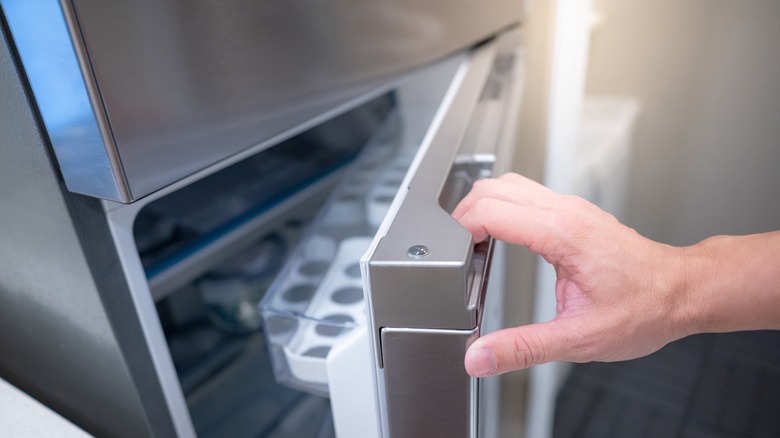 Zephyr_p/Shutterstock
We all have staples in our fridge that we can't do without, and being such a lover of cooking, Taylor Swift's fridge is full of ingredients rather than just takeout containers. Taylor Swift has several homes around the U.S., including in Tribeca, New York; Westerly, Rhode Island; Nashville, Tennessee; and Beverly Hills, California. Wherever home is for the moment, she makes sure to have her fridge stocked with ingredients she loves.
Some breakfast ingredients you'll always find in her fridge are eggs and orange juice, which are necessary for her favorite breakfasts. To make quick sandwiches for herself or others, she always keeps thin slices of ham and chicken on hand. Parmesan Reggiano cheese is a necessary ingredient for topping her cooking creations. She also keeps binge-worthy foods to satisfy her sweet tooth, like dough for baking fresh cookies or cinnamon rolls.
This is what she eats when she visits home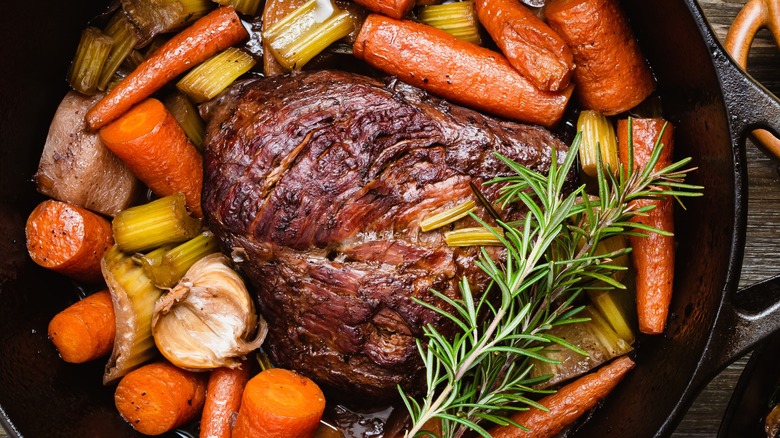 Nadia Nice/Shutterstock
It's from helping her mom around the kitchen that Taylor Swift learned her love for cooking, so when she visits home, she gets to enjoy delicious home-cooked meals. Home is Nashville, Tennessee, where her family moved in 2003 when Swift signed a music deal at age 14. Swift helped her parents upgrade into a $2.5 million 5,600-square-foot mansion on six acres in an exclusive area of Nashville in 2011. The kitchen has two fridges and an oversized kitchen island with plenty of space for food prep and eating.
Some of the foods Swift's mom, Andrea Swift, excels at making include brisket and pot roast. One of the treats she makes is toffee, which gets plenty of butter and brown sugar but also includes unexpected ingredients like chocolate chips and saltine crackers. Of course, her mom makes the music star all her favorites when she's home, so it makes for an indulgent visit.
She finds these foods crave-worthy
Taylor Swift is a big fan of comfort foods. Back before she wiped her social media accounts, you could get a bit more insight into her preferences. Her social media feeds would occasionally allow fans to catch a glimpse of her late-night cravings for items like doughnuts.
In addition to making doughnut runs, she also likes to keep pastries on hand at home for when her sweet tooth strikes, which is why you'll always find cookie dough or cinnamon rolls in her fridge. She also loves ice cream. And when Vogue asked her about her favorite food during her "73 Questions" interview, she said, "I mean, if we're just saying like, what I wish I could eat every day if calories didn't count, is like, chicken tenders." She displayed her love of tenders when she ate them while cheering on the Kansas City Chiefs at Arrowhead Stadium in 2023.
When Swift travels the world to sing, she gets to sample a variety of cuisines and ingredients. So, when she's in different countries, she makes sure to grab some of her favorite ingredients she can't find at home to use in her cooking and baking hobby. For example, when she visits Germany on tour, she makes sure to bring home some cranberry balsamic vinegar.
She often skips lunch in favor of a late dinner
Taylor Swift has busy days, so she often ends up skipping lunch without getting a chance to eat dinner until late on show nights. In 2012, she told Bon Appétit that there are practical reasons for not eating before a show. "[O]n tour there's dancing, and tight dresses, and I get shot out of a catapult-like lift." So, you can understand why it might be a better idea to time your eating differently when you've got all of that planned. Nobody wants to see their favorite music star lose their lunch or supper on stage.
That big breakfast comes in handy to keep her fueled throughout her long show days. With most of Swift's concerts taking place in the evening, she definitely works up an appetite. Swift's evening isn't done when she walks off the stage. She can't just leave the concert to get a bite to eat. Instead, she needs to take time to talk to meet everyone with backstage passes to sign autographs and take selfies. So, a lot of her evening meals don't even take place until midnight or later.
When she's at home, Tuesday night dinners are special. Swift revealed on X (formerly known as Twitter) that she meets with her friends in HAIM for dinner on Tuesday nights. There's nothing better than a standing dinner date with friends to add a bit of normalcy to a high-profile music star's life.
She also sleep-eats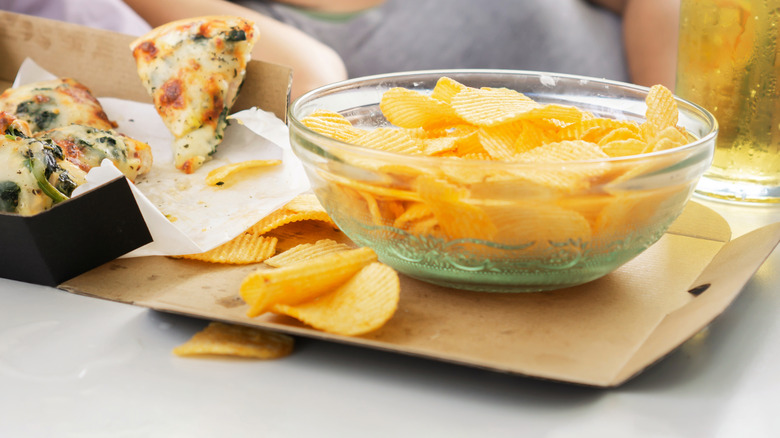 Doucefleur/Shutterstock
One bizarre food habit that Taylor Swift had opened up about is sleep-eating. When Swift was on the "Burning Questions" segment of the "Ellen DeGeneres Show," DeGeneres asked her what she does if she's having difficulty sleeping at night. Her immediate answer was, "I go downstairs and rummage through the kitchen and eat whatever I can find, and it's really less like a human being and more like a raccoon in a dumpster" (via YouTube). She said she thinks she sleep-eats, as she doesn't remember her nocturnal snacking once she wakes up in the morning.
Sleep-eating happens when someone's brain waves change during a pre-REM sleep phase, shifting to a state that's more like they're awake. However, they're technically still asleep, so they're not conscious of what they're doing. When Swift goes downstairs in the morning and enters the kitchen, she finds herself asking, "What happened here?" because she has no recollection of the sleep-eating episode. Sleep-eaters tend to make a midnight snack of whatever they find in the kitchen to eat but without full knowledge of what they're doing. So, sometimes, they'll even chow down on raw meat and non-food items during their fridge and pantry raids, which can be dangerous depending on what they choose. Hopefully, this tendency isn't part of Swift's sleep-eating.