Aldi Shoppers Are Loving The Fruity Flavor Of These Snowflake Cones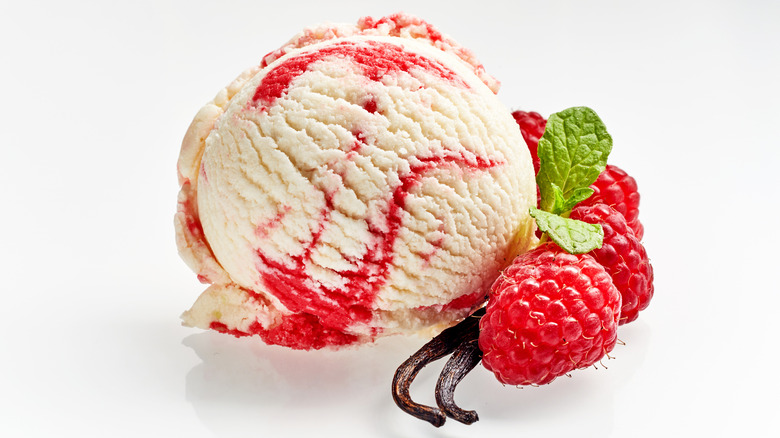 stockcreations/Shutterstock
Are you ready for all the Christmas desserts? From Walmart's delicious new cheesecake pies, to the wonders of gingerbread hot chocolate, there are a lot of decadent sweets you can enjoy this holiday season. If you're looking to switch things up from the usual chocolate and peppermint and want something a little lighter, though, then it may be time to try some holiday desserts that put fruit front and center. This is also just a great way to taste even more flavors this holiday season, and if you're looking for recipes, then we recommend making a batch of cranberry orange oatmeal cookies or mini apple crumbles.
On the other hand, if you're just looking to buy something from the grocery store, this wintery ice cream treat from Aldi is for you. Instagram user @aldifavoritefinds posted a photo of Snowflake Cones, which according to the package are raspberry and cream flavored. These ice cream cones also have a cocoa coating and raspberry flavored sauce, and they're topped with sprinkles. In the caption, @aldifavoritefinds says that one pack is just $3.49, and each pack comes with four ice cream cones.
What are Aldi shoppers saying about the Snowflake Cones?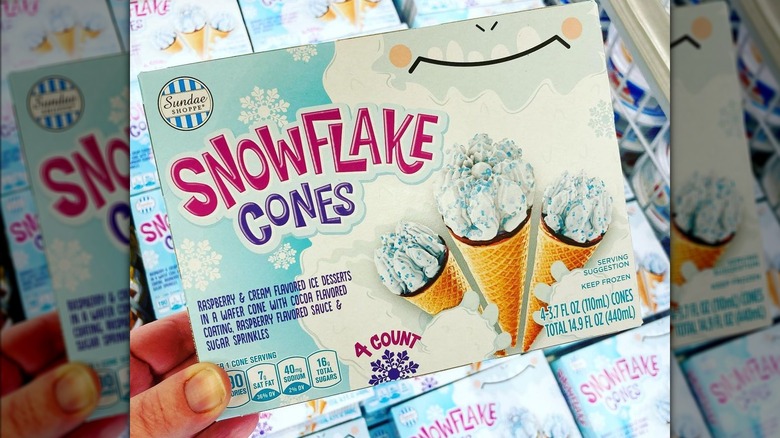 Whenever Aldi products get posted on Instagram, fans are quick to share their opinions. One commenter on @aldifavoritefinds' post wrote, "The cones are so so so delicious. The raspberry flavor tartness works really well with the creaminess of the rest of it." We can imagine that the contrast of flavors is great with this ice cream treat, especially around the holiday season when desserts are usually heavier on flavors like chocolate or peppermint. Though there is a bit of chocolate in the Snowflake Cones, you'll get more raspberry.
Another Instagram user said, "The cones are very different — raspberry flavored? And come in elegant blue foil wrapper." The fancy foil is just the extra cherry on top, and hopefully, the packaging puts you in a festive mood and makes a quick snack extra special.
In addition to these rave reviews from Aldi shoppers, the Snowflake Cones made it onto Taste of Home's list of best new December products, so add these to your grocery list. And while you're at Aldi, don't forget to look for their assorted holiday cookies or these pizzas that are shaped like Christmas trees.