Mini Apple Crumbles Recipe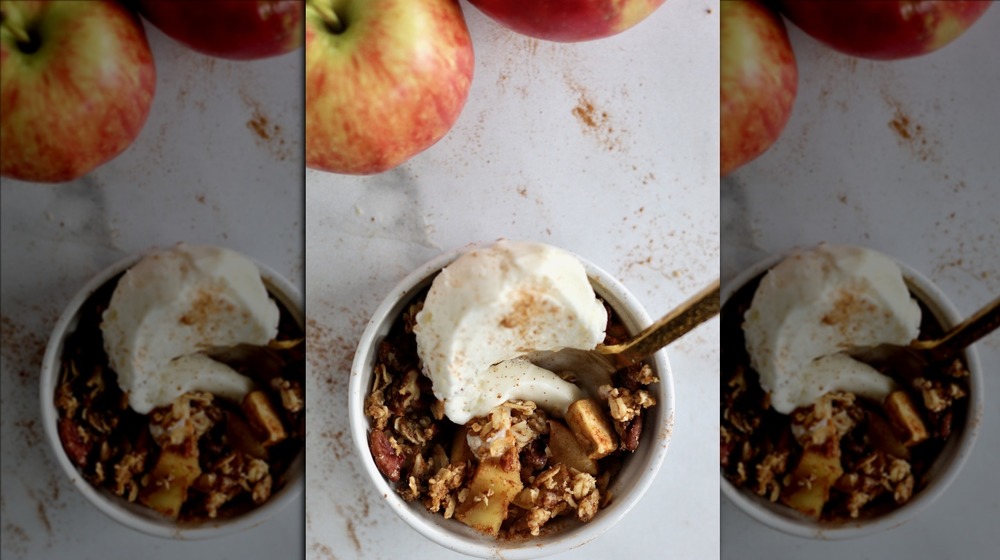 Mackenzie Burgess/Mashed
Apple desserts are the perfect option for fall and winter. Apples are usually ready to pick in late summer and early fall, and they come in many affordable varieties, meaning you can usually buy them local, fresh, and at a relatively low price. That's why this mini apple crumbles recipe, brought to you by Mackenzie Burgess, a registered dietitian nutritionist and the brains behind the Cheerful Choices blog, is a fall favorite that every home cook should know how to make.
Her apple crumbles play up the tartness of fresh apples, while toning it down, too, with the natural sweetness of maple syrup. Unlike many other apple dessert recipes, this apple crumble is served in individual ramekins, making it a neat and easy dish to share with guests — or of course, you can scale up the recipe and serve a lot of friends! To top it off, this warm and comforting recipe requires only one bowl for mixing, making it quick and easy for even inexperienced chefs. 

Mashed sat down with Burgess to find out the secrets behind this recipe, so follow along as you learn all the ins and outs to making the perfect farm-fresh fall dessert.
What makes this mini apple crumbles dish vegan and allergy-friendly?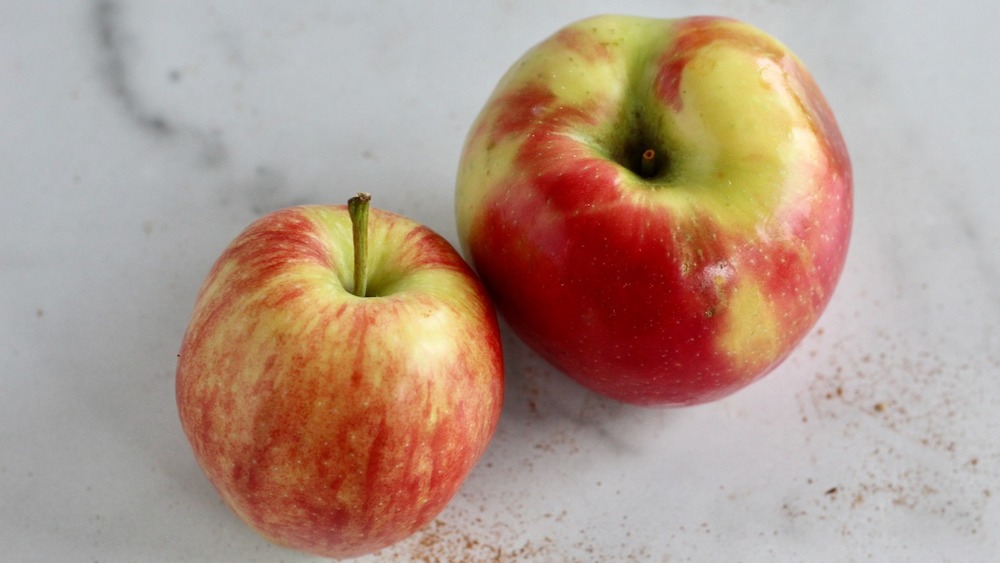 Mackenzie Burgess/Mashed
This mini apple crumble recipe stands out from other similar recipes because it is both vegan and allergy-friendly.
Burgess opts entirely for vegan ingredients, using softened coconut oil to mimic the texture of butter and maple syrup in place of a non-vegan sweetener like honey. Softened coconut oil can replace butter in desserts that are traditionally heavy in dairy product.
She also has made the recipe allergy-friendly with its ingredients, such as oat flour instead of more traditional all-purpose wheat flour. Burgess notes, "I like oat flour because it is naturally gluten-free." She also mentions that it can be an inexpensive alternative when made at home, a process detailed further down in this article.
Other ingredients containing allergens can be easily substituted in this recipe, such as using pumpkin seeds in place of the nuts mentioned in Burgess's recipe.
Gather the ingredients for your mini apple crumbles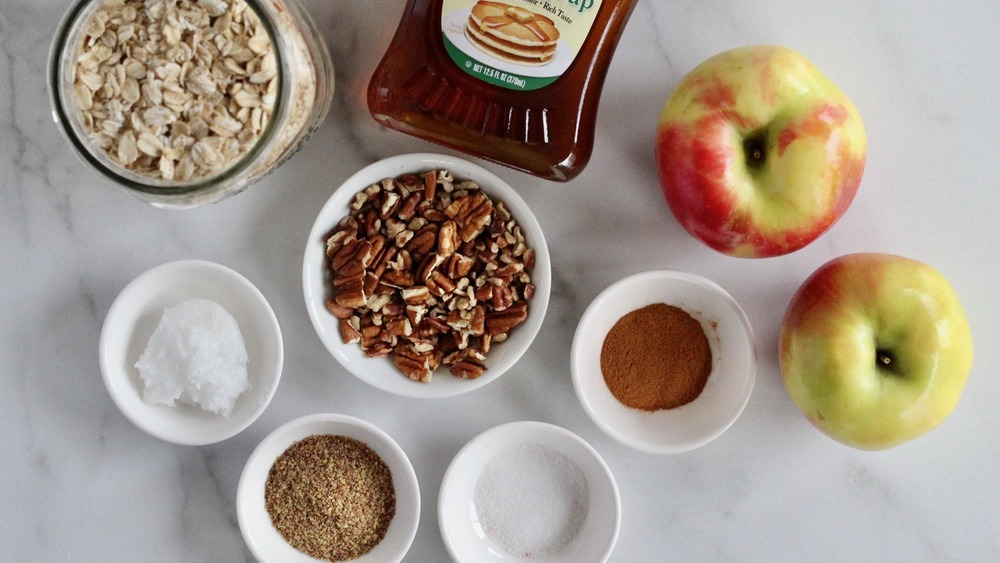 Mackenzie Burgess/Mashed
The mini apple crumbles use a fruity base of apples, maple syrup, and cinnamon. Burgess suggests any variety of apples, depending on preference, but notes that she uses honey crisps since they offer a delicate balance of tart and sweet flavors. That said, honey crisps run more expensive than some other apple varieties, so Burgess also suggests saving money by checking out if your local market has a misfit produce section, since the apples are all getting chopped up anyway. For a sweeter dessert, Burgess recommends opting for a red variety, while a more tart dessert can use green apples.
For the crumble, gather oats, pecans, flaxseed, softened coconut oil, maple syrup, and salt. Burgess uses maple syrup as a sweetener because it is vegan, as opposed to a liquid sweetener like honey. It's a hearty sweetener that has a delicious taste.
Mix apple ingredients for your mini apple crumbles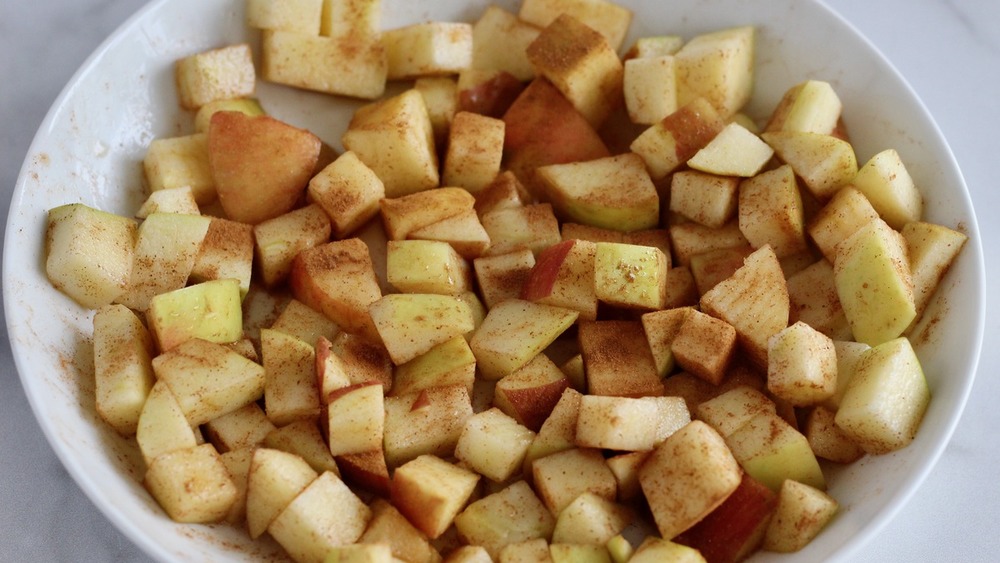 Mackenzie Burgess/Mashed
The apples for this mini apple crumbles dish get tossed in spices and maple syrup before moving onto the crumble. According to Burgess, the fruity flesh should be chopped into small, half-inch cubes in order to create satisfying bites in the final dish. 
Mix the apples, cinnamon, and maple syrup in a bowl. Burgess recommends a fairly deep bowl for ease of mixing. "Use a spoon for mixing," Burgess says, and work the ingredients until the apples are fully coated.
Burgess recommends leaving the apples unpeeled for this recipe, a contrast to most apple desserts that recommend you core and peel the apples. "People can feel free to peel the apples, if it is their preference," Burgess says, but she adds that the skin will add beneficial extra fiber and nutrients to the apple crumple. So while this dish won't exactly turn out as healthy as a salad, it still will taste good and offer some nutrients.
Separate apples into four ramekins for mini apple crumbles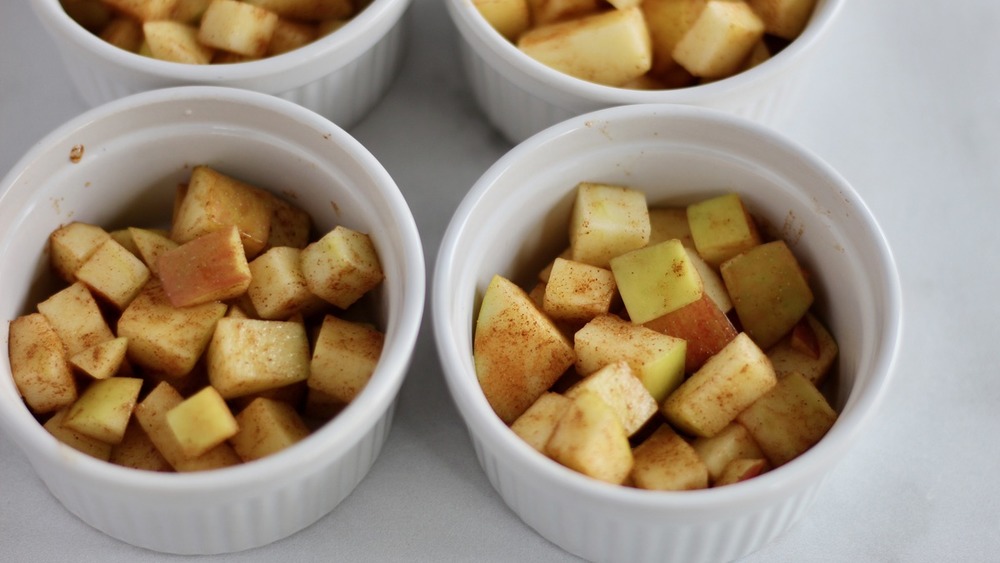 Mackenzie Burgess/Mashed
Since this mini apple crumbles recipe yields four individual servings, Burgess recommends baking the dessert in ceramic ramekins, which will work to cook the apple from below while keeping the top of the crumble nice and crisp. When filling the ramekins with the apple mixture, each ramekin should be about halfway full, leaving room for the crumble, which will go on top. According to Burgess, the moisture in the apples should prevent sticking, so there is no need to grease or butter the ramekins ahead of time, another reason why this dessert option may be healthier than an alternative like an apple pie.
If you do not have individual ramekins for each serving, Burgess says a small glass casserole dish approximately four to eight inches in size will do. Just be sure to keep the ratio of apple to crumble about the same, filling halfway with the apple mixture and leaving space for the crumble mixture to go on top.
Optional: Prepare the oat flour for your mini apple crumbles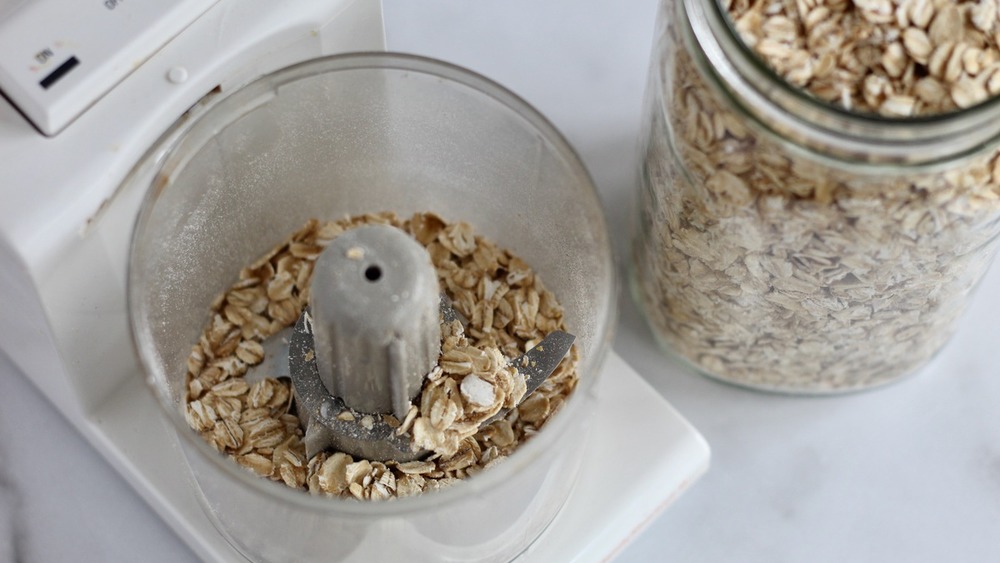 Mackenzie Burgess/Mashed
Burgess's mini apple crumbles recipe calls for a mixture of crushed oats and oat flour, to vary the texture. Burgess recommends making your own oat flour because it's cheaper than store-bought oat flour. Oats bought in bulk have a long shelf life and can be used to make oat flour, oat milk, oatmeal, and anything else that contains oats.
"I recommend using rolled oats, rather than steel cut, because steel cut oats are tougher," says Burgess. If you choose to make your own oat flour, pulse 1/4 cup of oats in a food processor until they are a fine, powdery texture. According to Burgess, any food processor should work for this step, but due to the small volume, a smaller food processor should be easier to manage.
If you do not have oat flour or a food processor, feel free to substitute the quarter cup of oat flour in this recipe with a quarter cup of full oats in addition to the quarter cup of oats the recipe already calls for. Burgess notes that with whole rolled oats, the texture will be looser and chunkier, but the taste will be the same.
Mix mini apple crumbles ingredients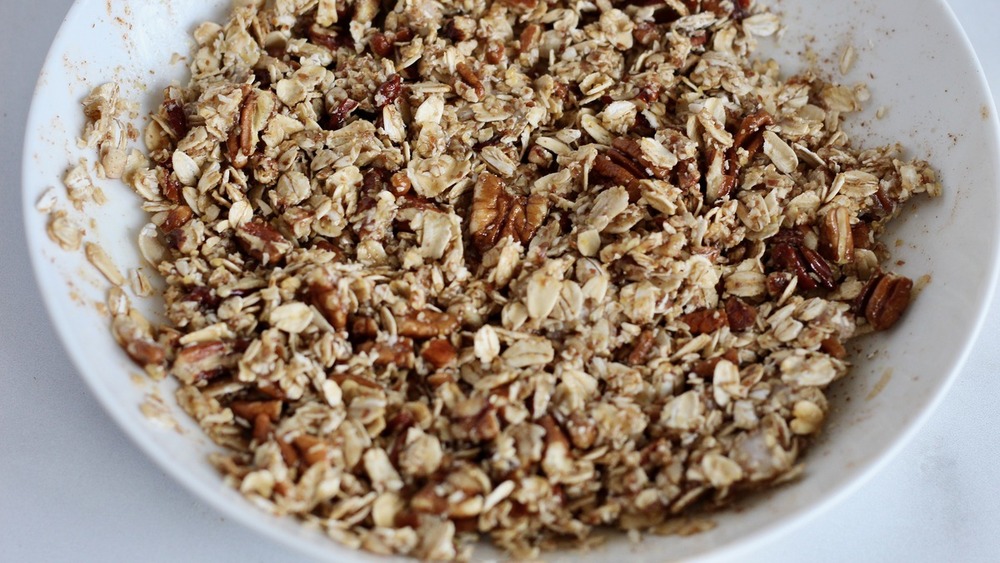 Mackenzie Burgess/Mashed
In the bowl you already used to mix and then pour out the apple mixture, mix your oat flour, rolled oats, pecans, flaxseed, coconut oil, maple syrup, and salt.
According to Burgess, mini apple crumbles traditionally call for a mixture of wheat flour and rolled oats, but she recipe substitutes wheat flour with oat flour, as it is a healthy and naturally gluten-free substitute. If you are using oat flour because of its gluten-free properties, make sure you confirm that the brand of oats you are using did not process their oats in a facility or on machinery that also processes gluten.
The pecans in this recipe can be switched out for any kind of nut, or for nut-free chefs, pumpkin seeds make a delicious, allergy-friendly alternative.
Burgess's recipe also calls for coconut oil rather than butter, because it is vegan and the same texture of butter. Burgess notes that coconut oil's saturated fat keep it solid, and the oil has the same nutrient profile as butter. Solid coconut oil is similar to cold butter in an apple crisp. Because in the winter coconut oil may be hard in the pantry, put it in a bowl and microwave for ten seconds at a time to get an identical texture to softened butter.
Divide mini apple crumbles into ramekins and bake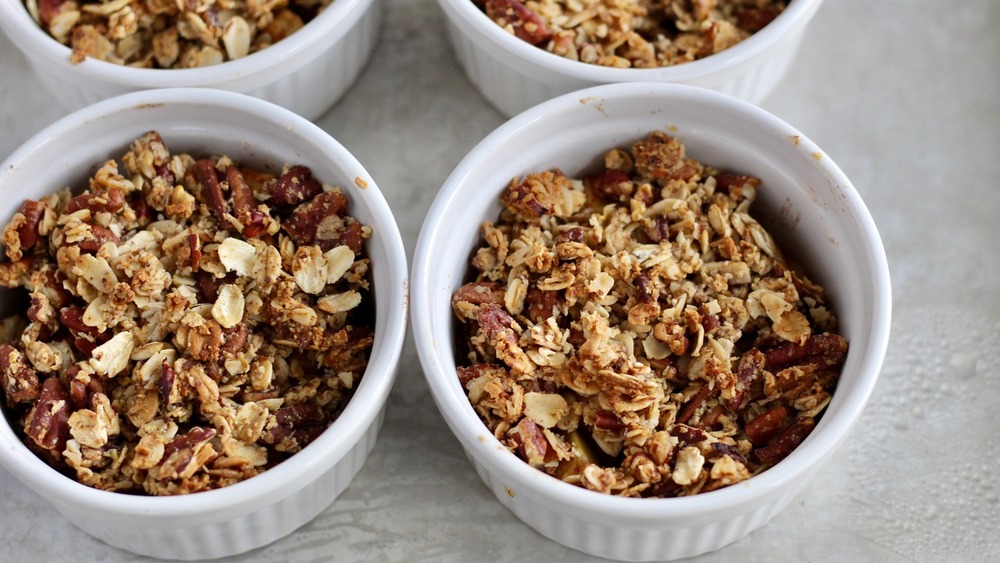 Mackenzie Burgess/Mashed
Divide the crumble into the ramekins that already have the apple divided amongst them, filling the ramekins the rest of the way full. At this point, the crumble should be moist enough to cover and coat the apples. The crumble mixture should clump together in your fingers, but should still have a somewhat loose texture like granola.
Bake the ramekins at 350 degrees Fahrenheit for 25 to 30 minutes. You should be able to smell the cinnamon and maple syrup, and the top should be a nice golden brown. If you do not bake the apple crumbles for long enough, they will not be crisp on top and will be too soft.
To confirm the apples are cooked, check with a fork and make sure apples slide off easily. Burgess notes that the apples do not need to be super soft, if that is your preference, although the more cooked the apples are, the sweeter they will be.
Top off mini apple crumbles and serve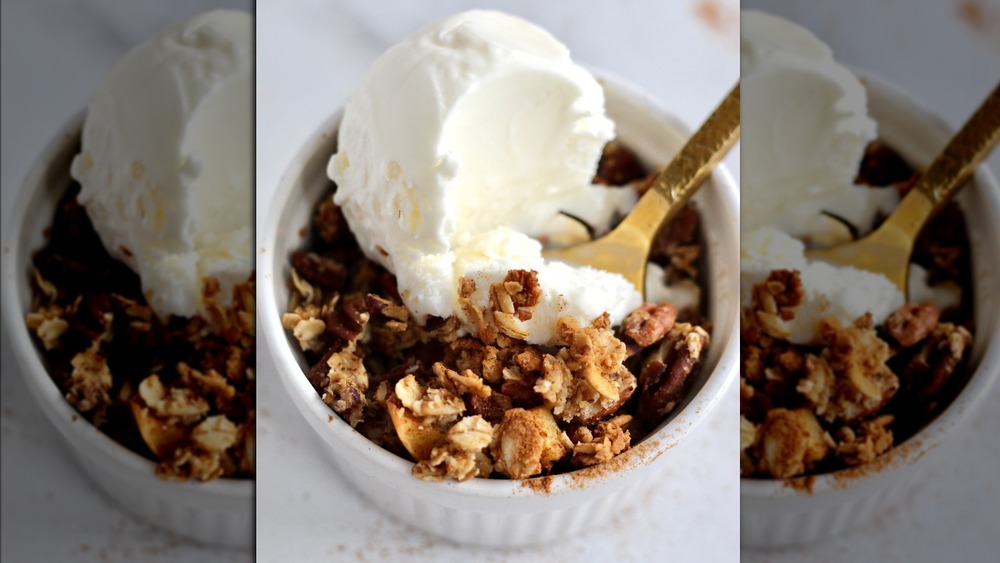 Mackenzie Burgess/Mashed
The final mini apple crumbles can be eaten as they are or topped off with any topping like whipped cream, sour cream, yogurt, or vanilla ice cream. A number of good oat-based products exist if you don't eat dairy, especially yogurt, and they will maintain the hearty oat theme of the autumnal dessert.
The cool, fatty topping will contrast the sweet warmth of the apple crumble. Additionally, with the yogurt and sour cream option, the topping will add another tart depth of flavor, mimicking the apples down below the surface of the crumble.
Ultimately, this recipe yields four vegan-friendly, individual-sized servings mimicking a classic apple crumble, apple crisp, or apple pie and can be served the same way you might serve any of those desserts.
Feel free to double the recipe if you are feeding more hungry mouths or would like to have leftovers.
Mini Apple Crumbles Recipe
Apple desserts are perfect for fall and winter. This mini apple crumbles recipe is a fall favorite that every home cook should know how to make.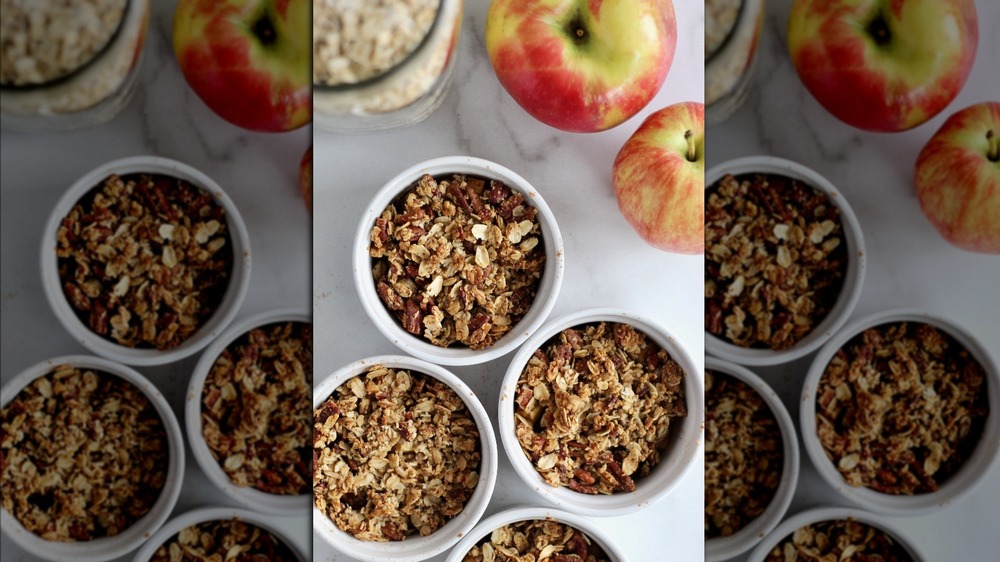 Ingredients
2 cups chopped apples
1 tablespoon maple syrup
1 teaspoon cinnamon
¼ cup oat flour
¼ cup rolled oats
¼ cup chopped pecans
1 tablespoon flaxseed
1 tablespoon coconut oil, softened
1 tablespoon maple syrup
Pinch of salt
Directions
Preheat the oven to 350 degrees Fahrenheit.
In a large bowl, mix together 2 cups chopped apple, 1 tablespoon maple syrup, and 1 teaspoon cinnamon until coated. Divide chopped apples among 4 ramekins.
In the same bowl, add oat flour (which you can purchase pre-made or make yourself with a food processor), rolled oats, pecans, flaxseed, coconut oil, maple syrup, and salt, and stir until combined. Divide mixture among the ramekins to cover the apples (about ¼ cup crumble over each ramekin).
Place ramekins on a baking sheet and place in the middle rack of the oven. Bake for 25 to 30 minutes until the top is golden brown and apples are softened.
Enjoy with a scoop of vanilla ice cream, whipped cream, or yogurt over top.
Nutrition
| | |
| --- | --- |
| Calories per Serving | 191 |
| Total Fat | 10.4 g |
| Saturated Fat | 3.6 g |
| Trans Fat | 0.0 g |
| Cholesterol | 0.0 mg |
| | |
| --- | --- |
| Total Carbohydrates | 24.1 g |
| Dietary Fiber | 3.9 g |
| Total Sugars | 12.2 g |
| Sodium | 40.8 mg |
| Protein | 2.9 g |