The Strangest Part Of Filming Throwdown, According To Michael Symon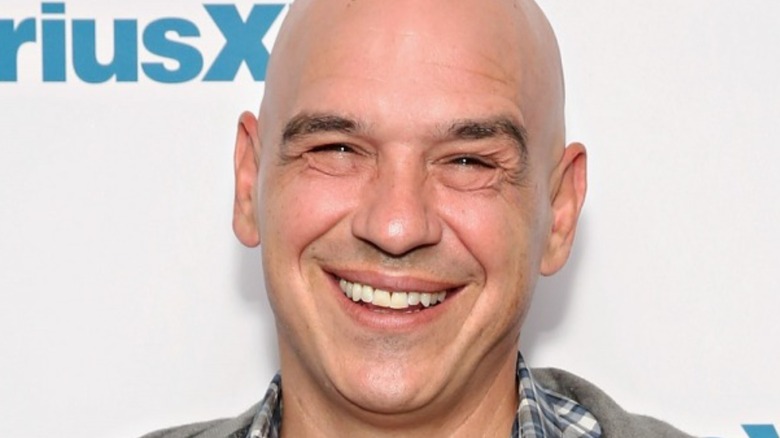 Cindy Ord/Getty
Michael Symon has won over Food Network viewers over the years with his infectious, booming laugh and unique recipes from his combined Greek and Sicilian background. His bio on Food Network's official website describes him as a "hometown guy," which further makes him an approachable and relatable addition to the network.
Also according to the bio, Symon was named a "Best New Chef" by Food & Wine magazine in 1998, which caught the attention of channel executives. That same year, he appeared on "Sara's Secrets with Sara Moulton" and two of Bobby Flay's shows, and he then solidified his spot on the network in 2008 when he won Season 1 of "The Next Iron Chef." Since then, Symon has hosted his own shows like "Burgers, Brews, and 'Que" and "Symon's Dinners Cooking Out."
The celebrity chef has proved himself as an approachable and fun host, so it was a no-brainer for his bestie Bobby Flay to choose him to lead the reboot of "Throwdown" (via People). Flay may be passing the torch to Symon, but he will still be involved behind the scenes since his company, Rock Shrimp Productions, is running the production. Flay of course hosted the original for nine seasons starting in 2006, and the reboot will have a similar structure, but with a Symon flare. But here's what he says is the strangest part about filming it.
Symon knows the judges personally, even though they taste blind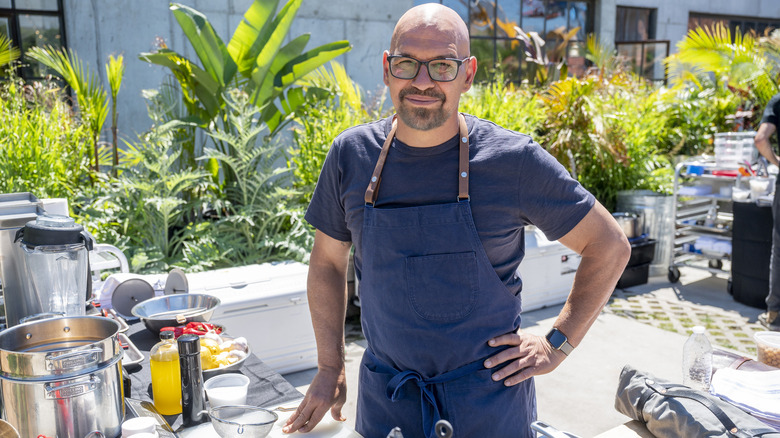 Food Network
The concept for the "Throwdown" reboot is the same as the original, where chefs around the country are told they are filming a profile for Food Network, but they don't know they are about to go head-to-head with Iron Chef Michael Symon until he shows up at their restaurant (via Food Network).
When the competition begins, Symon and his culinary director Katie Pickens battle it out to create their own version of that chef's signature dish. When the cooking is finished, both dishes are judged in a blind tasting. When a fan on Twitter asked Symon to elaborate on his reaction when he sees the judges, Symon Tweeted, "It's crazy ... because you know them but they taste blind."
The judges are often within Symon's circle of food experts, but since it's a blind tasting, it keeps it fair for the competing chefs. In an interview with New York Live on YouTube, Symon explained that the chefs he's been up against with thus far are people he's known for years, so when he shows up it's a mix of fun and competition. "The format [of the show] is similar, but it's different because even though Bobby and I have been best friends for years, we're different," he said. "Bobby's a New Yorker and I'm a Midwestern guy ... I always want to win, but I also want to show a little love along the way."