Instagram Is Thrilled Over Bobby Flay's Message For Michael Symon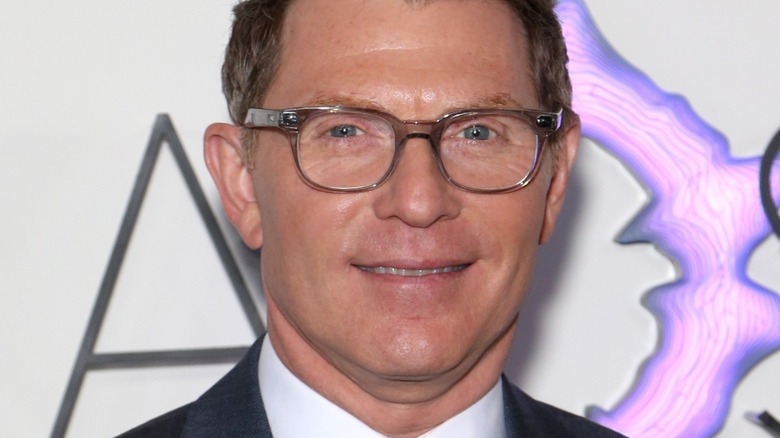 Gabe Ginsberg/Getty
Last month, we learned that after some negotiations Bobby Flay will remain with the Food Network. However, he will not be starring in the channel's newest season of "Throwdown." He has passed that role onto Michael Symon and yesterday, he did so publicly.
"You OGs may remember Throwdown... a competition show on @foodnetwork that premiered in 2006 and put spotlight on some of the country's best culinary talent," Flay wrote on Instagram. "WELL I HAVE OFFICIALLY PASSED THE THROWDOWN BATON." Starting tonight at 9:30 pm, Michael Symon will be sent all over the country to go head-to-head against top chefs on their home turf.
More than 8,800 people have received the news with a like on the post, and excitement has begun top boil and bubble. "Love this idea," one commenter wrote. "[Michael Symon] is just going to cook and laugh the whole time and both are contagious." Another reminisced and looked ahead: "I remember this show very well. You challenged Ree Drummond's Thanksgiving dinner. Can't wait to see Michael's version."
Any worries that the new host will cause the show to deviate from its roots should be set aside. As a press release from Food Network details, the show is produced by Rock Shrimp Productions, which is owned by Bobby Flay.
Flay doesn't wish Symon too much luck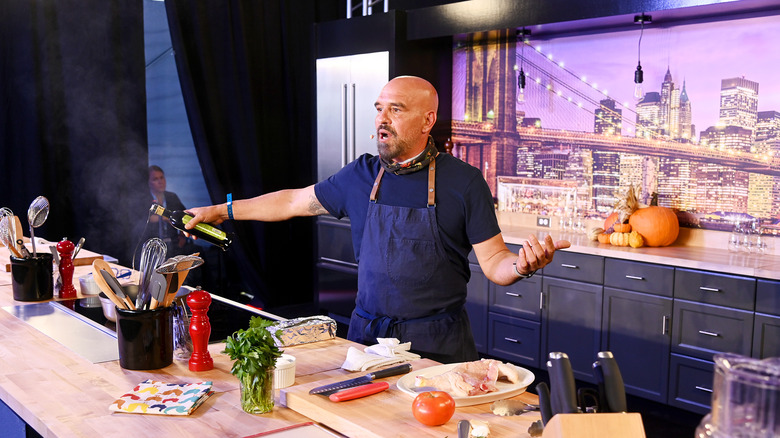 Dave Kotinsky/Getty Images
Bobby Flay added another prong to his announcement by giving People an exclusive interview. While he admits he has his hand in the ring as a producer, Flay does insist that the show belongs to Michael Symon. However, even though Flay and Symon are friends who avoid trying to best each other in the kitchen, Flay is not on Symon's side. "I'm rooting against him," he stated. "I want the people that he challenges to kick his a**. It would be good to humble him."
This will prove difficult because like Flay, Symon is a successful competitive chef. As Courtney White, the president of Food Network, described in the annunciatory press release, Symon is "the winningest 'Iron Chef'" competitor and a generally competitive chef. It sounds like Bobby Flay found a worthy successor. No wonder he desperately wants Symon to lose then. But, Flay also admits, "I would say that Michael fares fairly well."