Sunny Anderson's Love For This Christmas Tradition Is Super Relatable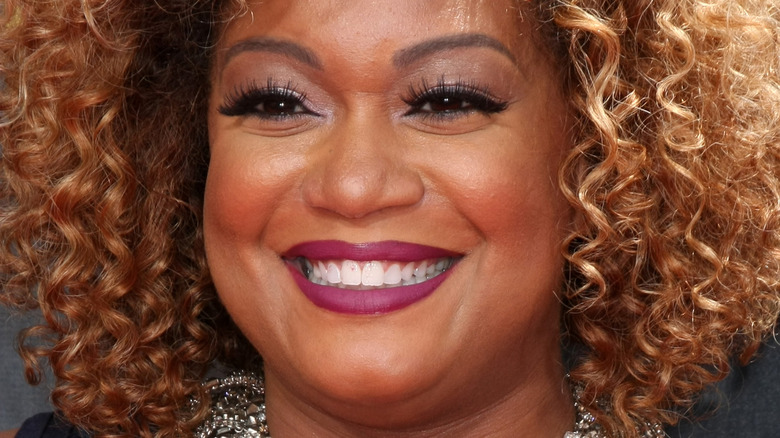 Kathy Hutchins/Shutterstock
The holiday season really is the most wonderful time of the year. Houses are decorated with trees and stockings; they smell of pine needles and gingerbread, and there is an overall feeling of warmth and coziness. It's also that time of the year when people, including some fan-favorite celebrity chefs, share their favorite holiday songs, movies, and traditions. Alex Guarnaschelli's favorite Christmas song is "Santa Claus is Comin to Town" as sung by Bruce Springstein, per the Food Network website, while her colleague, Bobby Flay, is a fan of "Christmas in Hollis" by Run DMC. 
One person who really seems to embrace the holiday season is Sunny Anderson, who said in an exclusive Mashed interview that she is a fan of re-gifting, which she refers to as "re-purposing." For her, used books and extra coffee mugs are gifts that keep on re-giving. But that's not the only tradition that Anderson has talked about. Recently, the co-host of Food Network's "The Kitchen" took to Instagram to share her love for a holiday tradition that is so relatable, you might feel compelled to gather your family and friends to do this as well because it is lit.    
She loves holiday lights
Sunny Anderson revealed on Instagram she loves to drive around her neighborhood and look at Christmas lights and posted eight photos of what she saw. She nostalgically wrote, "Driving around last night and the lights soothed me, felt like a kid. Threw on my hazards, slowed down and took it all in." She also gave all the decorated homes a little appreciation, saying, "You light decorators have no idea the joy and smiles you bring! We appreciate your efforts and slightly higher electric bills, but shout out to my solar lights crew... that's what I do, I'm parsimonious." The post has received more than 9,000 likes and generated a lot of chatter from her fans. 
One follower wrote, "Driving around looking for lights is one of my favorite things about Christmas." Another fan of the holiday pastime wrote, "I did the exact same thing on Wednesday night. All by myself. Just driving and looking and taking it all in." For some, the post brought back childhood memories of riding around with their parents to marvel at the shining outdoor decorations while others shared how they were creating these experiences for their own kids. Users also showed appreciation for the light displays, at least one of which really looks like it belongs on Candy Cane Lane. So fun!