This Is Bobby Flay's Favorite Christmas Song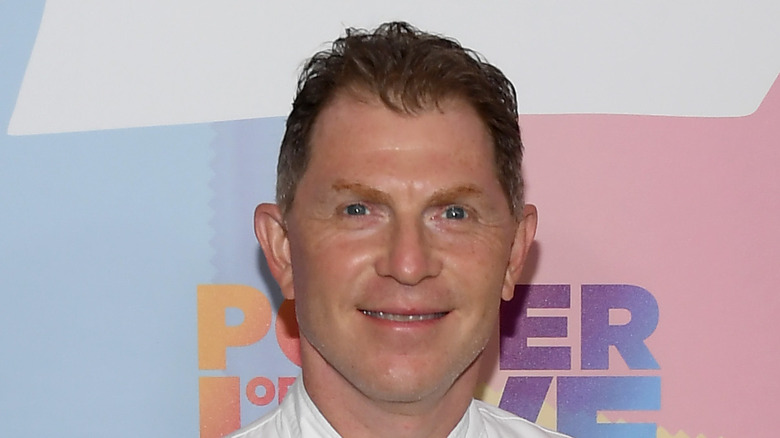 Bryan Steffy/Getty Images
While Bobby Flay isn't frequently associated with Christmas, it's a safe bet that any chef would have some holiday cheer up their sleeves. Interestingly enough, the season does hold a special place in Flay's heart and memory: One Christmas, he asked for an Easy-Bake Oven instead of opting for something else. This served as partial inspiration for the start of his cooking career. 
Over the years, Flay has made some signature dishes for the holidays, like his twist on brussels sprouts with pomegranate seeds and pomegranate molasses. He has also shared some Christmas dinner ideas in the past, including what to serve on the Feast of Seven Fishes. And to celebrate the season, he recently posted an Instagram throwback tribute to his cats, complete with a photo of him as a boy cuddling a ginger cat under an old Christmas tree. 
With all that said, it isn't really surprising that Flay would actually have a favorite Christmas song and movie.
A Very Bobby Christmas
Thanksgiving is over, and Food Network is prepped to get fans into the holly, jolly spirit. The cable channel checked in on its chefs, asking them to name their favorite Christmas songs and movies. Flay's top holiday track turned out to be "Christmas in Hollis" by Run DMC. He also revealed his Christmas movie of choice: "I love Elf. It's so good." Flay even quoted a line from the film: "World's Best Cup of Coffee — Congratulations!"
Other chefs weighed in as well, with Alex Guarnaschelli and Valerie Bertinelli concurring with Flay's movie choice. The rest of the Food Network chefs named their own special holiday picks: timeless tunes like "Rudolph the Red-Nosed Reindeer," "Santa Claus is Coming to Town," and "Rocking Around the Christmas Tree," and classic holiday films like "The Grinch," It's a Wonderful Life," "Love Actually" — which, by Scott Conant's own admission, "is not necessarily a Christmas movie" — and "Miracle on 34th Street."