Holiday Traditions That Sunny Anderson Thinks Should Change - Exclusive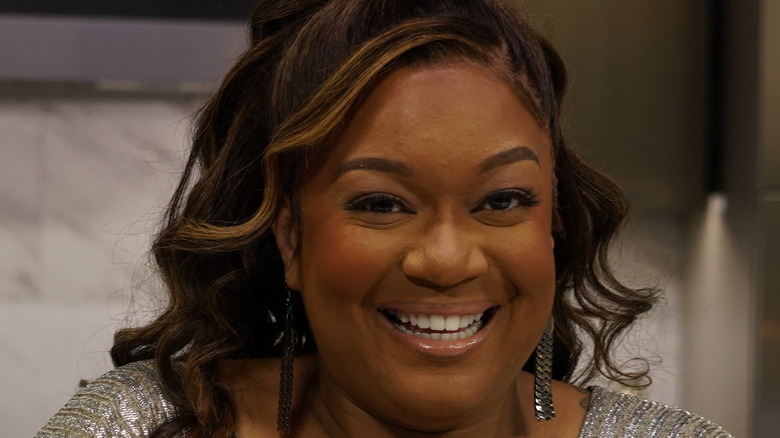 Brad Erman/Feature Photo
We may receive a commission on purchases made from links.
If you have ever watched Sunny Anderson on Food Network's "The Kitchen," read her cookbook, "Sunny's Kitchen" (found on Amazon), or even listened to her on the radio, you know she is a pretty laidback, easygoing individual. So, it wasn't much of a surprise that during a recent exclusive Mashed interview, the chef and general star of the culinary world said she wished all people could take a simpler approach to one major aspect of the holiday season: gifts.
"I think that we should make re-gifting okay because I think there's too much waste in the world, and chances are you've got something around that you're done with that someone would like, or something that you've never even touched or used that someone would actually go into using right away," she said. "I like to call it repurposing instead of re-gifting."
Asked for a few specific ideas, Anderson said, "I love giving books, and I love giving books that I've actually already read. As long as I haven't messed up the spine or anything like that." Another one she said are DIY mugs. "If you have like 15 or 10 coffee cups — when are you going to have nine people over for coffee? I love taking one of my coffee cups and filling it with hot chocolate packets and maybe some marshmallows and a candy cane. You wrap that up and send it to your friend. And ... when you're talking on the phone or Zooming or whatever, you [can be] sipping coffee from the same cup, and it's a little bit of togetherness." Another benefit, she said: "It also declutters."
Décor can be made simpler too, says Sunny Anderson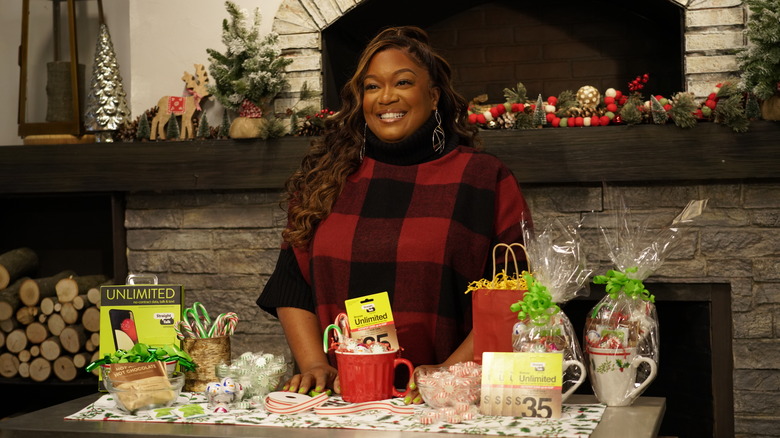 Brad Erman/Feature Photo
Clearly, Sunny Anderson has some pretty powerful feelings when it comes to gifting, but another holiday tradition she hopes can change is how much people spend on holiday décor.
"Some of my decorating tips and hacks would have to be keep it simple, it doesn't have to cost lots of money," Anderson said, pointing to a lovely holiday tableau behind her during the Zoom interview with Mashed, and then added, "Everything you see here that I've done behind me is under $5 at the dollar store. ... So think about going to dollar stores. ...[and if you] watch one of the design shows, they always talk about bringing the outside indoors."
She has plenty of examples for how to do so successfully. "If you've got a flower bush — I have a hydrangea outside that has beautiful dried flowers — you can bring those in and put them in a vase. You can bring in pine cones and put them in a bowl for a lovely centerpiece with maybe some Christmas ornaments." As Anderson said, these examples prove you don't really have to spend money and can probably look around your house and pull some things together. "Even leaves ... are beautiful in a glass vase or a bowl if you put in some of those battery-powered lights," she added. "So just have fun with it and repurpose things in your house, you don't have to spend money."
For more tips, check out Sunny Anderson on Instagram and learn more about her latest partnership with Straight Talk Wireless that gives people the chance to spend more time with family and save money, too.