Instagram Loves Seeing Giada De Laurentiis Make Pizza With Her Aunt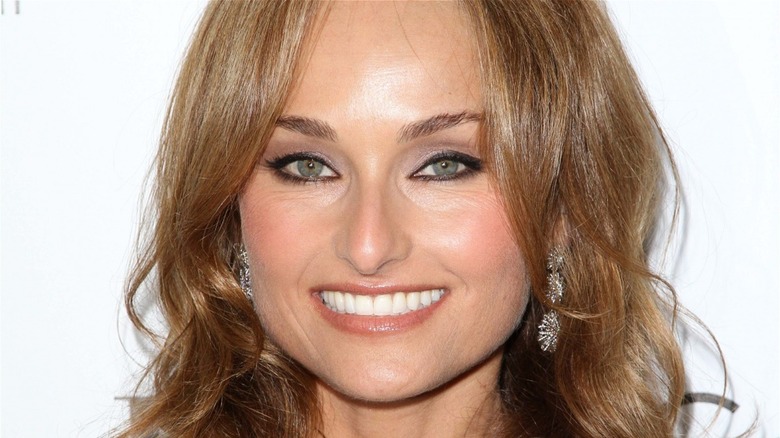 s_bukley/Shutterstock
America's love affair with pizza has been going strong for quite some time. Back in 2012, pizza was named a favorite food by some 80% of Americans in a survey (via Today). And in 2018, USA Today declared that "pizza reigns as Americans' favorite food," citing a Harris Poll that found about one in five U.S. adults prefer it over other foods. Even so, everyone has their own opinions on what makes the best pie. Some people like Chicago deep-dish; and according to about half of the 26,000 people polled in a Mashed survey, New York-style thin crust is the best. Some like tomato sauce; others prefer Alfredo sauce. Some believe you should eat it folded in half, while others eat it crust-first. And then there are the toppings.
No matter how you like your slice when it comes to homemade pizza, few people are probably as familiar with — or as talented at — the pie-making process as Giada de Laurentiis. Despite the fact that she says Naples, Italy "has the best pizza in the world" (via Elle), the celebrity chef makes a pretty mean pizza herself. Sometimes, though, it's not about what's on your pie or where it's from but who is enjoying it with you, even when you're a pro at making them. Recently, De Laurentiis shared a photo on Instagram of her and her Aunt Raffy whipping up pies in the kitchen together — and fans are loving it.
Giada loves homemade pizza night with Aunt Raffy
Italian chef Giada de Laurentiis is perfectly capable of making pizza by herself, but she prefers doing it with her Aunt Raffy, according to a recent Instagram post. "Making pizza w my gorgeous Aunt Raffy"....her words verbatim," she captioned the photo, which features her and Raffaella De Laurentiis, sprinkling shredded mozzarella cheese and sliced mushrooms onto a plethora of pies-in-the-making. Fans commented with delight upon seeing the duo in the kitchen together. "Love when you cook with Aunt Raffy," said a user, who added that it "makes me so happy." "I love Raffy!" another person wrote. "The way she instructs you is priceless!" A different admirer called Raffy a "gem."
Aunt Raffy has long been a positive influence in Giada's life, especially when it comes to her culinary career. After all, she was one of the people who taught Giada how to cook. "I learned ... creativity from my aunt, who is my cooking soul mate," the Food Network chef told Shape, adding that Raffy still helps her create new dishes. "She finds the recipes and we tweak them. We've been doing that since I was a kid."