Duff Goldman's Daughter Loves To Dance And Instagram Can't Get Enough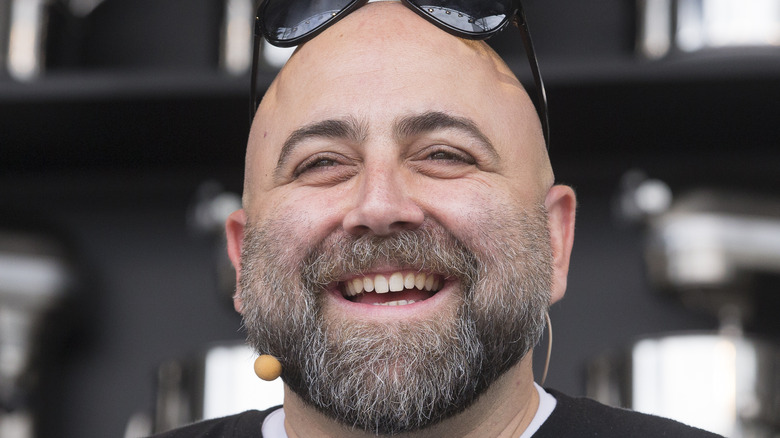 Sterling Munksgard/Shutterstock
Duff Goldman is mostly known for his previous show "Ace of Cakes," where he and his fellow employees at Baltimore bakery Charm City Cakes baked the most elaborately decorated desserts imaginable. But, when "Ace of Cakes" was canceled in 2010, after 10 seasons and 116 episodes, Goldman didn't disappear. He's since appeared in numerous other series, such as starring in "Duff Takes the Cake," as well as hosting "Kids Baking Championship," and judging and hosting "Holiday Baking Championship."
Beyond television, Goldman has also been busy in his personal life. He married wife Johnna Goldman in 2019, and in February of 2021, they welcomed their first child into the world. Since the birth of little Josephine, the star baker has been sharing adorable family content on social media, and a recent video of the baby dancing to a song playing on television made his fans' hearts melt once again.
Josephine Goldman loves to dance
In the video, shared on Instagram, baby Josephine Goldman is seen standing in front of a TV that's playing the Elmo's World segment of "Sesame Street," while Elmo does his "happy dance." Josephine, holding onto the console for balance, dances back and forth to the music. According to her dad, Duff Goldman, this isn't a rare phenomenon. "Josephine will dance at the drop of a hat," he said in the post's caption, noting that, "She loves music, and it's nice because she reminds me that, if you listen carefully, there's probably some music playing somewhere."
Fans ate it up. Even some of Goldman's fellow Food Network stars, like Kardea Brown from "Delicious Miss Brown," had something to say about the cute video: "She is such a sweet baby! I miss her," said the star. While most of the comments centered on how adorable the video is, some tried offering some helpful advice, too. "Kids (and adults) who notice music like this often have music as their learning style. She will be able to learn anything that's put to music," shared one fan. If Josephine loves dancing and music so much at this age, it's exciting to think of where it could take her. In the meantime, hopefully Goldman will keep sharing adorable photos like these.