Oven Roasted Beef Tenderloin Recipe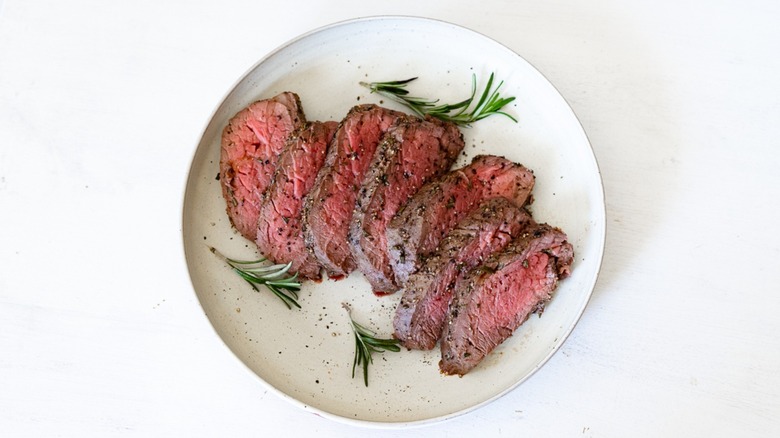 Sher Castellano/Mashed
How about a tender way to close the night? Absolutely! Tell your husband, tell your wife, "There'll be no microwave dinners tonight!" Whether you're on bae-cation or getting fancy for friends, this entrée is quite superb. Simply rub and bake this delicious cut of meat, and no one will leave the table hungry. 
Recipe developer Sher Castellano brings simplicity to the table with this oven roasted beef tenderloin. Castellano begins by mentioning, "It's super flavorful and roasts perfect each time." Along with its simplicity, this dish is also versatile enough to pair with just about any side. 
Not to mention, this loin is tender. The Spruce Eats explains that tenderloin comes from the most succulent part of the beef. It's utterly delicious. Therefore, you can reserve this recipe for special occasions. Castellano tells Mashed, "This is a very special and beautiful cut of meat and it would be a lovely recipe to make for any holiday, date night, or dining in with friends."
Gather your ingredients for the oven roasted beef tenderloin recipe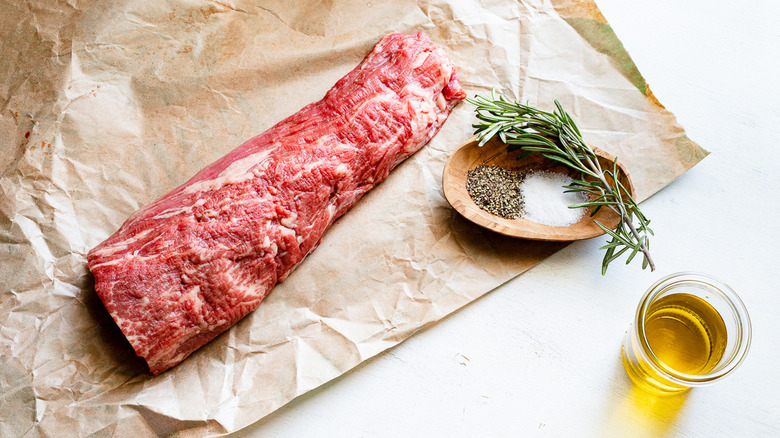 Sher Castellano/Mashed
All you need from the store for this oven roasted beef tenderloin recipe are a few simple ingredients. Pick up a 1½ pound beef tenderloin. This cut is from the same area of the cow as filet mignon and sirloin. Castellano tells Mashed, "The meat hasn't been tenderized and doesn't need it. Easy, peasy." The herb rub is all the seasoning you'll need. Gather up 2 tablespoons of olive oil, 1 tablespoon of fine sea salt, and 1 tablespoon of coarse ground black pepper. You'll also want 1 tablespoon of minced rosemary.
Prepare the rub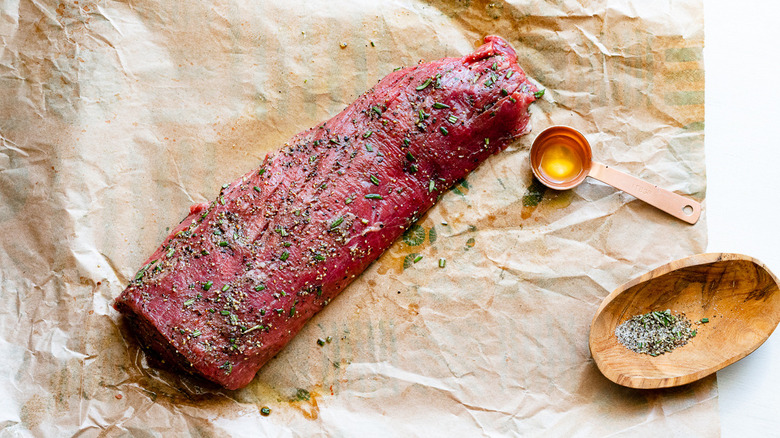 Sher Castellano/Mashed
Prior to getting started, Castellano recommends resting the tenderloin for at least 30 minutes. "Make sure to set to room temperature prior to cooking for an even cook," she tells our team. As the meat sits, preheat your oven to 475 F. Combine the oil, salt, pepper, and minced rosemary to make your rub. When your tenderloin is room temperature, give the beef a good rub. Cover the tenderloin on each side with the combination of oil, herbs, and spices.
Set the beef on a sheet to bake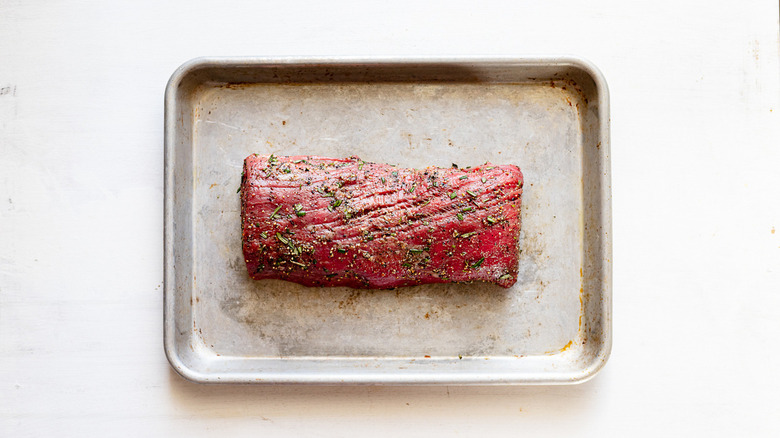 Sher Castellano/Mashed
Place the herbed tenderloin on a sheet pan, tucking the "tail" under if needed. Roast the beef for 10 minutes on one side, then flip the pan 180 degrees to ensure even roasting. Bake the beef cut for 10 more minutes. Remove the pan from the oven rack to check the meat's temperature. "Insert the thermometer into the middle of the roast and about halfway in," Castellano recommends. 
Do a quick temp check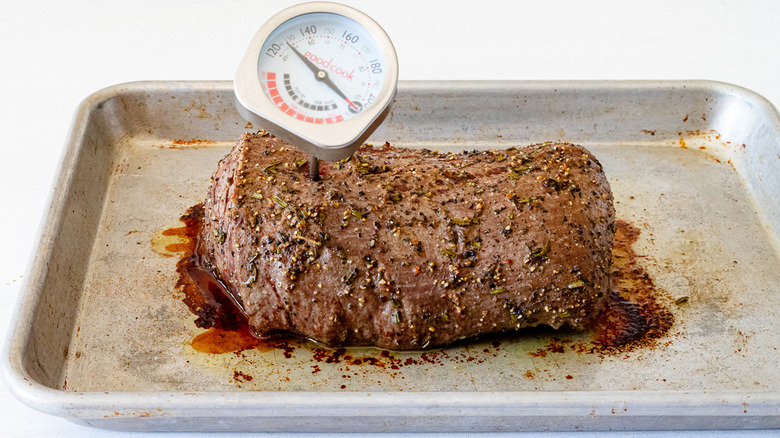 Sher Castellano/Mashed
Roast the tenderloin of beef until your desired temperature. For a medium-rare finish, the beef should reach 125 F internally. If you prefer your meat to be cooked to medium, opt for 130 F, and 140 F for medium-well. Once the meat reaches your optimal temp, remove it from the oven. Allow the meat to rest out of the oven for 10 minutes.
We know you'll appreciate this recipe. Castellano tells Mashed, "The best part of this recipe is its simplicity. There's no searing, or tying in butcher twine. Just a simple rub, and short cook time."
Slice up the tenderloin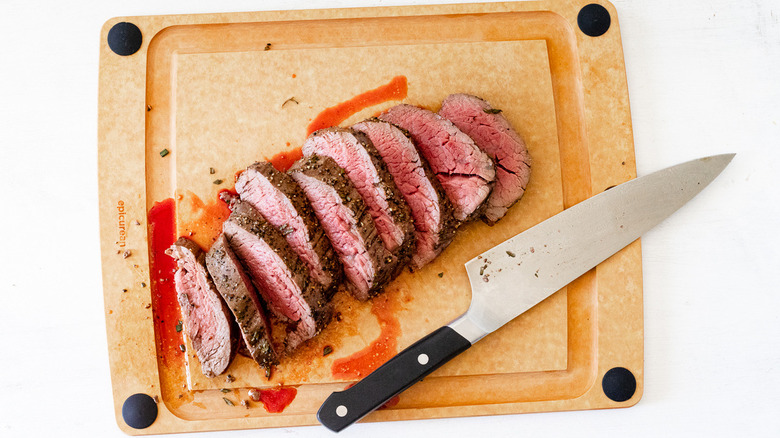 Sher Castellano/Mashed
Just like that, you're finished! Simply slice and serve your appetizing entrée. Not sure what pairs well with it? Try creating a well-rounded plate by adding a carbohydrate and a green veggie. Our developer suggests, "A classic pairing would be any kind of potato and a green vegetable like this recipe of mine for [roasted] asparagus." Experiment with a few of Castellano's best sides, like fall gnocchi or corn on the cob. 
If you're entertaining guests, our developer says she would offer a full-bodied wine for dinner. "I would pair this with any good glass of Cabernet Sauvignon, Malbec or Sangiovese," Castellano tells Mashed. Enjoy this entrée warm, and should there happen to be any leftovers, our developer says you can store the leftovers in an airtight container for up to two days. We know this will be a family favorite. From our kitchen to yours, enjoy!
Oven Roasted Beef Tenderloin Recipe
When you're hosting friends for a nice meal, try this simple but special oven roasted beef tenderloin recipe. It'll "wow" your friends and loved ones.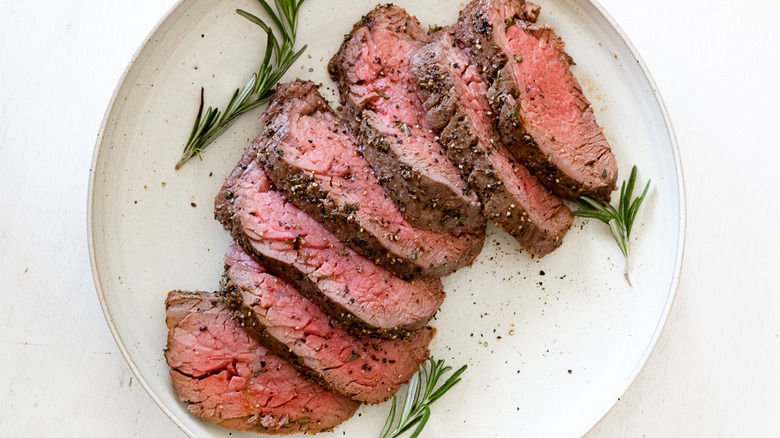 Ingredients
1½ pounds beef tenderloin
2 tablespoons olive oil
1 tablespoon fine sea salt
1 tablespoon coarse ground black pepper
1 tablespoon rosemary, minced
Directions
Rest the tenderloin at room temperature for 30 minutes.
Preheat the oven to 475 F.
Rub all sides of the tenderloin with the olive oil, salt, pepper, and rosemary.
Place the tenderloin on a sheet pan and tuck the tail under (if no tail, skip this step).
Roast for 10 minutes, then flip the pan 180 degrees (to ensure even roasting). Roast 10 more minutes and check temperature. Medium-rare will be at 125 degrees F, medium at 130 F, and medium-well at 140 Fl.
Roast until your desired temperature. Remove from the oven and rest for 10 minutes.
Slice and serve.
Nutrition
| | |
| --- | --- |
| Calories per Serving | 483 |
| Total Fat | 37.2 g |
| Saturated Fat | 13.2 g |
| Trans Fat | 0.0 g |
| Cholesterol | 144.6 mg |
| | |
| --- | --- |
| Total Carbohydrates | 1.2 g |
| Dietary Fiber | 0.5 g |
| Total Sugars | 0.0 g |
| Sodium | 416.3 mg |
| Protein | 33.9 g |